It is a mystery how many acres of cannabis are grown in Carpinteria. That did not stop the county supervisors from imposing a cap.
"It was definitely successful for Carpinteria," said Anna Carrillo, a longtime Carpinteria resident who has emerged as a leader in pushing back against the rapid expansion of cannabis farms in Carp's four-mile stretch along California's coast.
It is no secret that the rustic beach town of Carpinteria has rapidly transformed into a haven for cannabis growers. With 333 acres of total greenhouses, the Carpinteria Valley has become the perfect place to grow pot. It is unclear, though, how many acres exist. According to the county's self-reported registry, 52 cannabis cultivators are in Carpinteria. About half of those operators have requested authorization from county regulators to receive temporary state cultivation licenses. In addition, state regulators have not disclosed how many more acres will be cultivated as a result of pending applications.
The county supervisors set the cap at precisely 186 acres — an amount determined to be the Goldilocks solution. Representatives from Cate School had called for 145 acres while City of Carpinteria officials advocated for 225 acres. (Cannabis cultivation occurs on county lands outside of city limits, so city officials have no actual oversight.)
"Reasonable people in the Carpinteria Valley understand marijuana is here to stay," said Das Williams, the county supervisor for the area, "but don't necessarily want to be surrounded everywhere in the valley by it."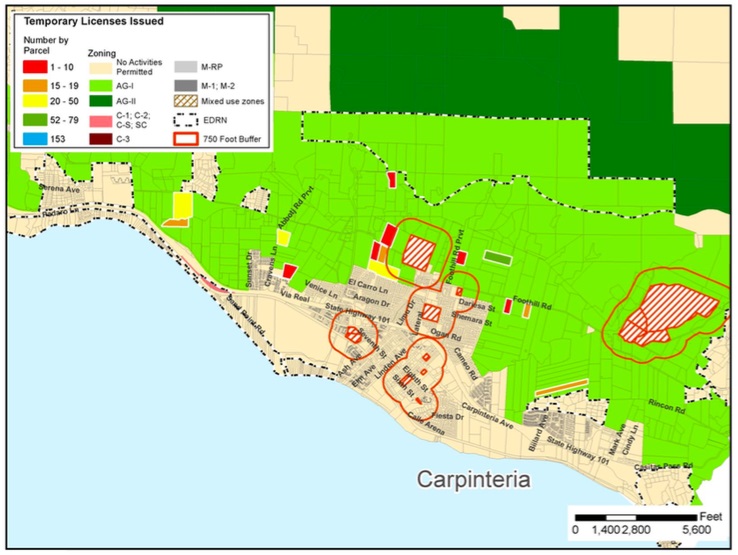 Santa Barbara County