This year's June midterm elections are a case of feast and famine. Statewide, we have no fewer than 32 candidates running for U.S. Senate ​— ​one is inveighing against "the social sickness of transgenderism" and another against microwave poisoning ​— ​and 27 are running for governor. Yet here in Santa Barbara County, we have two supervisorial district races with uncontested candidates. The last time Santa Barbara saw two uncontested supervisorial races was precisely never.
In one of those contests ​— ​for the 2nd Supervisorial District ​— ​candidate Susan Epstein abruptly withdrew from the race at the last minute, citing personal reasons, effectively precluding anyone else from challenging the only other candidate, Gregg Hart. Three other county races are uncontested: for district attorney, superintendent of schools, and treasurer-tax collector.
For those who like horse races, there's the race to elect the councilmember to represent the City of Santa Barbara's District 3, on the city's Westside. Four first-time-ever candidates are running there, where voter turnout has been historically low. A candidate who can muster 450 votes might well win. Given that this councilmember will tip the council's precarious balance of power, that constitutes a significant impact for only a few votes.
The Santa Barbara Independent does not always endorse in every race. In some cases, we don't feel strongly enough to suggest a vote; in others, we are not confident we know enough about the candidate or issue. This year we will be publishing our endorsements over a two-week period.
Santa Barbara Sheriff-Coroner: No Endorsement
This one pains us. Of the three candidates running, all can credibly boast of long and impressive careers in law enforcement. And all three are personally likable, if not outright compelling. But given the historical moment and the challenges that law enforcement currently faces, we cannot, with confidence, endorse any candidate.
Sheriff Bill Brown, it must be acknowledged off the bat, has achieved the impossible. During his 12 years and three terms in office, he managed to get the funding and the approvals to build a new, desperately needed North County jail. Four sheriffs preceding Brown all vowed to do this; all failed.
Brown, a moderate, pragmatic Republican, has operated at the highest level of state politics. He has been endorsed by such prominent Democrats as Governor Jerry Brown and senators Dianne Feinstein and Kamala Harris, but these endorsements also highlight the complaints of Brown's critics: You can't run a Santa Barbara department of 700 employees from Sacramento ​— ​or at an altitude of 30,000 feet. All this flying to and fro has not impressed the deputies slogging below in the trenches.
Serious morale issues are plaguing the department. For the past 10 years, jail deputies have been forced to work mandatory overtime shifts because of chronic recruitment and retention problems. Exhausted custody officers in the county jail? That's a disaster waiting to happen. This past month, Brown finally unveiled a response plan. But it barely passed the better-late-than-never test, especially since it came just two weeks before the Grand Jury released a critical report on the same subject.
When Brown first ran for office, he castigated his opponent for volunteering to cooperate with immigration officials (ICE) on enforcement actions. Brown correctly argued then that this compromised public safety because it made immigrants more fearful of law enforcement than they already were. This was a problem not just for immigrants but for the entire community. We agreed with Brown then. In the time of Trump ​— ​when the president routinely refers to immigrants as "animals" ​— ​it is imperative that we reassure our immigrant community that the functions of ICE and the Sheriff's Office are separate. This is not happening.
We agree that genuinely violent predators should be turned over to ICE. But we remain deeply troubled by reports that petty offenders are turned over as well ​— ​and by the fact that it is so difficult to get accurate information from the Sheriff's Office about how many prisoners released from County Jail are turned over to ICE and for what offenses.
Given that Bill Brown served for seven years on a statewide commission on mental health ​— ​appointed by Governor Brown ​— ​we would have expected to see Sheriff Brown display far more initiative and creativity than he has in mobilizing a community-wide response to Santa Barbara's obvious mental-health crisis.
Despite Bill Brown's formidable political skills, he is not trusted by any of the county supervisors ​— ​especially over his financial projections. That lack of trust was responsible for scuttling a satellite facility Brown had proposed for the new county jail that would have provided a pragmatic program for inmates reentering society.
Houston, we have a problem.
As for the two challengers, we are frustrated that neither has waged what could remotely be described as a viable campaign.
Of the two, Lieutenant Eddie Hsueh, a 32-year veteran of the department, speaks most directly to many ideals the Independent values. He created a much-needed program to train law enforcement officers in how best to de-escalate confrontations involving mental-health issues ​— ​something police and deputies must deal with daily. But despite Hsueh's heroic efforts to run his program on a shoestring, he has lacked the administrative experience, bureaucratic skills, and political connections necessary to establish a practical, long-term policy.
Lieutenant Brian Olmstead, with 28 years on the force ​— ​11 in leadership positions ​— ​has the experience to do the job. And he has done a good job articulating the shortcomings of Brown's distant and disconnected leadership approach. But on other key issues of concern to us ​— ​immigration and mental health, to name two ​— ​we don't see much daylight between Olmstead and Brown. Like Hsueh, Olmstead launched his campaign too late to be taken as seriously as it might have been. No wonder this one pains us.
Auditor-Controller: Betsy Schaffer
This is the only open seat genuinely up for grabs on the June ballot. Neither of the two candidates vying for the spot is an incumbent. Of the two, we're confident Betsy Schaffer has the technical qualifications, experience, and temperament needed to run and lead this vitally important ​— ​if politically obscure and decidedly unsexy ​— ​office of county government. For starters, Schaffer is the only candidate in the race who is a certified public accountant, having worked as one the past 26 years. Given that the office is all about keeping track of how county funds are actually spent, this seems a minimal, if critical, qualification. For the past two years, Schaffer has functioned as second in command in the Auditor-Controller's office. She's worked her way up through the office, taken jobs with the City of Santa Barbara and Santa Barbara City College, and then come back. Schaffer is quiet and self-effacing, so we initially worried she might be too soft-spoken to handle so public a position, especially one where the buck so famously stops. We've since been persuaded she embodies the right mix of steel and mohair to become an effective leader and community collaborator.
State Assembly 37th District: Monique Limón
Only nominally can this be called a race. With two years in the statehouse under her belt, incumbent Monique Limón is facing off against two little-known fellow Democrats from Ventura County. No Republican is running. One can understand why. In her first Assembly term, Limón has distinguished herself as an exceptionally hard worker who has already been fast-tracked for leadership positions. When it comes to both rhetoric and legislation, Limón adheres to the "measure twice, cut once" approach. Not a flag waver by inclination, Limón typically waits for every last-minute change before committing herself to most bills. She's been independent, breaking with the governor on notable occasion, and not averse to taking stands unpopular with the activist wing of the party. She refused to support a single-payer health-care plan ​— ​citing its unsupportable, huge price tag ​— ​disappointing those Democrats who saw single-payer politics as the strategic response to Trump's effort to repeal the Affordable Care Act. While in Sacramento, Limón has been especially attentive to the needs of local elected officials. With the monumental rebuilding challenges in the aftermath of this year's natural disasters, the district desperately needs someone with Limón's clout, connections, and know-how in the State Capitol. Likewise, her firsthand familiarity with education policy and funding issues ​— ​she served two terms on the Santa Barbara school board ​— ​ground her in some of the key issues that matter most.
Attorney General: Xavier Becerra
Both candidates vying for this position are more than qualified; both have distinguished themselves throughout their careers. But during his one year on the job ​— ​appointed by Governor Jerry Brown to the fill the vacancy created when Kamala Harris was elected to the U.S. Senate ​— ​Xavier Becerra has impressed us greatly. Whether it's on immigration rights, the environment, or access to health care, Becerra has used his office to wage legal warfare against the dangerously retrograde policies pushed by the White House. To date, Becerra has filed more than 30 lawsuits against the Trump administration, prevailing in more than a dozen. The child of Mexican immigrants, Becerra was the first in his family to graduate from college and certainly the first to be elected to public office. Prior to his appointment last year, Becerra had served in Congress since 1993. Should Becerra win, we're confident he can continue to lead the resistance and to address more of the traditional duties of the post. His opponent, Dave Jones, has been exemplary as state insurance commissioner, showing up in person many times in the South Coast's extended hour of need. We regret Jones will no longer be insurance commissioner. But we urge a vote for Xavier Becerra for attorney general.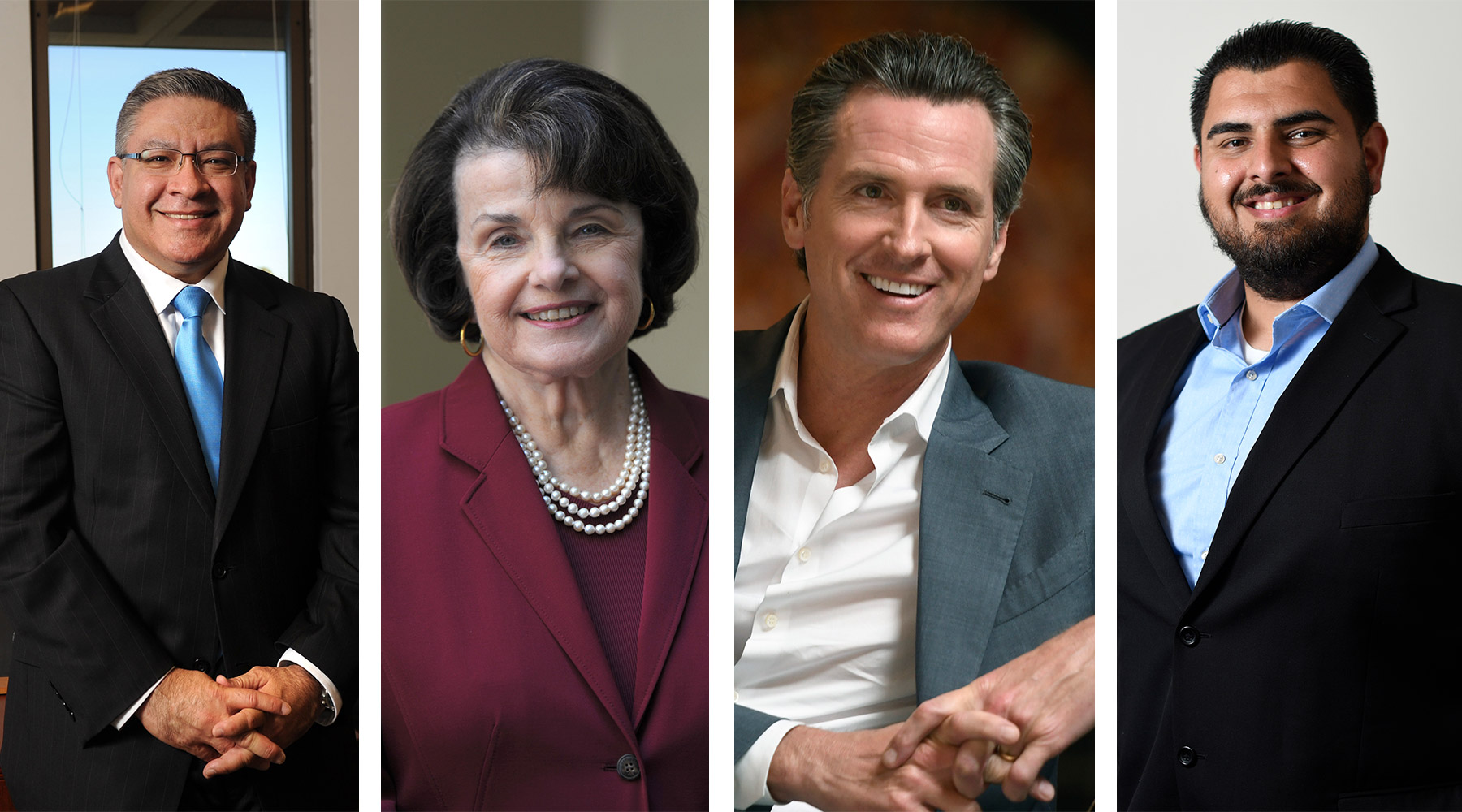 By Paul Wellman (file)