My son John and his fiancée, Natalie, recently moved to Santa Barbara, and they're looking for a place to live. They're not super picky, but they do have a list of particulars: two bedrooms, preferably a house rather than an apartment, a kitchen, a bathtub if possible, and a little bit of dirt in which to do some planting. John grew up in Santa Barbara, but Natalie grew up on a farm in Wisconsin. So for Natalie, being able to work in the garden is a need similar to my requisite daily walk on the beach — a habit that is relaxing, nurturing, and enriching in a primal way. John and Nat aren't desperate; they have a place to stay until the perfect rental home comes along. But the sooner, the better.
I look at a lot of homes, but John and Natalie's current rental search gave me a different perspective on my recent visit to the two homes at 3701 Portofino Way.
Hidden Valley is true to its name. Unless one has a specific reason to venture there, you could live in Santa Barbara for years and not discover this gem of a neighborhood. Winding through, one observes how the Italianate-named streets of Hidden Valley like Amalfi, Palermo, Catania, and Portofino sport tidy, '70s-era tract homes with pretty front yards and a pride-of-ownership air. The home at 3701 Portofino Way is actually a duplex: two separate homes identified as A and B.
Behind a custom gate crafted from horizontal wood planks is a large front yard. A stamped concrete walkway leads to two front doors. The entries beckon visitors with recessed doorways, each with a wood-framed glass door in a subtle deco style.
First up, on the left side of the duplex, is home A. With three large bedrooms and two and a half baths, home A offers a size advantage over its little sister next door. In addition to an extra bed and bath, home A also has a new gas fireplace in the living room, killer custom ironwork on its interior staircase, and the showstopper that will always cement its place as the favorite child: a sparkling, solar-heated pool in the backyard.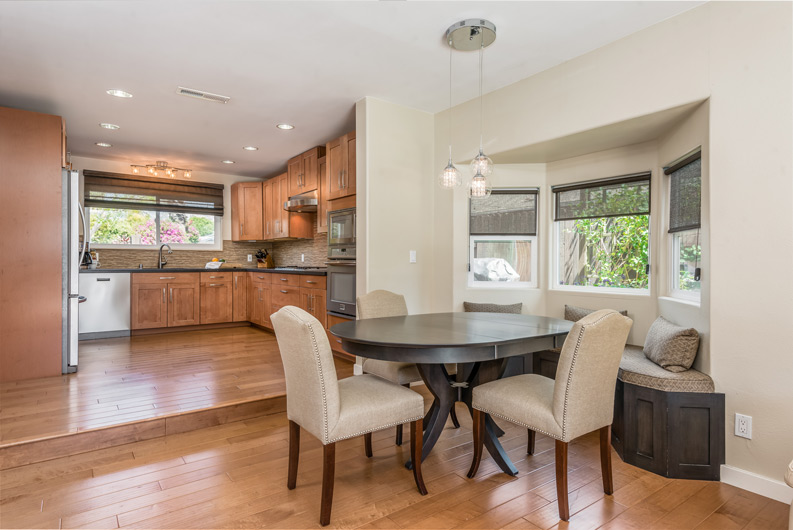 Rafeal Bautista