A promising season slipped away from the UCSB men's soccer team after Cal State Fullerton eliminated the Gauchos on penalty kicks 1-1 (5-3) in the opening round of the Big West Tournament on Wednesday night at Harder Stadium.
It was a cruel ending to the season for the Gauchos as they outshot the Titans 18-7 and created several quality chances in the latter stages of the second half and overtime, but the goal never came.
"If you follow Gaucho soccer, scoring goals this year has always been an issue for us and that didn't exactly go away," said UCSB coach Tim Vom Steeg. "When we did score we usually scored in bunches and it didn't happen tonight."
The Titans opened the scoring in the 24th minute when Ross McPhie connected with Christian Pinzon on a through ball that he finished near post. The Gauchos were dispossessed deep in their own end to set up the play.
However, UCSB responded shortly thereafter when Ignacio Tellechea finished of a beautifully delivered cross from Thibault Candia in the 27th minute to even the score at 1-1.
"That was a collective goal. It was collective play. You might say 'it kind of looked easy. Why didn't we do more of it,'" Vom Steeg said. "I guarantee you that there's probably at least four our five times where we had the ball in wide areas where another pass like that could have found somebody open."
Rodney Michael connected with Candia on a cross in the 41st minute that resulted in a near miss by Candia and a free kick from Axel Mendes found the head of a wide open Faouzi Taieb in the box, but he couldn't put it away in the final moments before halftime.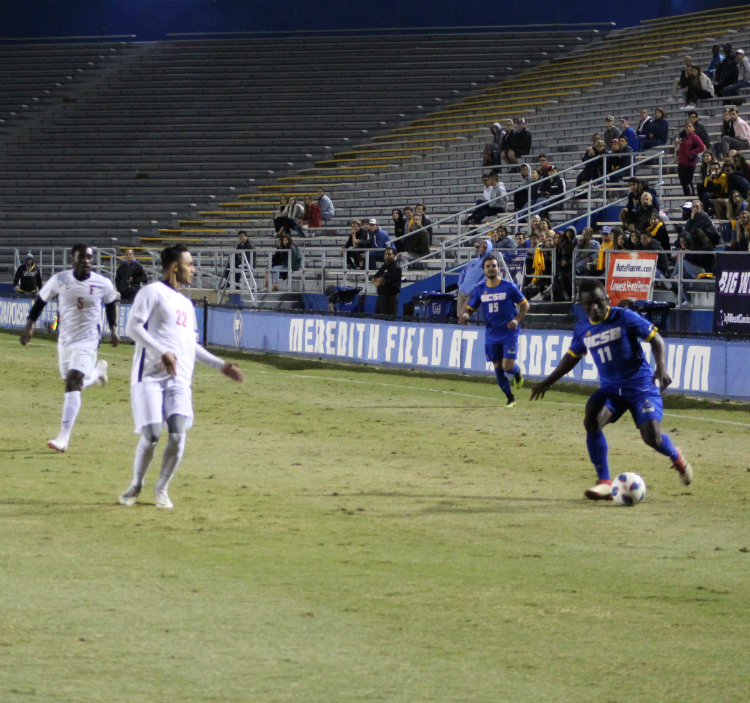 By Victor Bryant