A road trip to Culver City was more like an ambush for the Santa Barbara High football team.
The Dons had no answer for the shear number of elite athletes that Culver City possessed on both sides of the ball and suffered a season-ending 55-7 loss on Friday night.
"I felt like we started off strong, but I'm going to be honest, there's not too many teams that look like (Culver City)," said Santa Barbara coach J.T. Stone. "I hate to say we were out of our league, but we were. They have a lot of guys with a lot of speed."
Culver City has three players in its secondary, who will be playing Division 1 football when their high school days are over, including junior cornerback Khary Crump, who already holds Pac 12 offers from Oregon and Arizona.
Santa Barbara battled hard to stay in the game early, especially on the defensive side of the ball. Culver City turned the ball over on downs on its opening drive of the game after an incomplete pass by Zevi Eckhaus on 4th-and-5 from the Santa Barbara 25-yard line.
On the ensuing Santa Barbara drive, quarterback Deacon Hill was intercepted in Centaurs' territory by Crump. Seven plays later Eckhaus connected with Jamal Glaspie on a 17-yard touchdown pass, giving Culver City a 7-0 lead with 1:57 remaining in the first quarter.
Eckhaus found the Fresno State bound Glaspie again on a ten-yard touchdown strike with 7:28 remaining in the second quarter, increasing the Culver City lead to 14-0.
It appeared Santa Barbara would be within striking distance going into halftime, b ut Culver City took over with 1:30 remaining in the second quarter and mounted a four-play 49-yard drive that only took 30 seconds and was capped off by a three-yard touchdown from Eckhaus to Kevin McGuire.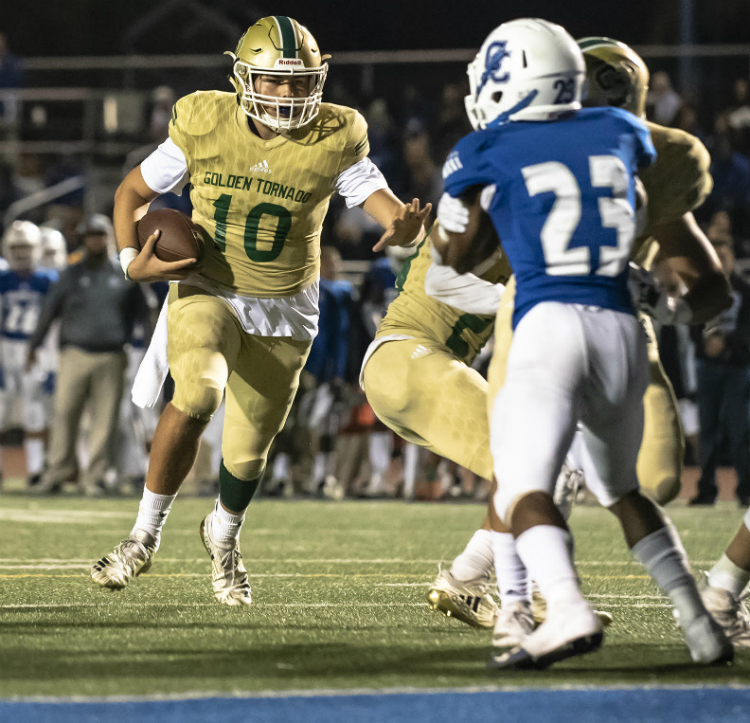 John Dvorak