Through no fault of their own, a family on San Pascual is being evicted by William Hoffman, despite a court order that forbids it. The eviction notice, dated September 13, states unhealthy mold spores were found in their apartment, a Health and Safety Code issue that should have triggered housing assistance from the receiver. But it didn't; Hoffman, who is bringing eight of Dario Pini's properties up to code, states San Pascual has no money to rehouse tenants. Instead, the extended family of 13 people spent four weeks finding a new home, clear across town, which will disrupt the children's schooling and turn all their lives upside down. But it's just as well that they're leaving, because Pini plans to demolish the place.
Hoffman was appointed receiver in April, in charge of fixing violations big and small, from bare electrical wiring to rotten ceiling joists. The protracted trial had also considered the city's Housing Authority as receiver since that agency is familiar with Santa Barbara's housing shortage; the city is considered by many to be down to a half percent rental vacancy rate. But the receiver requested by Pini and his lenders, Hoffman and his property management company, Trigild of San Diego, won the job. Hoffman was undeniably qualified. But City Attorney Ariel Calonne went to great lengths to have the receivership established under Health and Safety codes that state the "receiver shall provide relocation benefits" because eviction was a city concern regarding Hoffman. He usually handles bank receiverships in which evicting tenants is customary.
All this is cold comfort for Eleodora S. and her extended family. The two-bedroom apartment they've lived in for 11 years ​— ​at the cost of dealing with cockroaches, rats, and a broken-down building ​— ​rented for $1,950 and housed two sets of parents and their nine children. The men in the household work construction and were able to fix things in exchange for a rent reduction from Pini. They have always paid their rent, Eleodora said, and have the receipts to prove it. The 30-day notice her family received simply tells them to leave: "You are welcome to vacate and turn in your keys sooner without penalty," it offers, but it makes no mention of any help in finding a new home.
The mold causing their eviction sprouted after their bathtub developed a crack, a situation they could have bargained with Pini to fix. The three-car garage below their apartment had been stuffed full of so many tubs, sinks, doors, cabinets, and other things that the doors wouldn't close, said family friend Ana Bello. They close now, because the tenants cleaned up the garages at Trigild's request and without compensation. Trigild cannot barter since it must report all financial transactions to the court; work exchanged for rent has no place on its financial statements.
The family living in the middle building on the lot had also bartered with Pini on the rent. Paulina said her husband is a painter, but he'd been injured on the job. The house and surrounding fence are thick with glossy gray paint, part of their work-trade deal with Pini. Now they try harder to scrape the next month's rent together.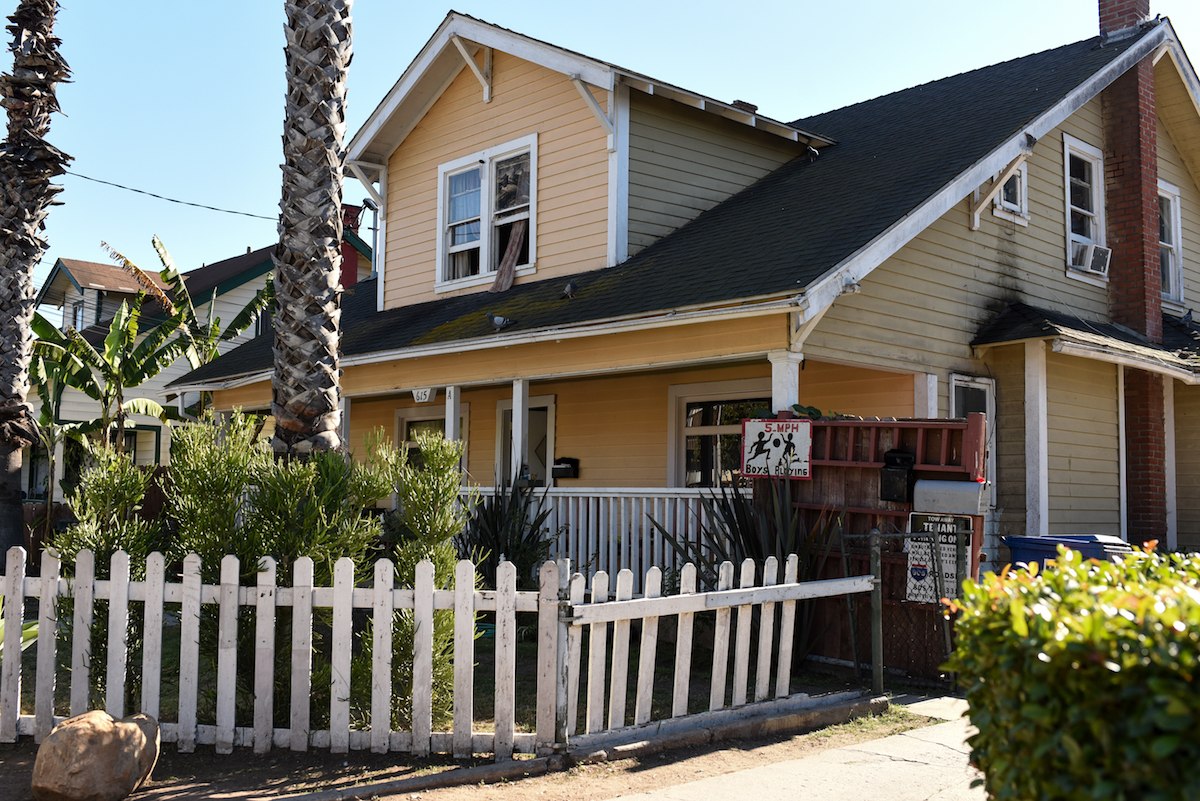 By Erika Carlos