Laguna Blanca first opened its doors 85 years ago in bucolic Hope Ranch to 40 boys taught by six faculty. Today, the school proudly stands as a pillar of academic excellence, serving 375 coed students on two campuses: 35 acres in Hope Ranch for secondary students, and a two-acre site in Montecito serving grades K-4 as well as early kindergarten.
One point of distinction in Laguna Blanca's instructional approach is known as project-based learning (PBL), in which students work together on an interdisciplinary project over an extended period of time to solve a real-world problem or answer a complex question. Students then demonstrate their knowledge and skills by developing a public product or presentation for a real audience.
PBL was rolled out as a school-wide initiative in 2014 because "it's so clearly the gold star of best practices in 21st-century education," said Ashley Tidey, Laguna Blanca's experiential learning coordinator and English instructor. "It offers the highest level of creative and invested team-based problem-solving in K-12 education. It's not just college preparatory; it's real-world preparatory."
Here are two examples.
Dancing About Literature
Charles Donelan, Laguna Blanca humanities director (and executive arts editor at this newspaper), described how project-based learning is providing otherwise rare opportunities to integrate literature with dance, theater, and music. About five years ago, Donelan tapped a nonprofit, Library Dances, to connect his students to the State Street Ballet. Step one of the assignment: Read the play A Midsummer Night's Dream. Step two: Collaborate with State Street Ballet dancers to produce and perform in a theatrical performance before a live audience.
In the following years, Donelan's students and the Library Dances team united to present such works as The Scarlet Letter and The Great Gatsby. But this past year, Donelan had a brainstorm as he was preparing to teach Charlotte Brontë's Jane Eyre to AP English Literature students.
"I couldn't get this silly pun, 'Jane Air,' out of my head," he said, adding that he'd been pining to collaborate with Ninette Paloma, who founded the Santa Barbara Centre for Aerial Dance (and who is a contributing writer at this newspaper). "Based on that simple pun, I wound up writing a 45-minute satirical adaption of the Brontë novel that included segments for aerial dance, and Ninette agreed to choreograph the show. In the spring of 2018, Jane Air debuted with a cast of 10 seniors and seven middle school drama students."
Not only did the performance bring the classic piece of literature to life, but it also allowed students to step outside their comfort zones as dancers beneath the spotlight.
"There's a type of total engagement and mental presence involved in dance that you don't get with any other art form," he said. "You have to move or else you stand out. High school students are used to situations in which lowering one's level of participation is the key to blending in. They quickly discover that when you are onstage dancing, the wallflower strategy doesn't work. So, give it everything you've got, do all the moves, and be as big as you can because otherwise you'll be out of step. I can't think of a better way to convey the mentality and benefits of PBL than this analogy."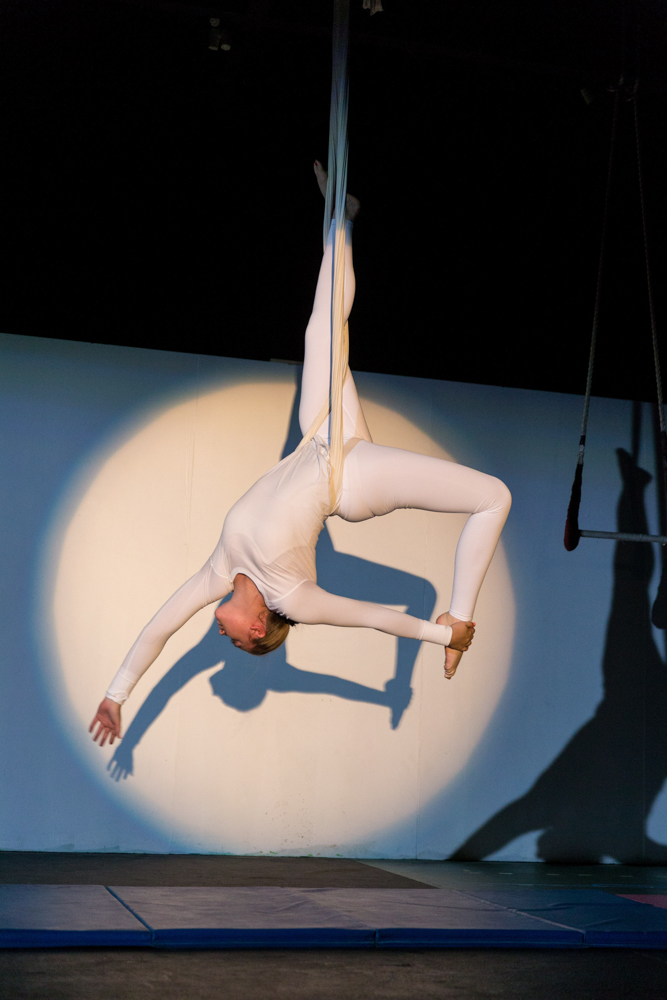 Brad Elliott
Brad Elliott Photography