Cate School, an exclusive private school situated at the end of an uphill gated road, would seem to be a world apart from the surrounding community of Carpinteria. Its football team competes with similar prep schools in the unique 8-man division. But the Rams can trace their roots directly to the Carpinteria High Warriors.
Ben Soto, Cate's head football coach, played for the Warriors in the early 1970s. A prominently displayed photo in Soto's office shows him with two of his Carpinteria coaches, Mike Warren and Lou Panizzon. "They are very influential people in my life," Soto said. He played football under Warren and baseball under Panizzon, who later became head football coach. "Panizzon hired me to help out, one thing led to another, and here I am," Soto said. "What those guys taught me is what I'm doing here."
Soto, 63, went up the hill to become Cate's baseball coach more than 30 years ago. He took the reins of the football program at its inception in 2005.
"We went 3-3 the first year," he said. "A lot of people came up to me: 'How did you win your first year of 8-man?' We have good athletes. Everybody's playing something."
The Rams had perhaps their greatest season come to an end Monday. They were 9-0 and ranked No. 1 in the state, but in a CIF quarterfinal game that was interrupted by smoke from the Southern California fires, they lost to Windward of Los Angeles, 31-27. The game, originally scheduled for Friday, was postponed to Saturday, and then it was suspended at halftime with Windward leading at home, 16-13. The second half was played at Newport Beach on Monday, and the Rams were unable to complete a comeback.
A week earlier, in a first-round playoff game under the lights at Carpinteria High, the Rams routed Desert Christian, 89-15, even though Soto did everything in his power not to run up the score.
Cate's success stems from Soto's old-school coaching style that is embraced by the young men who play for him.
"I love him to death," said Jack Deardorff, the Rams' sensational senior quarterback. "I have him for baseball and football. I couldn't ask for a better leader. He teaches life lessons through sports." Deardorff also plays on the soccer team. Every Cate student is required to play more than one sport.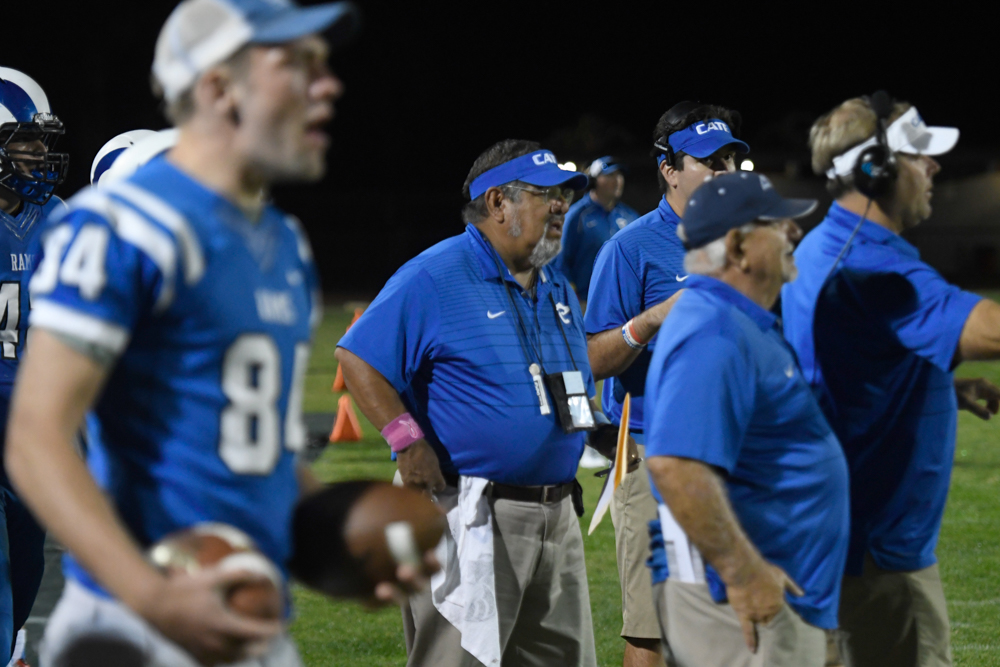 By Paul Wellman