Two nights of rain in a row brought Santa Barbara County's Freedom Warming Centers into action on Wednesday and Thursday. "It's pretty amazing how quickly we can go from an empty church to a shelter," said Kathy Hayes, Freedom's director. More than 100 people made their way to the four warming shelters countywide on Wednesday night, 61 in Santa Barbara, including Quinn Johannesburg. "I thought he was going to arrest me," he said of Sheriff's Deputy Bruno Bertuzzi, who pulled over at Turnpike and Hollister to offer Johannesburg a ride to the shelter at First Presbyterian Church. "I wish there were more warming shelters open throughout the year," the deputy said.
Photo Gallery
Rain Opens Freedom Warming Centers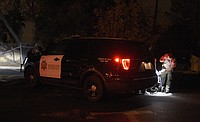 A midweek rain opens Freedom Warming Centers throughout County and we visit the Santa Barbara location at the First Presbyterian Church.
After a check-in at the door, the homeless clients entered to the delicious smell of dinner: lasagne, salad, vegetables, and a dessert. About eight Warming Center staffers were joined by a doctor from Doctors Without Walls and a mental-health counselor, available if any clients needed them. After everyone had finished their meals, and a few had returned for seconds, the tables were cleared away, the floor swept, and thick sleeping mats laid out, with couples in one area, and men and women separated to opposite sides of the room. One woman pulled a small Christmas tree from her suitcase. A table against a wall held water, coffee, and cans of dog food. The rain came down intermittently as people recharged their cell phones, read, spoke quietly together, or turned over and went to sleep.
Lights went out at 8 p.m. sharp, starting "Quiet Time" until 4:30 a.m. during which no loud talking or cell phone use was allowed. The morning brought an early breakfast before the 6 a.m. call when all residents, rain or shine, were required to leave the Warming Center.
Thursday night, about 150 people came into the shelters, deciding not to spend the night outdoors getting wet. The second night is usually more full, Hayes acknowledged. Right now, her staff has their eye on Tuesday, which has rain in the forecast. If it reaches the 50 percent threshold, they'll rev up the church's volunteer cooks again, put their staff together, and open the shelters.
Up-to-date opening information is available at the Freedom Warming Center hotline: (805) 324-2372.
The shelters are located at:
• Santa Barbara First Presbyterian Church, 21 East Constance
• Carpinteria Veterans Memorial Building, 941 Walnut Avenue
• Lompoc Peace Lutheran Church, 1000 West Ocean Boulevard
• Santa Maria Salvation Army, 200 West Cook Street