Yes on Proposition 10
Enables Local Governments to Pass Meaningful Rent-Control Ordinances
Prop. 10 does not impose rent control throughout California; it merely allows city and county governments to pass expanded rent-control ordinances of their own if they so choose. It effectively repeals a law passed by the Legislature at the behest of the rental housing industry in 1995 ​— ​the Costa-Hawkins Rental Housing Act ​— ​that has severely hamstrung California cities in what kind of rent-control laws they could pass. For example, single-family homes were barred from any rent-control protections anywhere in the state. So too were all apartment buildings constructed after 1995. And lastly, the Costa-Hawkins measure allowed landlords unrestricted rent increases once a tenant moved out. If Prop. 10 passes, these exemptions will be gone, allowing local governments broader discretion in what kind of rent controls they seek to impose. Nothing in Prop. 10, however, repeals the court-recognized right of landlords to make "a fair rate of return" on their investments.
Right now, more than half the renters in California are spending at least 30 percent of their incomes on housing. That's the federal government's threshold for a "cost-burdened" household. More alarming, almost one-third of California's renters are paying half of their income for housing. Rents statewide are increasing at three times the rate of wages. The U.S. Census just announced that more than 9,000 Latino residents in Santa Barbara left town over the last six years. Nobody asked them why. Everybody already knows.
Rent control, admittedly, is a highly imperfect solution. But right now, market forces are such that tenants desperately need some countervailing pressure exerted on their behalf. We understand many landlords in Santa Barbara refrain from taking the most they can get. But increasingly we hear stories of new out-of-town investment companies buying up old rental properties ​— ​affordable by neglect ​— ​and evicting existing tenants ​— ​many working families ​— ​to make room for out-of-town students whose parents can pay top dollar. The passage of rent-control ordinances might, we are hoping, prevent such extreme abuses This, we understand, is only a stopgap approach that in isolation solves very little. But until local governments get more focused on a wide range of housing issues, such stopgaps are necessary.
Yes on Proposition 1
$4 Billion Housing Bond
This is that rare breed of ballot initiative, a genuine no-brainer. If passed, Prop. 1 would authorize the state to sell $3 billion in bonds to be used for new housing construction, rehabilitation, and purchase by low- and moderate-income households. If approved, the bond sales would set aside $1.8 billion to local governments or nonprofit organizations to build new ​— ​or rehabilitate existing ​— ​apartment complexes targeting low-income households. In exchange for this financing, the developments involved must continue to provide low-income housing for 55 years. Another $450 million would be spent on housing in existing urban areas or areas near public transportation lines. Another $450 million would be set aside to provide down-payment assistance to low- and moderate-income first-time homeowners. Lastly, $1 billion would provide home loan assistance to veterans seeking to buy single-family homes, condos, farms, or mobile homes. According to the state's legislative analyst, Prop. 1 would directly benefit an estimated 30,000 multifamily households and 7,500 farmworker households and help with down payments for 3,000 veterans and 15,000 home buyers.
Yes on Proposition 2
Housing People with Mental Illness Who Are Homeless
Back in 2004, state voters ratified Prop. 63, the so-called millionaires' tax designed to fund new programs to address the needs of people with mental illness. That program has not been without its difficulties. Prop. 2 allows the state to use $140 million a year of that tax money ​— ​maxing out at $2 billion ​— ​to fund a new initiative dubbed No Place Like Home that will create housing for people with mental illness who are homeless or at risk of chronic homelessness. No new bonding authority is being sought here, and no additional revenues will be exacted. Although many mental-health advocates were initially wary ​— ​or downright hostile ​— ​to Prop. 2, most have been persuaded that the new housing options generated will go to those suffering from chronic mental illnesses. The logic is both simple and irrefutable; without a roof over one's head, someone with mental illness is highly unlikely to experience successful treatment. Proponents estimate they can build 20,000 permanent housing units for people needing mental-health and substance-abuse treatment statewide. In Santa Barbara, the numbers are illuminating. Every year, county mental-health programs receive $19 million from the original millionaires' tax. If Prop. 2 passes, it will receive $1.4 million less. But in its stead, No Place Like Home will provide the county $2.7 million in housing funds. In addition, the county ​— ​and its nonprofit partners ​— ​will be eligible to compete for $250 million designated for medium-sized counties.
No on Proposition 5
Expands Property Tax Breaks Eligible to Homeowners over 55
Prop. 5 is a bad idea. If passed, it will broaden special tax considerations currently afforded to property owners selling their homes. On paper, it almost sounds reasonable: Allow special tax breaks to people older than 55 and those with severe disabilities. In reality, it's a Trojan horse. According to the state legislative analyst, Prop. 5 will cost schools and local governments ​— ​who depend on property taxes ​— ​$100 million a year in lost property-tax revenues the first few years. After that, the cost will jump to $1 billion a year. Nancy Reagan wasn't thinking about Prop. 5 when she famously declared, "Just say no," but she may as well have been.
24th Congressional District: Salud Carbajal
Maybe the race for the 24th Congressional District is as simple as this: a smile versus a sneer. Congressmember Salud Carbajal's default facial expression is a smile, while that of his challenger, Justin Fareed, seems to be somewhere between a sneer and a snarl.
Of course, there's more to it than that. Carbajal is an accomplished and professional politician, a nondoctrinaire moderate-liberal, pro-choice, environment-minded Democrat with nearly 30 years of government service under his belt. He was elected three times as county supervisor and is now wrapping up his first term in Congress. People talk derisively about career politicians and often for good reason ​— ​but that does not apply in this race. We think sending an unschooled amateur like Fareed to Washington makes about as much sense as hiring an unschooled plumber to fix your toilet. Some jobs demand skill and experience. This is one of them.
In the wake of the Thomas Fire and the January 9 debris flow, we witnessed Carbajal leap into action. No, he did not personally yank people out of the muck ​— ​as some candidates claim to have done. Instead, he picked up the phone and did what a congressional representative is supposed to do ​— ​he got help. Carbajal pushed every button available to him to secure all the money and aid Washington, D.C., could muster for Santa Barbara in its hour of need. We saw this with our own eyes, and, likewise, we have seen the fruit those efforts bore. Carbajal may not give the most rousing speeches we've ever heard, but few elected officials we've seen in 30 years have worked harder on behalf of their constituents.

By contrast, Fareed remains for us a riddle wrapped in a mystery inside an enigma. This is now his third campaign for Congress, and we still don't know who Fareed is, what he's ever done, or even what he believes. Our skepticism about Fareed does not derive merely from his party affiliation. We find the immigrant-bashing fearmongering of his latest advertising commercial both morally odious and politically bankrupt.
When voters leaf through the sample ballots and voter information guides mailed out this week, they will not see a candidate statement for Fareed on the same page as Carbajal's. This is the first time in this district in recent memory that a Republican congressional candidate has chosen not to submit one. It's peculiar, but it also makes sense. Fareed has nothing to say.
We do not wish to put Carbajal on any pedestal. But he is a hardworking, smart, experienced congressmember who delivers strong constituent services and has shown that he is willing to work with the other side of the aisle to make government function ​— ​qualities in very short supply in present-day Washington.
He has been a resolute defender of environmental protections for the Central Coast, particularly against the increasing threats of unregulated drilling. A former U.S. Marine, Carbajal has worked to improve the conditions of veterans as a member of the House Armed Services Committee. He voted against repealing the Affordable Care Act, is a longtime supporter of women's rights, and served on President Obama's task force on climate change, which developed ways to protect regional communities from the obvious dangers we are all facing.
The most practical and probably most important skill Salud Carbajal offers is that he knows the district he represents. He has lived here, gone to school here, and raised a family here, and he has served in county government for years. He has an intuitive grasp of the flow chart of the local government agencies, he knows how they work, and, more to the point, he has personal relationships with the people in those agencies. Those attributes are crucial if we are to have strong, effective representation in Congress. For the last two years, that is what we have had with Salud Carbajal, who has served this district well.
We urge a vote for Representative Salud Carbajal.
Vote No on Proposition 6: Reject Gas-Tax Repeal
Desperate times call for desperate measures, and California Republicans, desperate not to get wiped out by this November's much-anticipated midterm-election "Blue Wave," ginned up Proposition 6 to save themselves from what they perceived as their all-but-certain political annihilation. Prop. 6 proposes to repeal the gas-tax increase approved last year by Governor Jerry Brown and two-thirds of the State Legislature. As a short-term political gimmick, Prop. 6 seems to have succeeded only in unifying such unlikely bedfellows as the Chamber of Commerce and Big Labor in unalterable opposition. As long-term public policy, Prop. 6 would accelerate the deterioration of the state's crumbling road system, which certainly qualifies as suicide on the installment plan.
If Prop. 6 passes, road repairs and transportation funding will be forced to do without the $5.1 billion the gas-tax increase is expected to generate per year. To put that in perspective, California has a backlog of about $130 billion in road repairs, deferred maintenance, and other transportation infrastructure needs. One reason the backlog's so big is that gas taxes haven't been increased in 23 years. Another is because newer, more fuel-efficient cars generate lower gas-tax revenues.
We don't pretend the gas-tax increase — ​by 12 cents per gallon ​— ​doesn't hurt. Advocates for repealing the tax increase estimate that it will cost a family of four $779 a year. Vehicle registration fees have gone up as well, from $25 to as much as $175 per vehicle. The pinch people feel is very real. But until we stumble onto the pot of gold at the end of some rainbow, user fees are the necessary evil needed to cover equally necessary maintenance costs.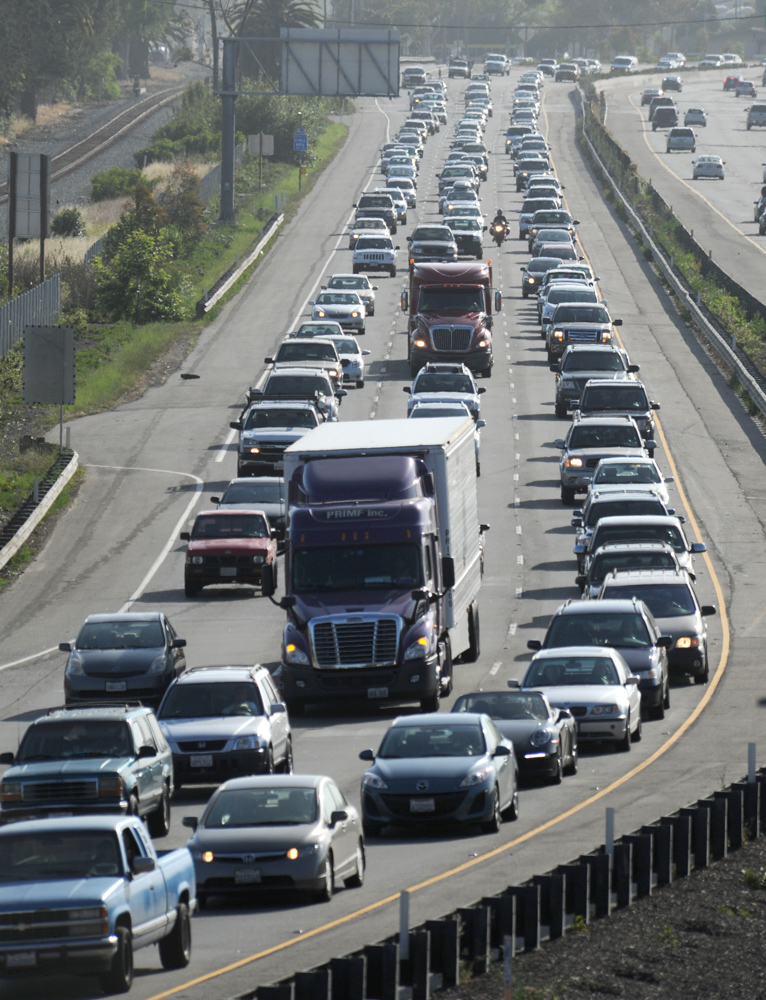 By Paul Wellman (file)