A second-half surge by the Lompoc football team overwhelmed Bishop Diego as the visiting Braves pulled away for a 36-10 victory in a matchup of Santa Barbara County's top high school football programs.
Lompoc running back/linebacker Leondre Coleman played with a heavy heart after the death of his close friend Tai Bartley last weekend. Despite the adversity, Coleman was the best player on the field Friday night and brought a much-needed spark to the Braves' rushing attack.
"I thought moving Leondre to running back and finally convincing him that's what he's got to o do if we're going to be successful," said Lompoc coach Andrew Jones. "I though he had a great game given the circumstances. He was pretty much best friends with Tai Bartley and I thought he played his heart out tonight."
Coleman finished with 141 yards on 15 carries and a touchdown. He also hauled in two catches for 66 yards and another score. The Lompoc offense found confidence with Coleman as the focal point and clicked on all cylinders in the second half.
Bishop Diego struggled immensely to move the ball, especially in the first half where the Cardinals only generated 13 yards of total offense. A shanked punt by Lompoc gave Bishop Diego excellent field position, which resulted in a 30-yard field goal by Jack Luckhurst, which put the Cardinals in front 3-0 with 4:39 remaining in the first quarter.
Lompoc responded on its ensuing possession with a 10-play, 80-yard drive that was capped off by a one-yard touchdown run by Coleman. The Braves missed the ensuing extra point and settled for a 6-3 lead.
The Bishop Diego defense hung tough despite spending long stretches on the field as a result of its anemic offense.

"Obviously when you have our roster size you've got a lot of guys that are working on both sides of the ball that's going to take a toll," said Bishop Diego coach Tom Crawford. "Plus given they're size and athleticism, I mean I think it's a challenge for anyone with their speed and their size."
Lompoc's Aldoberto Anguiano tacked on a 38-yard field goal with 5:55 remaining in the second quarter and the Braves took a 9-3 lead into the locker room at halftime.
Both offenses sputtered to open the second half, but Lompoc quarterback Cameron Iribarren connected with Ryan Morgan on a 52-yard touchdown pass with 1:53 remaining in the third quarter that gave Lompoc a 16-3 lead and broke the game open.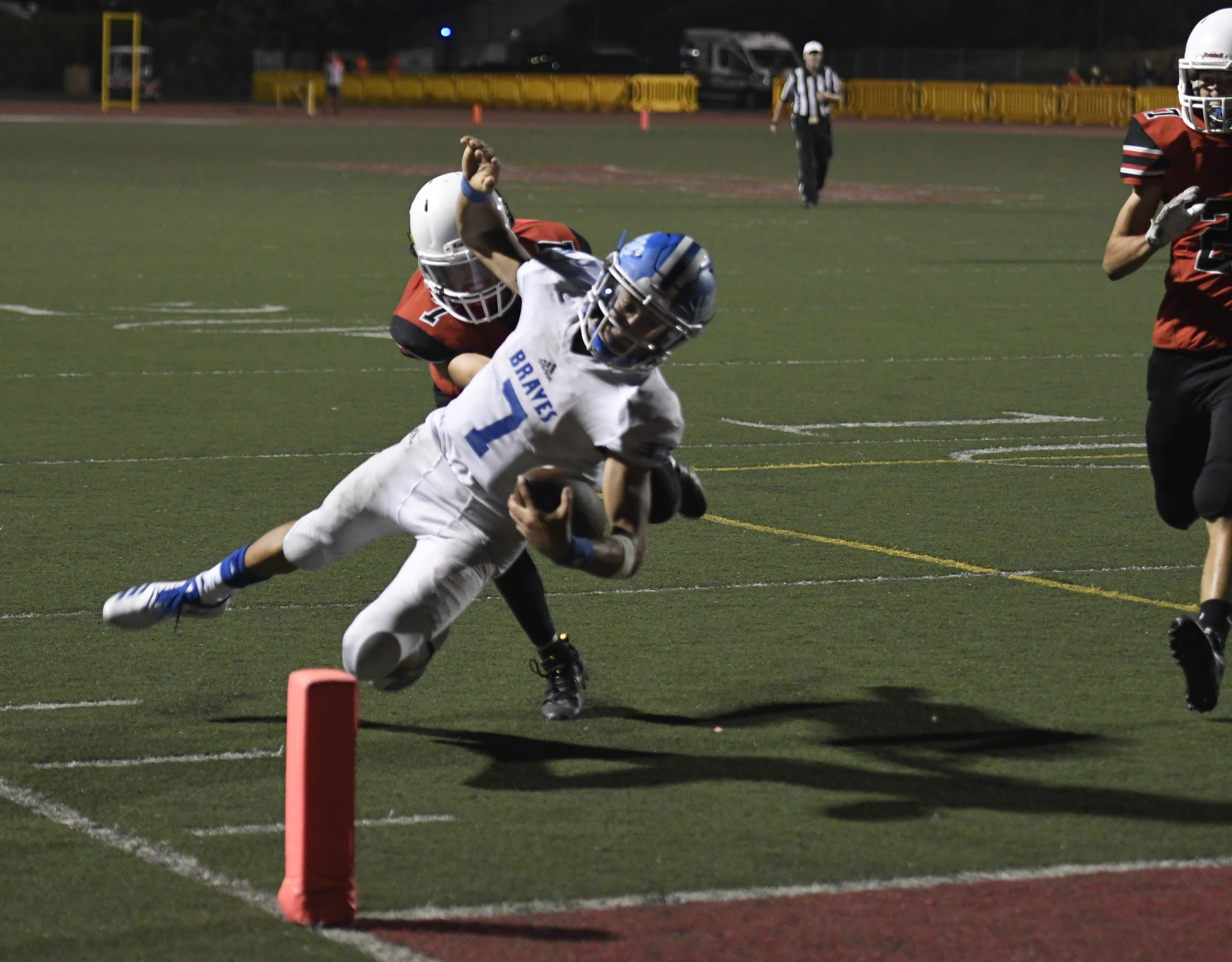 By Paul Wellman