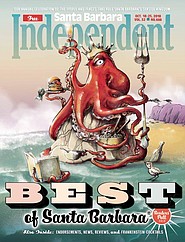 For the third straight year, the Santa Barbara Independent presents its annual Homes & Gardens special section, a roundup of profiles, advice, and insight into what makes our developed and cultivated landscapes thrive. This year's edition looks at a tiny home built by high schoolers, the history of adobe construction, how to make your yard look like Lotusland, and much, much more.
TOC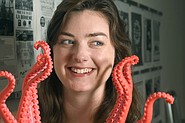 Name: Emily Cosentino

Title: Marketing and Promotions Manager

What's so fun about Best Fest? Why buy a ticket? Every vendor and sponsor who comes has been crowned the very best by Indy readers, and there are very few events in Santa Barbara where you can drink a beer with your dentist, your dog trainer, and your barber all in one night. It brings all those different parts of our community under one roof, and that's what makes it magical.

There's been some incredible food and drink at past parties. What were some of your favorites? The Good Lion and their dangerously delicious cocktails. We are lucky to have them back again this year. Their line gets long, but it's 100 percent worth the wait.

Besides all the good nosh and booze, what can attendees expect this year? Dancing to beats all night long, snapping photos in our photo booth, and having the BEST time.
In Print
Selected stories from our weekly newspaper.
Our Annual Celebration of the People and Places That Rule Santa Barbara's Seaside Kingdom
Our annual celebration of the people and places that rule Santa Barbara's seaside kingdom. Read story.
Fancy dishes, big burgers, and taco triumphs can all be found in this best dining round-up. Read story.
Looking Good: Dressing up or just need new kicks? Here are the best spots for your feet, face, and more. Read story.
Drinking: Who's got the stiffest drinks and best red wine? All that and more in the best beverage category. Read story.
Well-Funded Nonprofit Seeks Emergency Permits to Block Debris Flows
A well-funded nonprofit is seeking emergency permits to block debris flows. Read story.
Alecia Moore Finds Solace in Her Santa Ynez Valley Vineyard
Alecia Moore finds solace in her Santa Ynez Valley vineyard. Read story.
UCSB Arts & Lectures Presents the Legendary Musician and the Jazz at Lincoln Center Orchestra
Legendary musician talks about the importance of jazz and the responsibility of the artist in the modern world. Read story.
One Hometown Organization Helps Keep Residents Out of Detention Centers
How Anahi Mendoza and a Santa Barbara County organization help win bail for residents in ICE detention centers. Read story.
Who Is Crazy and Who Is Insane in the Jails and Courts and on the Streets
Who is crazy and who is insane in the jails and courts and on the streets? Read story.
Performance Is Full of Relentless Imaginative Variations
This performance is full of relentless imaginative variations that are the company's lifeblood. Read story.
All Resident Artists Return for 10th Anniversary
All resident artists return for the program's 10th anniversary. Read story.
'Santa Barbara Independent' Presents Ninth Annual Ode to Eating Out
The 'Santa Barbara Independent' presents its ninth annual ode to eating out. Read story.
Glory and Defeat Are All Part of the Game
Glory and defeat are all part of the game. Read story.
David Obst Helps Get Seymour Hersh's Explosive Story to the People
David Obst helps get Seymour Hersh's explosive story to the people. Read story.
Pulitzer Prize–Winning Journalist Pens Memoir
Pulitzer Prize–winning journalist pens memoir. Read story.