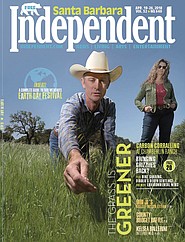 On March 18 and 19, the oaken lakeside grounds in Santa Ynez will be alight with the glow of stars, both celestial and of the indie-rock variety. For the first time, the Starry Nites Festival is set to rock the Live Oak Campground with a colorful pastiche of indie-rock, classic-rock, and psychedelic-rock acts such as Alan Parsons, The Kills, Cat Power, The Dandy Warhols, She Wants Revenge, and many more. The festival, started by Tommy Dietrick and Kerry Brown of Joshua Tree's Desert Stars Festival, kicks off a festival season that also includes the culmination of Lucidity Festival before its transformation into something as yet unknown (see future issues for deeper coverage on Lucidity). For now, we spoke with Starry Nites' founders about what makes this festival unique, plus interviews with Alan Parsons, She Wants Revenge, and Kolars.
TOC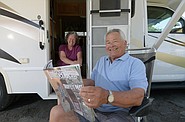 Santa Barbarans of a certain age may remember Frank Holguin from the 1960 Dons football team, which famously won the CIF championship for Santa Barbara High under Coach Sam Cathcart. Or they may have bumped into him during his 35 years with the post office. But these days, Frank — whom we're proud to call a member of the Thursday-morning, crack-of-dawn Indy delivery crew — is more likely to be found biking or beaching with his wife, Nona Holguin, or indulging in their favorite retirement activity — RVing. "We like to go camping a lot," he said, "to the National Parks or nearby to Cachuma, Casitas." Or even as far as Boise, Idaho, for a granddaughter's softball championship in their trusty Dutchmen Express.
In Print
Selected stories from our weekly newspaper.
UCSB's Peter Alagona on Teaching First-Year Students, Researching Wildlife in Cities, and Bringing Grizzlies Back
UCSB's Peter Alagona on teaching first-year students, wildlife in cities, and bringing grizzlies back. Read story.
Century-Old Chamberlin Ranch Turns to New Techniques That Improve Rangeland and So Much More
The century-old Chamberlin Ranch turns to new techniques that improve rangeland and so much more. Read story.
Our Annual Ode to the State of Our Planet
Our annual ode to the state of our planet. Read story.
Philanthropist and CEO of Multimillion-Dollar Company Gives as Good as She Gets
The 93-year-old CEO of a multimillion-dollar airplane parts company gives as good as she gets. Read story.
Exploring San Jose Winery, Sipping Angelica, and Tasting in De la Guerra's Bodega
Exploring San Jose Winery, sipping Angelica, and tasting in De la Guerra's bodega. Read story.
Start Making Summer Plans with Santa Barbara's Complete Guide to Kids' Activities
Start making your summer plans using Santa Barbara's complete guide to kids' activities. Read story.
Foundation Leadership Accused of Mismanagement, Favoritism, and Neglect
The foundation created to carry out Huguette Clark's will is accused of mismanagement, favoritism, and neglect. Read story.
A Look at Post-Disaster Efforts So Far, from the Bucket Brigade to Jack Johnson's Benefit
A look at post-disaster efforts so far, from the Bucket Brigade to Jack Johnson's benefit show. Read story.
Inside the Medicine and Markets of the Modern Marijuana Industry
Inside the medicine and markets of the modern marijuana industry. Read story.
Four-Day Festival Devoted to the Art of Puppetry Begins
Four-day festival devoted to the art of puppetry kicks off March 1. Read story.
Bringing Safer Ways for Law Enforcement to Work with People with Mentally Illness
Sheriff's Lieutenant Eddie Hsueh brings safer ways for law enforcement to work with people with mental illness. Read story.
A Personal Investigation into Hookup Culture and its Gruesome Consequences
A personal investigation into hookup culture and its gruesome consequences. Read story.
Sexual Violence Continues on the Streets of Santa Barbara
Sexual violence continues on the streets of Santa Barbara. Read story.
The Fire and Its Aftermath Made This Year's Competition Special
The fire and its aftermath make this year's competition special. Read story.
Festival Heads into Last, Long Weekend
Heading into the last, long weekend of events, there is still plenty to do and see. Read story.