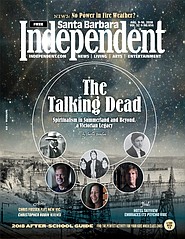 For the third straight year, the Santa Barbara Independent presents its annual Homes & Gardens special section, a roundup of profiles, advice, and insight into what makes our developed and cultivated landscapes thrive. This year's edition looks at a tiny home built by high schoolers, the history of adobe construction, how to make your yard look like Lotusland, and much, much more.
TOC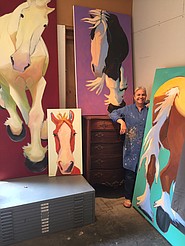 Name: Katie Upton

Title: Cover artist

Tell us about your love affair with horses: I have been drawing and painting horses since I was very young. I grew up with horses. I started riding when I was about 3. I have lived in Mission Canyon my whole life. I spent my childhood riding with my friends, exploring our backcountry. I probably wasn't aware of it at the time, but I have studied horses as far back as I can remember. I think I kind of absorbed them.

When did painting them become your focus? When I first did some of my large-scale horse drawings in the late '80s, it felt really natural and honest. I finally could pull from all the absorbed knowledge of horses I had stored up. I could express, in a sense, who they are to me. All of my work is imaginary, except for my commissioned work, which are actual horses that I paint for clients.

What do you hope your work conveys? I hope my work expresses a total sense and spirit of the horse.
In Print
Free Monthly Class Every Second Saturday Combines Fresh Air, Art Skills, and Camaraderie
Free monthly class every second Saturday combines fresh air, art skills, and camaraderie. Read story.
Four Reasons Why You Should Volunteer in the Los Padres National Forest
Here are four reasons why you should volunteer to work in Los Padres National Forest. Read story.
Teresa Ramallo-Whalen Now Renting Beach Shacks on Santa Barbara Shoreline
Teresa Ramallo-Whalen now renting beach shacks on Santa Barbara shoreline. Read story.
Why Popular Routes Remain Closed; Plus, Hiking News from Ojai
Why popular routes remain closed; plus, hiking news from Ojai. Read story.
Find Adventure, Advocacy, and Amore with the Santa Barbara-Ventura Group
Find adventure, advocacy, and amore with the Santa Barbara-Ventura group. Read story.
Companies to Help You Enjoy the Great Outdoors
Check out these companies to help you enjoy the great outdoors. Read story.
Professor Allison Alvarado Teaches Ornithology to CSU Channel Islands Students
Professor Allison Alvarado teaches ornithology to CSU Channel Islands students. Read story.
The Unsolved Mystery of One of the 20th Century's Most Sensational, Brutal Murders
The unsolved mystery of one of the 20th century's most sensational, brutal murders. Read story.
More Than 60,000 County Residents Live in Poverty and Struggle for Their Next Meal
More than 60,000 county residents live in poverty and struggle for their next meal. Read story.
Santa Barbara County Has the Highest Child Poverty Rate in California
Santa Barbara County has the highest child poverty rate in California. Read story.
Foodbank's Eric Talkin Reflects on a Decade of Work
Foodbank's Eric Talkin reflects on a decade of work. Read story.
Two Nights Honoring the Best in Santa Barbara Theater and Dance
The two nights honored the best in Santa Barbara theater and dance. Read story.
A House for Today Rises Among Ancient Oaks
A house for today rises among ancient oaks. Read story.
The Santa Barbara Independent's Special Section on Careers Read story.
Country Music Superstar Hosts 2nd Responders Benefit for Thomas Fire and Flood Recovery
Country music superstar hosts The 2nd Responders benefit for Thomas Fire and flood recovery. Read story.