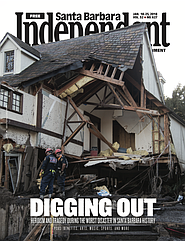 On March 18 and 19, the oaken lakeside grounds in Santa Ynez will be alight with the glow of stars, both celestial and of the indie-rock variety. For the first time, the Starry Nites Festival is set to rock the Live Oak Campground with a colorful pastiche of indie-rock, classic-rock, and psychedelic-rock acts such as Alan Parsons, The Kills, Cat Power, The Dandy Warhols, She Wants Revenge, and many more. The festival, started by Tommy Dietrick and Kerry Brown of Joshua Tree's Desert Stars Festival, kicks off a festival season that also includes the culmination of Lucidity Festival before its transformation into something as yet unknown (see future issues for deeper coverage on Lucidity). For now, we spoke with Starry Nites' founders about what makes this festival unique, plus interviews with Alan Parsons, She Wants Revenge, and Kolars.
TOC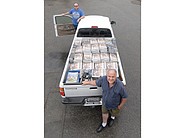 It's been a heck of a two months for father-son duo Carlos Padilla and Carlos Padilla — Junior and the Third, respectively — who head into the Independent's drop-off spot early every Thursday morning to deliver the papers to Montecito, Summerland, Carpinteria, Ojai, and Ventura. They've been delivering us for three decades, but the fires and floods are making this patch particularly rough. "Everyone asks, 'Why are you late?' when the truck can't get here on time [from Orange County]," said Carlos Jr., adding with a twinkle in his voice, "but I am the first guy who gets the paper and the last guy who reads the paper, after I get home."
In Print
Grammy Award–Winning Group in Town on Día de los Muertos Tour
Grammy Award–winning group in town on Día de los Muertos tour. Read story.
Santa Barbara's Mexican Bakeries Offer Día de los Muertos Specialties
Santa Barbara's Mexican bakeries offer Día de Los Muertos specialties. Read story.
From Cempasúchil to Mictecacihuatl, Six Día de los Muertos Terms Every Gringo Should Know
From cempasúchil to Mictecacihuatl, here are six Día de Los Muertos terms every gringo should know. Read story.
How Santa Barbara Chefs Are Elevating Vegetable-First Cuisine
How Santa Barbara chefs are elevating vegetable-first cuisine. Read story.
Our Annual Celebration of the People and Places That Make Santa Barbara Out of This World
Our annual celebration of the people and places that make Santa Barbara out of this world Read story.
In the Crowded and Competitive Field, Every Candidate Has a Chance
In the crowded and competitive field, every candidate has a chance. Read story.
Team Coaches and Doctors Tackle Ways to Prevent Head Injuries
Santa Barbara coaches and doctors tackle ways to prevent head injuries in all youth sports. Read story.
The 'Santa Barbara Independent' Presents Its Eighth Annual Ode to Eating Out
The 'Santa Barbara Independent' presents its eighth annual ode to eating out. Read story.
The New Gateway to the City Brings Great Change
Santa Barbara's Hotel Californian opens a new gateway to the city. Read story.
Santa Barbara Museums Collaborate On Massive Los Angeles/Latin American Art Project
Santa Barbara Museums collaborate on massive Los Angeles/Latin American art project. Read story.
The Industry Explodes, Leaving Everyone in It Wondering What's Next
As the industry's underground culture explodes, everyone from pot trimmers to tomato farmers wonders where it will go. Read story.
Kate Weare and Esteban Moreno Create New Forms for DANCEworks
Kate Weare and Esteban Moreno are creating new forms for DANCEworks. Read story.
A Mecca for Training Programs and Practice
The city has long been a mecca for training programs and practitioners. Read story.
How Distributing Vitamin A to Small Mexican Villages Changed Lives
How distributing Vitamin A to small Mexican villages changed lives. Read story.
Artist David Flores Showcases New Mural and More at Downtown Art Gallery
Artist David Flores showcases a new mural and more at the downtown art gallery. Read story.