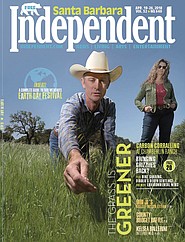 On March 18 and 19, the oaken lakeside grounds in Santa Ynez will be alight with the glow of stars, both celestial and of the indie-rock variety. For the first time, the Starry Nites Festival is set to rock the Live Oak Campground with a colorful pastiche of indie-rock, classic-rock, and psychedelic-rock acts such as Alan Parsons, The Kills, Cat Power, The Dandy Warhols, She Wants Revenge, and many more. The festival, started by Tommy Dietrick and Kerry Brown of Joshua Tree's Desert Stars Festival, kicks off a festival season that also includes the culmination of Lucidity Festival before its transformation into something as yet unknown (see future issues for deeper coverage on Lucidity). For now, we spoke with Starry Nites' founders about what makes this festival unique, plus interviews with Alan Parsons, She Wants Revenge, and Kolars.
TOC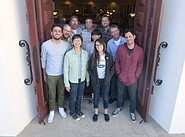 The annual cycles of rain, renewal, fire, and flood is something none of us ever get used to. But we practice. The news team proudly won first place in breaking news for "The Forever Season" on the Whittier Fire from the California News Publishers Association. The Thomas Fire earned us a second for our web presence, and news editor Tyler Hayden was awarded a first for his "Housing in Santa Barbara." But the writers bow to our artists, Ben Ciccati and Caitlin Fitch, who earned a first for their special insert covers, and photographer Paul Wellman, who won both first and second for artistry. Our unsung heroes are Jackson Friedman and Athena Tan, our copy editors. They make our words look even better than they sound.
In Print
Fascinating Films, Acclaimed Actors, and More
From Oscar nominees to art-house indies, the schedule is packed with films for all. Read story.
Legal Tangles Leave Santa Barbarans Wondering: 'Dude, Where's My Weed?'
Legal tangles leave Santa Barbarans wondering: 'Dude, where's my weed?' Read story.
What to Expect When You Walk Into Your First Cannabis Retailer 
What to expect when you walk into your first cannabis retailer.  Read story.
From Where to Start to When to Harvest, Here Are Seven Must-Know Steps to Planting Pot in Santa Barbara
From where to start to when to harvest, here are seven must-know steps to planting pot in Santa Barbara. Read story.
Tracing the History and Coping with the Reality of 20 Lost and Three Still Missing
Tracing the history and coping with the reality of 20 lost and three still missing. Read story.
17 People Killed and 100 Homes Destroyed in Post-Thomas Fire Disaster
Seventeen people were killed and 100 homes were destroyed in the post-Thomas Fire disaster. Read story.
How the Santa Barbara Zoo Is Helping Save the Big Cats from Extinction
How the Santa Barbara Zoo is helping save the big cats from extinction. Read story.
The Santa Barbara Independent's Annual Visual Review of the Year That Was
The Santa Barbara Independent's annual visual review of the year that was. Read story.
Beast Still Breathes Despite Saturday's Epic Firefight in the Montecito Foothills
Insight and analysis on the beast that still breathes despite Saturday's epic firefight in the Montecito foothills. Read story.
Victims Participated in Santa Barbara Youth Theater
Victims participated in Santa Barbara Youth Theater. Read story.
242,500 Have Gone Up in Flames Across Two Counties
The Thomas Fire burns 242,500 acres across Ventura and Santa Barbara counties. Read story.
The Complete Guide to Santa Barbara's Holiday Happenings
Check out Santa Barbara's most complete guide to all the happenings this holiday season. Read story.
AXS and Ticketmaster in a Battle of the Ticket Titans
AXS and Ticketmaster in a battle of the ticket titans Read story.
Thomas Kaufmann Is Changing Concert Experiences One Loop at a Time
Thomas Kaufmann's team is changing concert experiences for people with hearing loss one loop at a time. Read story.
Rowkin and FRESHeTECH Offer High-End Sounds at Affordable Prices
Employing clever design and top-of-the-line technology, Rowkin and FRESHeTECH offer high-end sounds at affordable prices. Read story.