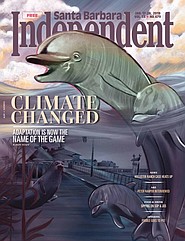 For the third straight year, the Santa Barbara Independent presents its annual Homes & Gardens special section, a roundup of profiles, advice, and insight into what makes our developed and cultivated landscapes thrive. This year's edition looks at a tiny home built by high schoolers, the history of adobe construction, how to make your yard look like Lotusland, and much, much more.
TOC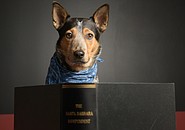 What's the best part about hanging at the Indy office? Snacks! Snacks are the best part of everything! There is one human at the Indy who fills me with chicken and pastries. I'm quite fond of all types of chicken — roasted, baked, boiled, braised, fried, grilled, cooked, seasoned, plain … Chicken.   

Any particularly fun smells you've encountered recently? I'm so glad you asked about smells! Humans don't give smells enough credit. Really the best smell is myself! I have a blanket under my human's desk, and it smells just like me which makes me feel really happy when I sleep on it. 

Outside of the office, what are your interests and hobbies? Besides chicken, balls are my greatest joy. It's unfortunate that I'm dependent upon my human to throw the ball, because I could chase balls all day. Seriously, dude. All. Day. 

If you could give one piece of advice to a new office pet, what would it be? Try not to bark. They don't like it when you bark …
In Print
Celebrating Folks Creating Melodies in Our Community
Read about the folks creating lilting melodies that emanate from Santa Barbara in our annual music issue. Read story.
Band Celebrates 20 Years at James Joyce
Band celebrates playing music for 20 years at the James Joyce. Read story.
The Long Musical Reach of the Santa Barbara Bowl
The long musical reach of the Santa Barbara Bowl. Read story.
Bluetooth Headphones and Top-of-the-Line Earbuds
Bluetooth headphones and top-of-the-line earbuds. Read story.
Neighborhood-by-Neighborhood Rundown of Where and What to Buy This Holiday Season
A neighborhood-by-neighborhood rundown of where and what to buy this holiday season. Read story.
The Complete Guide to Santa Barbara's Holiday Happenings
Check out Santa Barbara's most complete guide to all the happenings this holiday season. Read story.
Harder Stadium Is 2018's Stairway to Soccer Heaven
Harder Stadium is 2018's stairway to soccer heaven. Read story.
The Santa Barbara Independent's Annual Celebration of Our Fantastic Neighbors
The Santa Barbara Independent's annual celebration of our fantastic neighbors. Read story.
Santa Barbara Public Library Digitizes More than 2,500 Historic Images
Santa Barbara Public Library digitizes more than 2,500 historic images. Read story.
Santa Barbara's Educational System Strives to Help Teenagers Succeed amid Cell Phones and Stress
Santa Barbara's educational system strives to help teenagers succeed amid cell phones and stress. Read story.
The Always Exhausting, Occasionally Rewarding Life of Running Your Own Restaurant
Inside the always exhausting, occasionally rewarding life of running your own restaurant. Read story.
91 Years of Hard, Happy Work, from Santa Barbara City Hall to the L.A. Lakers
Celebrating 91 years of hard, happy work, from Santa Barbara City Hall to the L.A. Lakers. Read story.
Our Annual Celebration of the People and Places That Rule Santa Barbara's Seaside Kingdom
Our annual celebration of the people and places that rule Santa Barbara's seaside kingdom. Read story.
Fancy dishes, big burgers, and taco triumphs can all be found in this best dining round-up. Read story.
Looking Good: Dressing up or just need new kicks? Here are the best spots for your feet, face, and more. Read story.