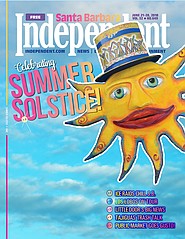 For the third straight year, the Santa Barbara Independent presents its annual Homes & Gardens special section, a roundup of profiles, advice, and insight into what makes our developed and cultivated landscapes thrive. This year's edition looks at a tiny home built by high schoolers, the history of adobe construction, how to make your yard look like Lotusland, and much, much more.
TOC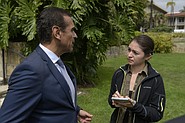 The only people happier than the Indy news crew to see Blanca Garcia back in Santa Barbara might have been her parents. Our new reporter, and former intern, is newly returned from Mexico City, where she was covering poppy cultivation for heroin and the disappearance of people in the state of Nayarit, which sits between the infamously narco-ridden states of Jalisco and Sinaloa. Blanca insists that working for the InSight Crime investigative nonprofit, which is headquartered in Medellín, was safer than it sounds. But living in Mexico City for six months might have influenced that view, as her father found out the other day. Stop signs are just a suggestion there, "but not here!" Blanca laughed, recalling her father's correction of his daughter behind the wheel.
In Print
A House for Today Rises Among Ancient Oaks
A house for today rises among ancient oaks. Read story.
The Santa Barbara Independent's Special Section on Careers Read story.
Country Music Superstar Hosts 2nd Responders Benefit for Thomas Fire and Flood Recovery
Country music superstar hosts The 2nd Responders benefit for Thomas Fire and flood recovery. Read story.
Go Behind the Scenes of NASA's First Interplanetary Launch from Vandenberg Air Force Base
Go Behind the Scenes of NASA's First Interplanetary Launch from Vandenberg Air Force Base. Read story.
Inspiration & Ideas to Consider for Your Unique Wedding
Find inspiration and ideas to consider from our annual guide when planning your wedding. Read story.
UCSB's Peter Alagona on Teaching First-Year Students, Researching Wildlife in Cities, and Bringing Grizzlies Back
UCSB's Peter Alagona on teaching first-year students, wildlife in cities, and bringing grizzlies back. Read story.
Century-Old Chamberlin Ranch Turns to New Techniques That Improve Rangeland and So Much More
The century-old Chamberlin Ranch turns to new techniques that improve rangeland and so much more. Read story.
Our Annual Ode to the State of Our Planet
Our annual ode to the state of our planet. Read story.
Philanthropist and CEO of Multimillion-Dollar Company Gives as Good as She Gets
The 93-year-old CEO of a multimillion-dollar airplane parts company gives as good as she gets. Read story.
Exploring San Jose Winery, Sipping Angelica, and Tasting in De la Guerra's Bodega
Exploring San Jose Winery, sipping Angelica, and tasting in De la Guerra's bodega. Read story.
Start Making Summer Plans with Santa Barbara's Complete Guide to Kids' Activities
Start making your summer plans using Santa Barbara's complete guide to kids' activities. Read story.
Foundation Leadership Accused of Mismanagement, Favoritism, and Neglect
The foundation created to carry out Huguette Clark's will is accused of mismanagement, favoritism, and neglect. Read story.
A Look at Post-Disaster Efforts So Far, from the Bucket Brigade to Jack Johnson's Benefit
A look at post-disaster efforts so far, from the Bucket Brigade to Jack Johnson's benefit show. Read story.
Inside the Medicine and Markets of the Modern Marijuana Industry
Inside the medicine and markets of the modern marijuana industry. Read story.
Four-Day Festival Devoted to the Art of Puppetry Begins
Four-day festival devoted to the art of puppetry kicks off March 1. Read story.