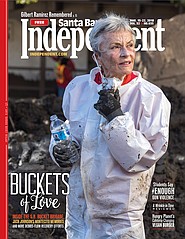 On March 18 and 19, the oaken lakeside grounds in Santa Ynez will be alight with the glow of stars, both celestial and of the indie-rock variety. For the first time, the Starry Nites Festival is set to rock the Live Oak Campground with a colorful pastiche of indie-rock, classic-rock, and psychedelic-rock acts such as Alan Parsons, The Kills, Cat Power, The Dandy Warhols, She Wants Revenge, and many more. The festival, started by Tommy Dietrick and Kerry Brown of Joshua Tree's Desert Stars Festival, kicks off a festival season that also includes the culmination of Lucidity Festival before its transformation into something as yet unknown (see future issues for deeper coverage on Lucidity). For now, we spoke with Starry Nites' founders about what makes this festival unique, plus interviews with Alan Parsons, She Wants Revenge, and Kolars.
TOC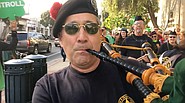 The blessed, soft, sweet rain probably won't be falling upon the assembly, but the sun will be warm upon our faces (if current weather forecasts bear out) as the road rises to meet the Indy's St. Patrick's Day Stroll this Saturday. This 11th version of the annual event is always a child- and dog-friendly ramble that draws in passersby as it rolls down the sidewalks of State Street from Indy HQ on Figueroa Street toward the stouts and ales of Santa Barbara Brew Co. at the corner of State and Haley streets. Mm-mm-fun! Faithfully each March 17, noon sharp-ish.
In Print
How Santa Barbara Chefs Are Elevating Vegetable-First Cuisine
How Santa Barbara chefs are elevating vegetable-first cuisine. Read story.
Our Annual Celebration of the People and Places That Make Santa Barbara Out of This World
Our annual celebration of the people and places that make Santa Barbara out of this world Read story.
In the Crowded and Competitive Field, Every Candidate Has a Chance
In the crowded and competitive field, every candidate has a chance. Read story.
Team Coaches and Doctors Tackle Ways to Prevent Head Injuries
Santa Barbara coaches and doctors tackle ways to prevent head injuries in all youth sports. Read story.
The 'Santa Barbara Independent' Presents Its Eighth Annual Ode to Eating Out
The 'Santa Barbara Independent' presents its eighth annual ode to eating out. Read story.
The New Gateway to the City Brings Great Change
Santa Barbara's Hotel Californian opens a new gateway to the city. Read story.
Santa Barbara Museums Collaborate On Massive Los Angeles/Latin American Art Project
Santa Barbara Museums collaborate on massive Los Angeles/Latin American art project. Read story.
The Industry Explodes, Leaving Everyone in It Wondering What's Next
As the industry's underground culture explodes, everyone from pot trimmers to tomato farmers wonders where it will go. Read story.
Kate Weare and Esteban Moreno Create New Forms for DANCEworks
Kate Weare and Esteban Moreno are creating new forms for DANCEworks. Read story.
A Mecca for Training Programs and Practice
The city has long been a mecca for training programs and practitioners. Read story.
How Distributing Vitamin A to Small Mexican Villages Changed Lives
How distributing Vitamin A to small Mexican villages changed lives. Read story.
Artist David Flores Showcases New Mural and More at Downtown Art Gallery
Artist David Flores showcases a new mural and more at the downtown art gallery. Read story.
Cascarón Folk Art: A Unique Celebration of Eggs and Confetti
The unique celebration of eggs and confetti and the folk artists who make it all happen Read story.
Santa Barbara's Grand Dames of Flamenco Talk About Their Art
Santa Barbara's grand dames of flamenco talk about their art. Read story.
Dancer/Instructor Teaches the Spanish Art
At 28, Daniela Zermeño-Sanchez has trained hundreds in the art of the Spanish dance. Read story.