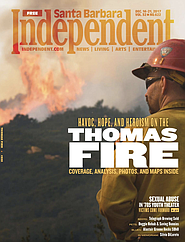 On March 18 and 19, the oaken lakeside grounds in Santa Ynez will be alight with the glow of stars, both celestial and of the indie-rock variety. For the first time, the Starry Nites Festival is set to rock the Live Oak Campground with a colorful pastiche of indie-rock, classic-rock, and psychedelic-rock acts such as Alan Parsons, The Kills, Cat Power, The Dandy Warhols, She Wants Revenge, and many more. The festival, started by Tommy Dietrick and Kerry Brown of Joshua Tree's Desert Stars Festival, kicks off a festival season that also includes the culmination of Lucidity Festival before its transformation into something as yet unknown (see future issues for deeper coverage on Lucidity). For now, we spoke with Starry Nites' founders about what makes this festival unique, plus interviews with Alan Parsons, She Wants Revenge, and Kolars.
TOC

It may be a sign of the times, but Thomas is Brandon Yadegari's second wildfire since joining the Indy less than a year ago. Our digital editor has taken to fire coverage like a duck to water, first live-streaming a Whittier fire crew on night watch and now streaming just about every fire meeting, jumping on updates and new maps, and posting to social media. "Wildfires present life-threatening challenges, but they always seem to bring out the best in all of us," Brandon said. "From mutual aid to conversations about Spanish-language accessibility and the heroism of our engine and inmate crews, it's a unique honor to be able to bring fire coverage and analysis to our community."
In Print
The Story of Near Escapes, Trapped Children, Heroic Acts, and an Endless Fire Season
The story of near escapes, trapped children, heroic acts, and an endless fire season. Read story.
This Year 3,449 Wildfires Have Already Consumed 92,439 Acres
This year 3,449 wildfires have already consumed 92,439 acres in the state. Read story.
Zebras, Watusi Cattle, a Guinea Pig and a Parrot Find Shelter
Zebras and Watusi cattle survive while a guinea pig, a parrot, cats, dogs, and horses evacuate safely. Read story.
A Forest Service Patrolman and a Santa Barbara Firefighter Helped 90 Campers and Their Counselors Survive the Flames
How a Forest Service patrolman and a Santa Barbara firefighter helped 90 campers and their counselors survive the flames. Read story.
D.J. Palladino Releases First Novel, and More
D.J. Palladino releases his first novel, a fantastical murder mystery in 1958 Santa Barbara. Read story.
Why Home Is the Best Place to Travel This Summer
Why home is the best place to travel this summer. Read story.
Ben Andrews Rides Maverick's and Wins $50,000
Santa Barbara surfer Ben Andrews rides a 53-foot wave at Maverick's and wins $50,000. Read story.
National Monument Is Small but Significant Remnant of Great Grasslands
National Monument qualifies as a small but significant remnant of what was once one of the world's great grasslands. Read story.
Our Annual Ode to the Great Outdoors
Our annual ode to the great outdoors. Read story.
Prosecutors Present Evidence at the Preliminary Hearing
Prosecutors present evidence against Pierre Haobsh at the preliminary hearing. Read story.
Is Vandenberg Air Force Base Our Best Defense or Our Greatest Risk?
Will the Star Wars program at Vandenberg Air Force Base make us a North Korean target? Read story.
Recognizing Santa Barbara's Best on the Stage
The Indy Awards recognize Santa Barbara's best on the stage. Read story.
Looking for Mental-Health Help in All the Wrong Places
The Hickey family looks for mental-health help in all the wrong places. Read story.
Profiles of Cool Careers, and the Latest Employment Trends in Santa Barbara County
Profiles of cool careers and the latest employment trends in Santa Barbara County. Read story.
How the Santa Barbara Symphony and the School District Make Music Together
This is how the Santa Barbara Symphony and the school district make music together. Read story.