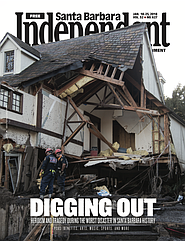 On March 18 and 19, the oaken lakeside grounds in Santa Ynez will be alight with the glow of stars, both celestial and of the indie-rock variety. For the first time, the Starry Nites Festival is set to rock the Live Oak Campground with a colorful pastiche of indie-rock, classic-rock, and psychedelic-rock acts such as Alan Parsons, The Kills, Cat Power, The Dandy Warhols, She Wants Revenge, and many more. The festival, started by Tommy Dietrick and Kerry Brown of Joshua Tree's Desert Stars Festival, kicks off a festival season that also includes the culmination of Lucidity Festival before its transformation into something as yet unknown (see future issues for deeper coverage on Lucidity). For now, we spoke with Starry Nites' founders about what makes this festival unique, plus interviews with Alan Parsons, She Wants Revenge, and Kolars.
TOC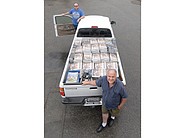 It's been a heck of a two months for father-son duo Carlos Padilla and Carlos Padilla — Junior and the Third, respectively — who head into the Independent's drop-off spot early every Thursday morning to deliver the papers to Montecito, Summerland, Carpinteria, Ojai, and Ventura. They've been delivering us for three decades, but the fires and floods are making this patch particularly rough. "Everyone asks, 'Why are you late?' when the truck can't get here on time [from Orange County]," said Carlos Jr., adding with a twinkle in his voice, "but I am the first guy who gets the paper and the last guy who reads the paper, after I get home."
In Print
Is Vandenberg Air Force Base Our Best Defense or Our Greatest Risk?
Will the Star Wars program at Vandenberg Air Force Base make us a North Korean target? Read story.
Recognizing Santa Barbara's Best on the Stage
The Indy Awards recognize Santa Barbara's best on the stage. Read story.
Looking for Mental-Health Help in All the Wrong Places
The Hickey family looks for mental-health help in all the wrong places. Read story.
Profiles of Cool Careers, and the Latest Employment Trends in Santa Barbara County
Profiles of cool careers and the latest employment trends in Santa Barbara County. Read story.
How the Santa Barbara Symphony and the School District Make Music Together
This is how the Santa Barbara Symphony and the school district make music together. Read story.
One Reporter's Journey Through a Strange Land
One reporter's journey through the strange land of Donald Trump's first 100 days Read story.
How Blind Cabinetmaker Bruce Munson Fought the Army Corps of Engineers and Won—Almost
How the blind cabinetmaker Bruce Munson fought the Army Corps of Engineers and won—almost. Read story.
The Story Behind the Bike Fabricator Who Made an International Brand
The story behind the man who made Stinner Frameworks an international brand. Read story.
Start Planning This Season's Array of Fun with Santa Barbara's Complete Guide to Kids' Activities
Start planning this season's array of fun with Santa Barbara's complete guide to kids' activities. Read story.
Live Storytelling Favorite Back for Second-Annual Mainstage Show at Lobero
The live storytelling favorite is back for its second-annual Mainstage show, "Great Escapes." Read story.
Tough and Energized, They're Swinging High and Hitting Hard
Tough and energized, they're swinging high and hitting hard. Read story.
Swing Into Spring with These Upcoming Events and Activities in and Around Santa Barbara
Swing into spring with these upcoming events and activities in and around Santa Barbara. Read story.
Into the Studio and Spirit of Santa Barbara's Painter, Professor, Athlete, and Environmentalist
Dive into the studio and spirit of Santa Barbara's painter, professor, athlete, and environmentalist. Read story.
82-Year-Old Feminist Speaks in Santa Barbara on March 2
The 82-year-old feminist speaks in Santa Barbara on March 2. Read story.
Stories and Resources for Planning Perfect Nuptials
Everything you need to know to plan your perfect nuptials. Read story.