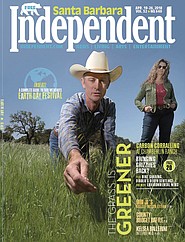 On March 18 and 19, the oaken lakeside grounds in Santa Ynez will be alight with the glow of stars, both celestial and of the indie-rock variety. For the first time, the Starry Nites Festival is set to rock the Live Oak Campground with a colorful pastiche of indie-rock, classic-rock, and psychedelic-rock acts such as Alan Parsons, The Kills, Cat Power, The Dandy Warhols, She Wants Revenge, and many more. The festival, started by Tommy Dietrick and Kerry Brown of Joshua Tree's Desert Stars Festival, kicks off a festival season that also includes the culmination of Lucidity Festival before its transformation into something as yet unknown (see future issues for deeper coverage on Lucidity). For now, we spoke with Starry Nites' founders about what makes this festival unique, plus interviews with Alan Parsons, She Wants Revenge, and Kolars.
TOC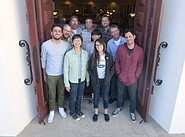 The annual cycles of rain, renewal, fire, and flood is something none of us ever get used to. But we practice. The news team proudly won first place in breaking news for "The Forever Season" on the Whittier Fire from the California News Publishers Association. The Thomas Fire earned us a second for our web presence, and news editor Tyler Hayden was awarded a first for his "Housing in Santa Barbara." But the writers bow to our artists, Ben Ciccati and Caitlin Fitch, who earned a first for their special insert covers, and photographer Paul Wellman, who won both first and second for artistry. Our unsung heroes are Jackson Friedman and Athena Tan, our copy editors. They make our words look even better than they sound.
In Print
Kate Weare and Esteban Moreno Create New Forms for DANCEworks
Kate Weare and Esteban Moreno are creating new forms for DANCEworks. Read story.
A Mecca for Training Programs and Practice
The city has long been a mecca for training programs and practitioners. Read story.
How Distributing Vitamin A to Small Mexican Villages Changed Lives
How distributing Vitamin A to small Mexican villages changed lives. Read story.
Artist David Flores Showcases New Mural and More at Downtown Art Gallery
Artist David Flores showcases a new mural and more at the downtown art gallery. Read story.
Cascarón Folk Art: A Unique Celebration of Eggs and Confetti
The unique celebration of eggs and confetti and the folk artists who make it all happen Read story.
Santa Barbara's Grand Dames of Flamenco Talk About Their Art
Santa Barbara's grand dames of flamenco talk about their art. Read story.
Dancer/Instructor Teaches the Spanish Art
At 28, Daniela Zermeño-Sanchez has trained hundreds in the art of the Spanish dance. Read story.
Nick Wigle Saves Hidden Hives with Love and Kindness
Nick Wigle saves hidden hives with love and kindness. Read story.
The Story of Fulton Leroy Washington's Second Chance at Life
The story of Fulton Leroy Washington's second chance at life. Read story.
The Story of Near Escapes, Trapped Children, Heroic Acts, and an Endless Fire Season
The story of near escapes, trapped children, heroic acts, and an endless fire season. Read story.
This Year 3,449 Wildfires Have Already Consumed 92,439 Acres
This year 3,449 wildfires have already consumed 92,439 acres in the state. Read story.
Zebras, Watusi Cattle, a Guinea Pig and a Parrot Find Shelter
Zebras and Watusi cattle survive while a guinea pig, a parrot, cats, dogs, and horses evacuate safely. Read story.
A Forest Service Patrolman and a Santa Barbara Firefighter Helped 90 Campers and Their Counselors Survive the Flames
How a Forest Service patrolman and a Santa Barbara firefighter helped 90 campers and their counselors survive the flames. Read story.
D.J. Palladino Releases First Novel, and More
D.J. Palladino releases his first novel, a fantastical murder mystery in 1958 Santa Barbara. Read story.
Why Home Is the Best Place to Travel This Summer
Why home is the best place to travel this summer. Read story.