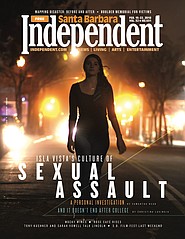 On March 18 and 19, the oaken lakeside grounds in Santa Ynez will be alight with the glow of stars, both celestial and of the indie-rock variety. For the first time, the Starry Nites Festival is set to rock the Live Oak Campground with a colorful pastiche of indie-rock, classic-rock, and psychedelic-rock acts such as Alan Parsons, The Kills, Cat Power, The Dandy Warhols, She Wants Revenge, and many more. The festival, started by Tommy Dietrick and Kerry Brown of Joshua Tree's Desert Stars Festival, kicks off a festival season that also includes the culmination of Lucidity Festival before its transformation into something as yet unknown (see future issues for deeper coverage on Lucidity). For now, we spoke with Starry Nites' founders about what makes this festival unique, plus interviews with Alan Parsons, She Wants Revenge, and Kolars.
TOC

"Recently, I was standing on top of an ATV, collecting lace lichen from the branches of an oak tree for a project," Sally Isaacson recalled. "I had a big dog named Lola with me. She started barking and suddenly backed up very quickly. I heard noises in the brush, and soon Lola went in and came out with a fresh deer leg." Living near Gaviota has given Isaacson glimpses of rare wildlife, like the mountain lion she and Lola encountered. It's an awareness the botanist refined wandering the Irish countryside as a girl among the flowers and wild animals. "Lately, my passion has been teaching my little granddaughter about animals and plants," Isaacson said, a sense of wonder and adventure that sparks her Backyard Wildlife column, found here.
In Print
The Story Behind the Bike Fabricator Who Made an International Brand
The story behind the man who made Stinner Frameworks an international brand. Read story.
Start Planning This Season's Array of Fun with Santa Barbara's Complete Guide to Kids' Activities
Start planning this season's array of fun with Santa Barbara's complete guide to kids' activities. Read story.
Live Storytelling Favorite Back for Second-Annual Mainstage Show at Lobero
The live storytelling favorite is back for its second-annual Mainstage show, "Great Escapes." Read story.
Tough and Energized, They're Swinging High and Hitting Hard
Tough and energized, they're swinging high and hitting hard. Read story.
Swing Into Spring with These Upcoming Events and Activities in and Around Santa Barbara
Swing into spring with these upcoming events and activities in and around Santa Barbara. Read story.
Into the Studio and Spirit of Santa Barbara's Painter, Professor, Athlete, and Environmentalist
Dive into the studio and spirit of Santa Barbara's painter, professor, athlete, and environmentalist. Read story.
82-Year-Old Feminist Speaks in Santa Barbara on March 2
The 82-year-old feminist speaks in Santa Barbara on March 2. Read story.
Stories and Resources for Planning Perfect Nuptials
Everything you need to know to plan your perfect nuptials. Read story.
Business-Supported Nonprofit Program Awards Students for Fostering Peace on Campus
The business-supported nonprofit program awards students for fostering peace on campus. Read story.
Animal Advocate Michele Morrow Spreads Compassion with Memorial at Elings Park
Animal advocate Michele Morrow spreads compassion through a memorial at Elings Park. Read story.
Author of 'Sapiens' and 'Homo Deus' Comes to UCSB on February 27
The author of 'Sapiens' and 'Homo Deus' comes to UCSB on February 27. Read story.
Low-Impact Exercise Works Alignment, Energetic Meridians
The low-impact exercise works out your alignment and energetic meridians. Read story.
Santa Barbara Welcomes the Wolf Museum of Exploration + Innovation
Santa Barbara's new Wolf Museum of Exploration + Innovation opens on February 25. Read story.
Fast-Food Mogul Andy Puzder Tripped-Up by Nanny-gate 'Scandal'
Fast-food mogul Andy Puzder gets tripped-up by nanny-gate "scandal." Read story.
Superintendent Cary Matsuoka Leads by Listening
When new school Superintendent Cary Matsuoka first came to town, he went on a 90-day listening tour. What did he learn? Read story.