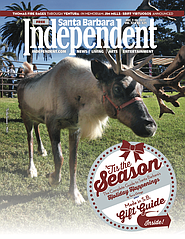 On March 18 and 19, the oaken lakeside grounds in Santa Ynez will be alight with the glow of stars, both celestial and of the indie-rock variety. For the first time, the Starry Nites Festival is set to rock the Live Oak Campground with a colorful pastiche of indie-rock, classic-rock, and psychedelic-rock acts such as Alan Parsons, The Kills, Cat Power, The Dandy Warhols, She Wants Revenge, and many more. The festival, started by Tommy Dietrick and Kerry Brown of Joshua Tree's Desert Stars Festival, kicks off a festival season that also includes the culmination of Lucidity Festival before its transformation into something as yet unknown (see future issues for deeper coverage on Lucidity). For now, we spoke with Starry Nites' founders about what makes this festival unique, plus interviews with Alan Parsons, She Wants Revenge, and Kolars.
TOC

Winter is finally cooperating with traditional notions of the end of the year, and here at the Santa Barbara Independent, we count on Terry Ortega and Matt Kettmann to find the best things to do and the finest nearby places for a little shopping. Calendar Editor Terry remembers her youthful Decembers as the time to "pick out the tree, go to the parades, and visit the animals at the Old Mission nativity on Christmas Eve," and is inspired that the community still enjoys the same traditions. Senior Editor Matt has already established traditions with his young family, which consist of tearing through Santa's presents for some and drinking Bloody Marys for others, but always a breakfast pie: "a blend of eggs, cheese, sausage, and hash browns that's baked in the oven." It's all about the anticipation.
In Print
Santa Barbara International Film Festival Celebrates the World of Cinema
The annual Santa Barbara International Film Festival celebrates cinema for 11 fun-filled days. Read story.
The Poodle Squints to Find the Silver Linings of Neil Gorsuch Nomination
The Poodle squints to find the silver linings of Neil Gorsuch nomination. Read story.
International UCSB Students Stuck in Iran; Syrian Couple Separated
International UCSB students stuck in Iran; Syrian couple separated. Read story.
Complete Coverage of the Santa Barbara International Film Festival
Check out our complete coverage of of the Santa Barbara International Film Festival: Tributes, panels, Films to Find, and much more! Read story.
'Alternative Facts,' Media Black-Outs, Rogue Tweets, Women's March, and More
The Angry Poodle examines 'alternative facts,' media black-outs, rogue tweets, Women's March, and more. Read story.
Biologists Fret Over Fate of Condors, Island Foxes, Steelhead Trout
Biologists are fretting over the fate of condors, island foxes, and steelhead trout. Read story.
How the Trump Administration Could Allow Oil Drilling and More
The Trump administration could ruin Santa Barbara Coast with oil drilling. Read story.
National Public Health Crisis May Result If Planned Parenthood Is Forced to Close
A national public health crisis may result if Planned Parenthood is forced to close. Read story.
100,000 People in 24th Congressional District Soon to Be Without Health Care
The Republican congress moves to kill the Affordable Care Act, leaving 22 million Americans without health care, including 100,000 in the 24th Congressional District. Read story.
How ICE Operates, Conducts Deportations
How ICE operates and conducts deportations. Read story.
Where D.C. Could Strike S.B. First
How will the new president's policies and people affect our county? Read story.
A Practical Guide to Protecting the Things We Hold Dear
A practical guide to protecting the things we hold dear. Read story.
Increased ICE Raids Loom Over Undocumented Field Hands
Increased ICE raids loom over undocumented field hands and their employers. Read story.
Attorneys Hosting 'Know Your Rights' Workshops for Undocumented Residents
Attorneys hosting 'Know Your Rights' workshops for Santa Barbara's undocumented residents. Read story.
Law Enforcement Doesn't Ask, and City Doesn't Want to Tell
Law enforcement doesn't ask, and the city doesn't want to tell. Read story.