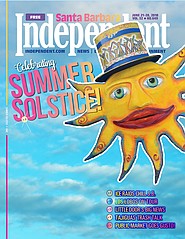 For the third straight year, the Santa Barbara Independent presents its annual Homes & Gardens special section, a roundup of profiles, advice, and insight into what makes our developed and cultivated landscapes thrive. This year's edition looks at a tiny home built by high schoolers, the history of adobe construction, how to make your yard look like Lotusland, and much, much more.
TOC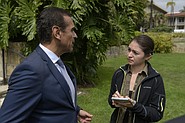 The only people happier than the Indy news crew to see Blanca Garcia back in Santa Barbara might have been her parents. Our new reporter, and former intern, is newly returned from Mexico City, where she was covering poppy cultivation for heroin and the disappearance of people in the state of Nayarit, which sits between the infamously narco-ridden states of Jalisco and Sinaloa. Blanca insists that working for the InSight Crime investigative nonprofit, which is headquartered in Medellín, was safer than it sounds. But living in Mexico City for six months might have influenced that view, as her father found out the other day. Stop signs are just a suggestion there, "but not here!" Blanca laughed, recalling her father's correction of his daughter behind the wheel.
In Print
Team Coaches and Doctors Tackle Ways to Prevent Head Injuries
Santa Barbara coaches and doctors tackle ways to prevent head injuries in all youth sports. Read story.
The 'Santa Barbara Independent' Presents Its Eighth Annual Ode to Eating Out
The 'Santa Barbara Independent' presents its eighth annual ode to eating out. Read story.
The New Gateway to the City Brings Great Change
Santa Barbara's Hotel Californian opens a new gateway to the city. Read story.
Santa Barbara Museums Collaborate On Massive Los Angeles/Latin American Art Project
Santa Barbara Museums collaborate on massive Los Angeles/Latin American art project. Read story.
The Industry Explodes, Leaving Everyone in It Wondering What's Next
As the industry's underground culture explodes, everyone from pot trimmers to tomato farmers wonders where it will go. Read story.
Kate Weare and Esteban Moreno Create New Forms for DANCEworks
Kate Weare and Esteban Moreno are creating new forms for DANCEworks. Read story.
A Mecca for Training Programs and Practice
The city has long been a mecca for training programs and practitioners. Read story.
How Distributing Vitamin A to Small Mexican Villages Changed Lives
How distributing Vitamin A to small Mexican villages changed lives. Read story.
Artist David Flores Showcases New Mural and More at Downtown Art Gallery
Artist David Flores showcases a new mural and more at the downtown art gallery. Read story.
Cascarón Folk Art: A Unique Celebration of Eggs and Confetti
The unique celebration of eggs and confetti and the folk artists who make it all happen Read story.
Santa Barbara's Grand Dames of Flamenco Talk About Their Art
Santa Barbara's grand dames of flamenco talk about their art. Read story.
Dancer/Instructor Teaches the Spanish Art
At 28, Daniela Zermeño-Sanchez has trained hundreds in the art of the Spanish dance. Read story.
Nick Wigle Saves Hidden Hives with Love and Kindness
Nick Wigle saves hidden hives with love and kindness. Read story.
The Story of Fulton Leroy Washington's Second Chance at Life
The story of Fulton Leroy Washington's second chance at life. Read story.
The Story of Near Escapes, Trapped Children, Heroic Acts, and an Endless Fire Season
The story of near escapes, trapped children, heroic acts, and an endless fire season. Read story.