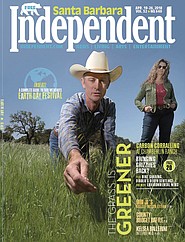 On March 18 and 19, the oaken lakeside grounds in Santa Ynez will be alight with the glow of stars, both celestial and of the indie-rock variety. For the first time, the Starry Nites Festival is set to rock the Live Oak Campground with a colorful pastiche of indie-rock, classic-rock, and psychedelic-rock acts such as Alan Parsons, The Kills, Cat Power, The Dandy Warhols, She Wants Revenge, and many more. The festival, started by Tommy Dietrick and Kerry Brown of Joshua Tree's Desert Stars Festival, kicks off a festival season that also includes the culmination of Lucidity Festival before its transformation into something as yet unknown (see future issues for deeper coverage on Lucidity). For now, we spoke with Starry Nites' founders about what makes this festival unique, plus interviews with Alan Parsons, She Wants Revenge, and Kolars.
TOC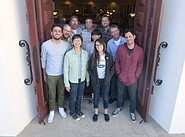 The annual cycles of rain, renewal, fire, and flood is something none of us ever get used to. But we practice. The news team proudly won first place in breaking news for "The Forever Season" on the Whittier Fire from the California News Publishers Association. The Thomas Fire earned us a second for our web presence, and news editor Tyler Hayden was awarded a first for his "Housing in Santa Barbara." But the writers bow to our artists, Ben Ciccati and Caitlin Fitch, who earned a first for their special insert covers, and photographer Paul Wellman, who won both first and second for artistry. Our unsung heroes are Jackson Friedman and Athena Tan, our copy editors. They make our words look even better than they sound.
In Print
Ben Andrews Rides Maverick's and Wins $50,000
Santa Barbara surfer Ben Andrews rides a 53-foot wave at Maverick's and wins $50,000. Read story.
National Monument Is Small but Significant Remnant of Great Grasslands
National Monument qualifies as a small but significant remnant of what was once one of the world's great grasslands. Read story.
Our Annual Ode to the Great Outdoors
Our annual ode to the great outdoors. Read story.
Prosecutors Present Evidence at the Preliminary Hearing
Prosecutors present evidence against Pierre Haobsh at the preliminary hearing. Read story.
Is Vandenberg Air Force Base Our Best Defense or Our Greatest Risk?
Will the Star Wars program at Vandenberg Air Force Base make us a North Korean target? Read story.
Recognizing Santa Barbara's Best on the Stage
The Indy Awards recognize Santa Barbara's best on the stage. Read story.
Looking for Mental-Health Help in All the Wrong Places
The Hickey family looks for mental-health help in all the wrong places. Read story.
Profiles of Cool Careers, and the Latest Employment Trends in Santa Barbara County
Profiles of cool careers and the latest employment trends in Santa Barbara County. Read story.
How the Santa Barbara Symphony and the School District Make Music Together
This is how the Santa Barbara Symphony and the school district make music together. Read story.
One Reporter's Journey Through a Strange Land
One reporter's journey through the strange land of Donald Trump's first 100 days Read story.
How Blind Cabinetmaker Bruce Munson Fought the Army Corps of Engineers and Won—Almost
How the blind cabinetmaker Bruce Munson fought the Army Corps of Engineers and won—almost. Read story.
The Story Behind the Bike Fabricator Who Made an International Brand
The story behind the man who made Stinner Frameworks an international brand. Read story.
Start Planning This Season's Array of Fun with Santa Barbara's Complete Guide to Kids' Activities
Start planning this season's array of fun with Santa Barbara's complete guide to kids' activities. Read story.
Live Storytelling Favorite Back for Second-Annual Mainstage Show at Lobero
The live storytelling favorite is back for its second-annual Mainstage show, "Great Escapes." Read story.
Tough and Energized, They're Swinging High and Hitting Hard
Tough and energized, they're swinging high and hitting hard. Read story.