Santa Barbara Activities

Humpbacks, Gray Whales Draw Crowds to the Channel
Crowds hoping to see migrating Humpback and Gray Whales flock to the Santa Barbara Channel. Read story.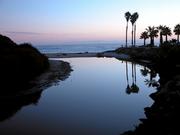 A beach walker's paradise.
Just having a quaint beachside restaurant at the ocean's edge makes this beach a nice place to visit. The coastline in either direction provides access to long stretches of relatively deserted beach. Read story.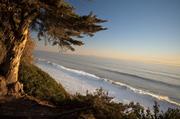 A great place to see the perfect sunset.
The walk along the edge of the cliff at sunset is one of the nicest you will find anywhere. The steps leading down to the beach at the end of Mesa Lane is nearby, making a very nice loop walk to Arroyo Burro via the beach and back up the trail. Read story.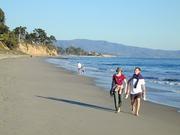 Volleyball, a kid's playground and the beach walking is good.
East Beach is quintessential Santa Barbara: wide stretches of soft, white sand, palm-lined boulevards, the red-tiled roofs of the East Beach pavilion, and one of California's most picturesque combinations of wharf and harbor. The beach walking is good too. Read story.
Best Sunset Views in Town
For most people, Elings Park serves as a destination for more traditional recreational activities such as soccer or softball. There is even a BMX track in the park for younger kids and plenty of places for a very nice weekend picnic. But there is also a number of opportunities for walks. Read story.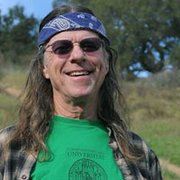 Don't Try This Without a Guide Who's Completed It Before
Mighty La Cumbre Peak looms north, high above my puny dwelling on Santa Barbara's Westside. Read story.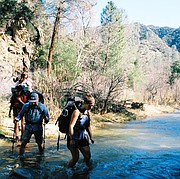 Good Time to Explore San Rafael Wilderness
Now's a good time to explore this popular hike through the San Rafael Wilderness. Read story.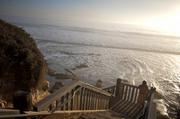 Loads of stairs and lots of fun.
Mesa Lane is a nice alternative access point to Arroyo Burro on the really warm days when there are huge crowds there. Ninety percent of the people who visit Arroyo Burro rarely venture more than a half mile in either direction, which means if you drop down from Mesa Lane you won't see too many people. Read story.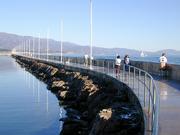 Plenty of places to meander and the views from the breakwater are wonderful.
Walking along the edge of the harbor, listening to the sound of the sailboat lines clinking in the breeze, watching the seals lazily making their way through the channels and the boats of such varying types and sizes slowing making their way in and out is wonderful. Read story.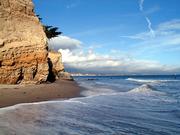 The closest place to go for a secluded beach walk.
The park is long and thin, encompassing almost a mile of the bluffs just west of Santa Barbara Point. There are plenty of places for picnics and barbecues, equipment for the kids to play on, and a stairway leading down to the beach, where you can enjoy a quiet walk along the cliffs. Read story.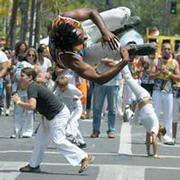 Photo Gallery from June 20 Parade
Here's our photo gallery from Saturday's parade. Read story.