Summerland Activities
Connecting Summerland to the Greater Montecito Trails Network
Provides access to a number of parts of Summerland as well as the Montecito Valley. Read story.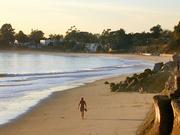 A picnic, beach walk and fantastic sunset - a bundle not to be missed
As you start down to the beach you'll discover why this is such an attractive place to come: a spectacular vista, a mile of wide beach front and lots of space to set out towels and beach gear and still feel like you are by yourself. Read story.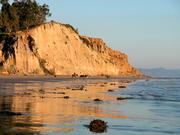 An enchanting point with great walks in either direction.
The cliffs near the parking area for the Loon Point beach walk soar upward like a bird in flight. Below them is an isolated stretch of beach leading to Lookout Park, as well as a delightful stroll around Loon Point, if the tide permits. Read story.
A Quiet Trail Loaded with Hidden Delights
From the Greenwell Preserve to Toro Canyon, you'll spy down onto several of the finest stables and polo fields in the area. Read story.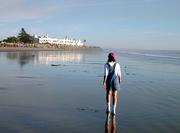 Santa's gone but the beach walking is still great
Santa's long gone but the beach walking is still great. When the tide's low you can meander as far as you'd like towards the harbor. Or you can just hang out on one of the nicest sand beaches on the coast. Read story.
Several short trails, Each with Special Views
The trail is short and not too steep. It's romantic, too. A small covered gazebo is situated in a perfect spot for sunset views in east or west. Read story.