Upper Santa Ynez Activities
One of the epic rides though the trail could use some brushing.
This, the ride to Little Pine, and the Gibraltar Loop are the best three rides in the lower Santa Ynez River drainage. The Buckhorn ride combines much of what the Little Pine Ride has to offer, as well as 10 miles of exquisite single track riding in Buckhorn Canyon and along lower Indian Creek. There is a real feeling of wildness about the ride. Read story.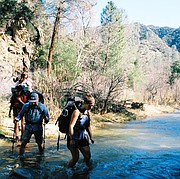 Good Time to Explore San Rafael Wilderness
Now's a good time to explore this popular hike through the San Rafael Wilderness. Read story.