Augustina "Gussie" Harms
1916 - 2011, Santa Barbara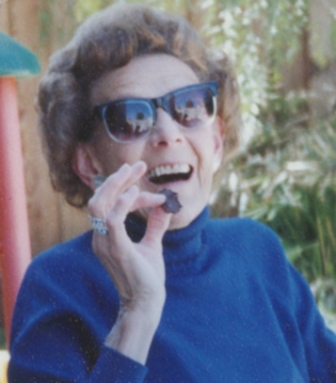 12/03/1916 - 01/05/2011
Gussie passed away at the Buena Vista Care Center in Santa Barbara at 1:50pm on January 5, 2011 from complications with pneumonia.
She was born Augustina Marie Franzan December 3, 1916 in Flanagan Illinois of Katherine Munschank and Meino Franzan . She grew up with her older brother Pete and younger sister Katherine on a farm. Familiar with chores, her favorite was getting the cream from the cows milk and chipping the ice out of the creek to hand-crank ice cream; one of her favorite foods. Rollerskating in her (only) red dress to a neighbor farm, she attracted the attention of George Warren Harms. Their courtship lead to a later elopement in a Model "A" on Historic Route 66 from Illinois to California. Along the way, on July 24, 1937, they married in Marysville Kansas. Warren and Gussie Harms arrived in Santa Barbara with $17 in their pockets. Eventually they established life-long friendships, regularly square danced on the weekends and took Studibaker vacations exploring the West and its many national parks.
Educated in Clerical and Civil Service Training, Gussie became a bookkeeper at the fashionable downtown Trenwith's Department Store. She worked at El Paseo Restaurant during Fiesta. Gussie was one of the first employees hired as a sales associate for the Sears Store La Cumbre when it opened on September 5, 1967. From that day she worked on the floor in the paint department and later tools until November 2010. She never retired. Gussie's vivacious energy, quick wit and strong spirit were magnetizing. She was a rare sales person who was remembered by the customer long after leaving the store.
Gussie remained in constant contact with her numerous friends, many very close. She never acted her age. Few knew it. "We don't discuss that subject." Year of birth was somehow scratched out of her driver's license.
She had a very giving heart and manner. Gussie was a long-time and active member of the Emanuel Lutheran Church. Warren and she helped build the existing church. She practiced her spiritual devotion daily, consistently giving monetary donations to charities and participating in goodwill events.
The family built a cabin at Lake Almanor, California in 1969 as a summer-vacation retreat. Gussie spent her two-week summer vacations there with family, friends and by herself shellacking the outside and doing other maintenance chores. It has been said that the reason it is still standing is because of her efforts. The cabin is near Mount Lassen Volcano (10,462 elevation) which she last climb to the top at age 70.
Gussie's husband, Warren, passed away in 1985. She is survived by: her son Herb, his wife Tris, grandchildren Haley and Carl in San Carlos; and son Joel in San Diego.
Service will be held at the Emanuel Lutheran Church 3721 Modoc Road, 93105 at 2:00 on Sunday January 16th. The reception following the service will be in Luther Hall at Emanuel. Continuing Gussie's philanthropy can be done with memorial donations to either the Emanuel Lutheran Church or the Santa Barbara Rescue Mission 535 E. Yanonali Street, 93103.