Daniel Thomas Falso
1948 - 2012, Santa Barbara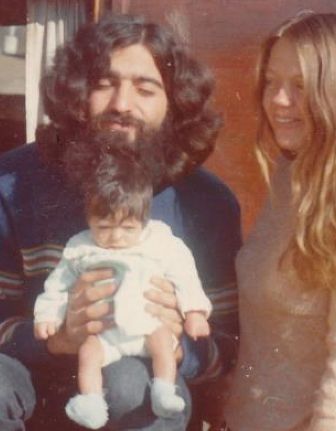 08/07/1948 - 09/29/2012
My father, Daniel Thomas Falso, left Vietnam, but Vietnam never left him.
The day my mother met my father on Montana de Oro beach near Morro Bay she thought to herself she had met a tall, dark, handsome, mysterious man.
The mysteriousness turned out to be PTSD. Shortly thereafter, they had a shotgun wedding and retreated to the mountains where they shared a simple, serene lifestyle. Those years were the best of his life.
Dan, a.k.a. "Falsy", Grump-pa, passed away peacefully, surrounded by his sisters, daughter and granddaughter at the VA Bay Pines medical center in the care of the Hospice unit in Florida on September 29, 2012 at 7:00am. 7 was his favorite number; he was born on August 7th. "777", he hit the jackpot for the term known in hospice as "a good death." Even more touching is that he also passed away on his predeceased parents, Angelina and Antonio's, wedding anniversary! We can't help but think it all happened exactly when and how it was supposed to and that Angie and Tony were there to bring him home.
When most young men were trying to dodge the draft Dan tried to enlist and was denied entry into the military due to having a hernia. He had it removed and returned to enlist where they accepted him into the Army. He originally wanted to be a Marine but it would take longer to get to Nam so he asked to go in through the Army which was pumping men over at record speed.
Army Specialist 5 Daniel Falso served his country heroically from 1966-1969 and holds the following decorations, medals, badges, commendations and campaign ribbons:
- National Defense service medal
- Good conduct medal
- Republic of Vietnam campaign metal
- Purple Heart
- Bronze Star
- Vietnam service metal with four bronze service stars
- Sharpshooter pistol
- Expert (.45 SMG)
His last duty assignment and major command was Company A, 1st Battalion, 67th Armor, 2nd Armored Division. He was a member of the Dreadnaught Association, Second Battalion, 34th Armor, Vietnam.
After being a lumber jack in Oregon and a strawberry picker in California he landed a job at the post office in Agoura, he was elected to be the "Shop Steward" representing his Post Office comrades and retired after 30 some odd years. His route was "Malibu Lake" where he had been titled "A Living Dog Legend" for giving all the dogs on his route their daily dog biscuit and he was often referred to as the most debonair mailman. Some of my fondest memories are when dad would bring me to visit his mail route to play on the set of "M.A.S.H." and to visit some of the friends he made while delivering their mail. The post office softball games are also among my fond memories. The post office is also where he met LuAnne Cooper who was a very significant person in his life as well as in mine. LuAnne remains a very dear friend to the family.

Side note: He was awarded a pin from the post office for accumulating 600 hours of sick leave.
He lived at 1078 1/2 south Seaward, Ventura for 27 years. He drove a rad "Red Baja Bug" all those years. I would hear him pulling off the seaward off-ramp and roar down seaward to get home in time to make sure I wasn't miss behaving after school. He was a caring, compassionate, loving father despite me being a horrible teenager.
Daniel is predeceased by his parents Angelina and Antonio Falso and is survived by: brothers Carmen and Mario and his wife Monica; sisters Dawna, Antoinette, Sandy and her husband Jim; daughter Sierra; son Ryan Giles (formerly Falso); granddaughter Sienna; nephews and nieces Tony, Shannon, Christopher and his wife April, Nicole, Brittany and Sophia; grandnephews and nieces Reid, Mia and Leo; step-nephews and nieces Cheyanne, Devin, Jackie and Joey.
Despite Dan's extreme PTSD symptoms and proclivity for reclusive behavior, he was surrounded, loved and supported by all the above family members.
Dan also leaves behind numerous friends who all remained near and dear to him. The family thanks them for all their calls and emails.
Following is a condolence note from Dan's niece Shannon.
--------------------------
Hi Sierra & Sienna,
Wanted to let you know I'm thinking of you both and so sorry. I didn't want to call because I know you're both probably exhausted.
Everyone will miss Danny so much.
He was the handsomest of all the Falso men. Don't tell them I said so.
He was what most women (and men) find attractive in a person. Your dad was handsome, funny, smart, creative, an artist, musician and in his younger days, if you were going to get yourself lost in a forest, he'd be a great person to be lost with. He also was a bit flawed, not perfect, the kind of dangerous quality that women pretend not to like and some men pretend to have.
That's how I'll remember your dad. Oh, and with a dash of that old Italian man syndrome. You know, he liked to have the boys and girls separated. Men in the living room watching TV or playing a game and the women in the kitchen...... Seriously. Ask your aunts!
Love, Shannon
------------------------
His favorite movie was the Godfather and the last movie he watched was "Saving Private Ryan" with his nephew Tony and I the night before I took him to the hospital. His favorite TV shows were war documentaries, Bonanza, the Andy Griffith show, Gun Smoke and M.A.S.H. to name a few.
His favorite holiday was Halloween. He was mechanically, musically and artistically talented. His hobbies were carving, collecting oddities, pocket knives and loved weaponry. The family never knew what we were all going to get for Christmases, but we could count on it being some specifically unique gift he would find out of a specialty catalog. But the favorite family gift was a box wrapped and little holes cut out to reach into and pull out scratch off lottery tickets.
Following is a link to a music video a girlfriend of mine and her band "Kiss The Salt" did on a local Santa Barbara TV show called "Musical Cafe". It's an original song she wrote for her uncle and Vietnam vets. She dedicates this particular video to me, my dad, her uncle and veterans. I think you will enjoy it. Despite my efforts, dad never got to see it and it would mean a lot to her and me if you would all take a moment to watch it on his behalf and share it with other Vietnam vets and their families. Click the link below to watch:
Dad's wishes were that donations be made to "Disabled Veterans National Foundation" instead of flowers. Please follow this link to make a donation on his behalf:

CLICK HERE TO DONATE
They do a lot of good things for the vets, "When you make a gift to the Disabled Veterans National Foundation, you'll take an active part in changing the lives of men and women who made enormous sacrifices to keep you safe and free."
A full military service will be held at Arlington National Cemetery on Friday, April the 12th, 2013. All are invited to attend. Let's hope the Cherry Blossoms are in bloom.