Luis Lopez Goena
1928 - 2014, Santa Barbara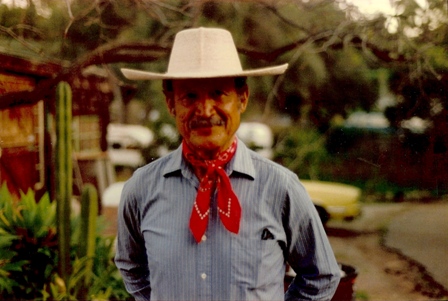 Luis Lopez Goena was born at home in Old Town Carpinteria on February 16, 1928 and died of natural causes in Santa Barbara on February 9, 7 days short of his 86th birthday.

Predeceased by his parents, Ascencion and Jose Goena, brothers Joe and Arnold, sisters Charlotte Goena, Emma Echeverria, Madeline Goena and Aurora Kountz, in-laws Nadine Goena, Francis Goena, Miguel Echeverria, Eugene Kountz and Al Tryon, and grand-daughter Rosalind Adams.
Survived by a large and much-loved family; wife Annette Levy Goena; children Cecilia Adams Berry, Linda Goena Caldwell, Cynthia Goena, David Goena (Suzanne Woodcock Goena), Chris Goena (Diane Bury Goena), Mark Goena (Linda Noel), Maria Leigh (Hunter Leigh) and Sofia Goena; grandchildren Calisto Caldwell, Louie Caldwell, Damien Pearson, Marisa Goena (fiancée Garrett Gamache), Alejandro Goena, Ana Goena, Jacob Goena (Mandie McKeon Goena) and Vivian Goena; great granddaughters McKayla and Kalise Goena; brother Ray Goena (Vera Goena) and sister Virginia Tryon; many nieces and nephews; former wife Mary Ayala-Ranson, and former daughter in-law Jill Palmer (Rob Palmer).
Luis loved his home town of Carpinteria. He shared memories of climbing the hills behind town, catching salmon bare-handed with his brother Ray and good friend Lawrence Cervantes, and playing on all the sports teams at Carpinteria High School.
As a local folk dance instructor, goat herder, farmer, gardener, and wine and cheese maker, he met many people, established lasting friendships, and thoroughly enjoyed the fun times he shared with each and every one of them.

A viewing will be held on Thursday, February 13 from 11:00 a.m. to 2:00 p.m. at Welch-Ryce-Haider, 15 East Sola Street, Santa Barbara.
A private gathering for Goena and Ayala family members will be held on Luis's birthday, February 16.
A celebration of Luis's life for friends and family will be held on April 19 at a location to be determined.