Jeff Matthew Reece
1946 - 2015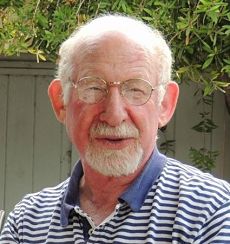 Jeff Matthew Reece died on December 26, at age 69, after a five-year battle with melanoma.
Jeff was born in Boston, Massachusetts on October 31, 1946, the first year of the post-war Baby Boom. As a boy, he lived with his parents, older sister, and younger brother in the Chestnut Hill section of Brookline. He attended the local elementary school through sixth grade and then the Roxbury Latin School, in Boston. During the summers, he attended Camp Young Judea in New Hampshire. In his teens and beyond, he enjoyed singing folk songs and playing his 12 steel-string guitar. Picking up on an affectionate nickname used by his father, he changed his first name from Jeffrey to Jefferson, although he always preferred to be called Jeff.
After graduating from Roxbury Latin, Jeff attended MIT, where he majored in chemical engineering. During college summers he combined work with travel around Europe and the Middle East, participating in research at the Pasteur Institute in Paris and the Weizmann Institute in Rehovot, Israel. After graduating from MIT, he earned Masters degrees in both chemical and civil engineering at UC Berkeley. In 1970, he married Trudy Sanders, and the two of them went into the Peace Corps in Santiago, Chile, where Jeff was involved in research aimed at incorporating protein from fishmeal into a milk supplement for malnourished infants. While there, he met the Chilean president Salvador Allende.
When Jeff and Trudy returned to the States, they settled in Boston, where Jeff worked at the civil engineering firm Faye, Spofford and Thorndike on the design and development of waste-water treatment facilities as well as other projects. Their son Ethan was born there in 1972.
In 1979, they moved to Santa Barbara, where their daughter Naomi was born. During his 37 years in Santa Barbara, Jeff worked on a wide range of environmental projects, mostly for HDR Engineering and SAIC (Science Applications International Corporation).
Jeff had many interests beyond his work; he was a true Renaissance man. He was an avid reader, a film and music buff, and an early computer enthusiast. He enjoyed traveling and loved learning languages. He was fluent in Spanish and French, but he also had a working familiarity with several other languages. For many years, he was an active member of Le Cercle Francais, a French discussion group in Santa Barbara.
Throughout his life, Jeff made it a point to keep in touch with his friends around the world. He corresponded with his French pen-pal, Gérard Lachêvre, from the time they were both 12 until Gérard died a few years ago. He also remained close to his older aunts and uncle who did not have children of their own; he was like a son to them and was actively involved in their lives as they aged. He was a lifelong supporter of the State of Israel and had been a member of both Young Israel of Santa Barbara and Congregation B'nai B'rith.
Jeff will be fondly remembered as a sweet, gentle, soft-spoken, kind, generous person who was an exceptionally good listener. He never learned to drive because of poor eyesight, but he knew how to use the Santa Barbara Metropolitan Transit System like no one else. (His Santa Barbara grandkids called him Grandpa Bus.)
Jeff and Trudy remained good friends after they divorced, and he was a devoted father and grandfather. He is survived by his son Ethan Reece and his wife Hsingyi Lin; his daughter Naomi Anafi and her husband Ron; his five grandchildren Lila, Ari, and Joshua Anafi, and Levi and Rose Reece; his sister Jane Reece and her husband Paul Ossa; his nephew Daniel Gillen and his partner Maria Parlante; his sister-in-law Molly Reece; and numerous cousins and loving friends. He was preceded in death by his parents, George and Rose Long Reece, and his brother Michael Reece.
A graveside funeral service for Jeff will be held at the Santa Barbara Cemetery on Tuesday, December 29 at 2 pm.
Contributions in Jeff's memory can be made to Water for People or the Jewish National Fund.