Scott Jay Stephens
1955 - 2017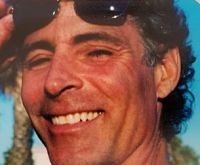 Scott Jay Stephens passed away peacefully June 16th, 2017 at his home in Long Beach, CA. His brother, Gary by his side giving him comfort and love with the support of hospice.
Scott lived a full life before and after his liver transplant 21 years ago. He was a multi talented man mastering many careers in his 61 years. A model, stage actor, professional chef, entrepreneur, hair stylist, and stained glass artist to name a few.
He enjoyed a good workout at the gym, snow skiing, hiking, body surfing and riding his bike along the ocean. Laughing and playing backgammon with friends brought him much joy.
We will all miss this charming, witty, stubborn, creative man but know his spirit is free now and with his beloved grandmother, Alice Hoffman.
He leaves behind his father and mother, Don and Joan Stephens, brother Gary and wife Toni, sister Shelly Lenox and husband Scott. His beautiful nieces Taryn and Kendra and their families.
A celebration of his life will take place on Oct. 23, 2017 at Bolsa Chica State beach from 3:00 to sunset. A rainbow flag will mark our location.