Gerald 'Jerry' Lee Miller
1950 - 2017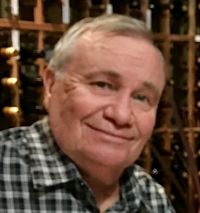 Jerry Miller, our loving father, amazing husband, and one of the kindest souls alive, passed away unexpectedly, but so peacefully in his sleep on December 21/22nd. The Chinese culture believes that the few people who pass away in this peaceful and kind manner have lived the most honorable lives - they have 'earned' this special passage from all the good that they have done in the their current and past lives. That was exactly who Jerry was: a kind, special, and honorable presence on this earth and in our lives. Although his loved ones were not ready, Jerry needed to step out of his physical body and the pain it so often brought him most of his life, leave that physical vessel behind, and walk freely and easily for the first time in decades. He was so happy and feeling so good, both mentally and physically, and surrounded by the love of his family and pets, God took Jerry's hand in his peaceful sleep because he needs him alongside him now.
Jerry was born in Downey, CA, moved to Running Springs as a young adult, then to Santa Barbara in 1969, and eventually to Mesa Oaks/Lompoc in 1987. Jerry endured many lengthy hospitalizations and surgeries throughout his life due to contracting polio as an infant, but his physical limitations led him to be the young adult and future man he was destined to be: funny, kind, hard-working and positive - always so positive. Jerry's various life-long professions didn't always define who he was, but they always reflected the hardworking, honest, fair, and funny man he was. Whether it was working along side his father, or at a much-loved stint as a reindeer ranger at Santa's Village, to framing art during college, later building and sailing NACRA catamarans, and ultimately as a knowledgeable systems engineer at Vandenberg AFB, Jerry took each job seriously and with his full life force. It was his hobbies that truly touched his heart and soul: sailing, fishing, his love of music and guitars, traveling to Australia, New Zealand and Fuji, often visiting New Mexico and Sedona, the love and care he took of his family and home and, of course, his two side-kick Persians, Reddington and Rufus. Tee-ball coach through Babe Ruth and basketball, Jerry coached and guided so many amazing young people in Lompoc. And the Dodgers. We cannot forget Jerry's lifelong love and support for his beloved Dodgers!
Jerry was able to enjoy his hard-earned and well-deserved retirement for the past year and a half. Jerry had recently endured two months of hospitalizations, surgeries, and rehabilitation this past spring, but he fought to live and stay on this precious earth. He appreciated so much to be healthy again and back to the loving fold of his family and home.
Jerry was the love of Patty Fenwick Miller's life and we were together 40 years, husband and wife for 36 yrs. We created an awesome life together and three amazing children, who were the ultimate love and highlights of Jerry's life: Clea Elisse, Kaitlyn Laurel (Onyx) and Devin Fenwick Miller (Angela). These wonderful humans were Jerry's highest achievements in his life, hands down. Jerry also leaves his cherished brother John (brother Ken was preceded in death), and loving sisters Sharon-Joy and Pat, plus many loving nieces and nephews. Brother-in-law, John, was a constant friend and brother of Jerry's for 40 years as well.
Jerry's life celebration will be held on Friday, January 19th at 2:00 pm at our home, 3118 Oak Pointe Drive, Mesa Oaks. Please contact me with any questions at pfenwickmiller@yahoo.com.
Jerry's life touched and affected so many throughout the years, he was so loved and will be so fondly remembered. His family would to love to see you and have you participate in his life celebration to share funny stories and antidotes, even possibly some photos of his time with you. We are all so personally humbled to have had this wonderful and amazing kind soul in our lives, and he will now walk beside us on every adventure effortlessly and in no pain, happy, and at peace.
There is no doubt in our minds that in 20 years, an amazing young Dodger who will defy all those before him, someone who will run bases the fastest, hit the longest home runs, and be a kind and loving inspiration for all, will clearly be Jerry enjoying his next amazing life.
Rest In Peace, Sweetheart, I cannot wait until we get to see each again! With All My Love, Your Patty Ann