Complex Issues
Posted January 26, 2009 by Brett Leigh Dicks
[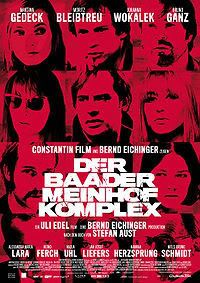 ][1]
With the credits of his film - The Baaden-Meinhof Complex - rolling behind him on Saturday night, director and co-writer Uli Edel sat cross legged at the foot of the Lobero stage. With a microphone grasped firmly in his right hand and his left in continual motion, Edel led those who had gathered for the post screening Q+A through the specifics of West German terrorism in the Vietnam era as executed by the Red Army Faction.
"I went to school with these people," Edel said matter-of-factly. "They went to my University and they sat next to me in my classes."
[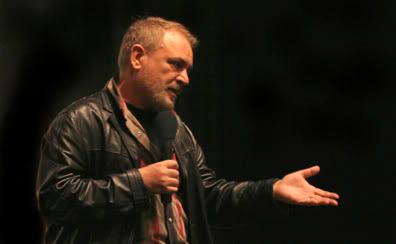 ][3]
Director and co-writer Uli Edel during his Q+A Session at the Lobero theatre on Saturday night. Photograph by Brett Leigh Dicks.
Having first risen to prominence through his 1980 cinematic exploration of an adolescent drug addict in Christiane F Edel furthered his international acclaim six years latter with Last Exit To Brooklyn. In now turning his attention to his native Germany in the late 1960s and the formative years of the Red Army Faction, Edel finds himself in the race for an Academy Award.
The film traces the group's genesis and subsequent exploits. In following the evolutionary path of Ulrike Meinhof from her stance as a left-wing journalist through to a principle militant within the Red Army Faction, Edel paints a vivid picture of both the destruction the group caused and reaction they provoked from officialdom.
While the group remained active well into the late 1990s, The Baader-Meinhof Complex documents the period from its inception within the Germany student movement in 1968 through to the events associated with the German Autumn in late 1970s. In examining the exploits of two tiers of membership, the film is consciously generational. Something that loomed large in the mind of Edel when initially delving into the project.
"I have two sons who grew up in America," explained Edel. "I made this film for them because I wanted them to know about this part of German history that I saw unfold."
[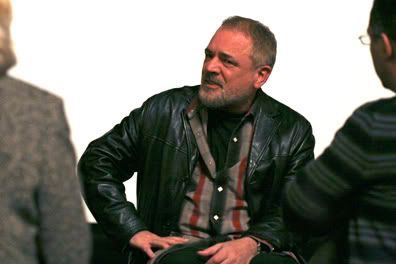 ][6]
Edel answering post-talk questions. Photograph by Brett Leigh Dicks.
[1]: http://s204.photobucket.com/albums/bb274/brettleighdicks/?action=view&current=Baader_meinhof_komplex.jpg" target="_blank [3]: http://s204.photobucket.com/albums/bb274/brettleighdicks/?action=view&current=Edel2.jpg" target="_blank [6]: http://s204.photobucket.com/albums/bb274/brettleighdicks/?action=view&current=Edel1.jpg" target="_blank