Danny Boyle's Million Dollar Baby
Posted January 27, 2009 by Brett Leigh Dicks
[
][1]
It is a long way from the sprawling slums of Mumbai to the glamorous red carpet receptions of Hollywood. And while the recent release of Slumdog Millionaire and the accolades it has subsequently garnished have closed the cultural distance substantially, the geographic distance is still something that Scottish director Danny Boyle will be eternally grateful for. In fact, in the early days of the film's production, Hollywood couldn't be far enough away for Boyle. Especially when it came time to make a call to the studio to tell them they need to decide upon a font for some subtitles.
[
][3]
Slumdog Millionaire Director Danny Boyle during his Q+A Session at the Lobero Theatre on Saturday night. Photograph by Brett Leigh Dicks.
"It was written originally in English and that's how we raised the money," explained Boyle at the Lobero Theatre on Monday night. "And, not only that, we had to promise the distributors that it wouldn't be heavily accented either. When we got (to India) and started auditioning the little kids, it was obvious that they did not speak English well enough at that age. So the casting director, Loveleen Tandan, said you should do it in Hindi. All of us on the crew laughed because all of us know the realities of finance and filmmaking. But we tried it and it was extraordinary. It just came to life and bounced off the page."
This then left the production team with an unenvious task.
"So we had this phone call to make to Los Angeles to tell them that a third of the film was now in Hindi - I'm so glad that Los Angeles is such a long way from Mumbai," laughed Boyle. "There was this terrible silence on the phone in which you could tell they thought I had lost my mind, gone completely hippy, and was going to bring back this five hour film about meditation in Sanskrit. And I said it will be even more exciting because of the subtitles and then the phone was slammed down."
The net result of the casting is of course some of the most endearing performances of not just this film, but of any film from within the recent past. With the actors playing the younger Jamal and Latika performing in Hindi, their personalities were allowed to shine through. And rather than being a barrier to that, which so many had feared, the combination of performing in their native language and the use of subtitles has proved to be a powerful emotional conduit.
"What I didn't realize at the time, and it is so clear now, is that you get access to the kids performance," confessed Boyle. "And that's what people have taken to heart. People aren't saying 'wow - aren't the subtitles great', they're saying 'wow aren't the kids great'. Those subtitles give you access to the kid's performances."
[
][4]
Danny Boyle in conversation with Santa Barbara International Film Festival Director Roger Durling. Photograph by Brett Leigh Dicks.
The script was crafted by Simon Beaufoy around Vikas Swarup's novel Q and A. In honing his manuscript, Beaufoy made three separate visits to India in which he interviewed numerous street children. In the summer of 2006, a copy of the script was sent to Danny Boyle for his consideration. With the manuscript first reaching Boyle's agent, its eventual passage into the director's hands was at first a little tenuous.
"When they sent the script to us, my agent was clearly not all that enthusiastic and said it's all about Who Wants to be a Millionaire," recalled Boyle. "I read it because I saw Simon Beaufoy's name on it and knew I he'd written the Fully Monty and that's a wonderful film. So I thought I would read a bit of it so I could at least say to Simon that I enjoyed your script. I remember being in my kitchen reading it and after 10 to 15 pages of it I knew I was going to make it. The only other time I have had that feeling was with Trainspotting were I read the first page of the book and knew I would make it. It's basically like a stray dog following you home. You get chosen. The script picks you."
[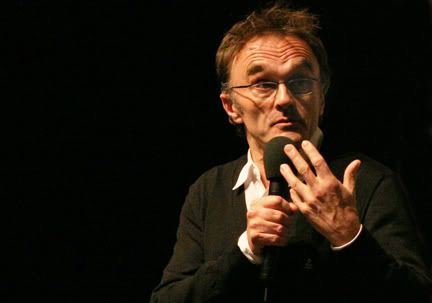 ][6]
Danny Boyle. Photograph by Brett Leigh Dicks.
The film could not have found a better exponent in Boyle. Having risen through the ranks of both British theatre and television production, his first feature film came in the form of Shallow Grave. It was with his follow up Trainspotting that Boyle really made his cinematic mark. The film thrust both Boyle and the film's lead Ewan McGregor into the international spotlight. While Boyle has subsequently gone on to direct films such as The Beach, the means behind the way that both the Trainspotting and Slumdog Millionaire scripts tracked him down have proved a revelation into fate. Something that was furthered by his time in India.
"I went there and thought destiny was a political thing that kept people in their place - I didn't think that when I left," offered Boyle. "When you see the film there are charming moments about the way destiny works. But for them (destiny) is much more profound. There's a profound acceptance that sometimes things align themselves and that sometime they don't. There's an inclusiveness where they embrace both of those things. It's very difficult to explain. You sense it. You can never fully understand it as a rationalist. But they embrace that - and that's the joy."
Boyle Continued.
"That has introduced something to me that I never thought I would appreciate and that's partly that the hippies are right. You are incomplete until you've been to India. And, as an old punk, I never thought I would take my hat off to the old hippies."
[1]: http://s204.photobucket.com/albums/bb274/brettleighdicks/?action=view&current=SlumdogMillionairePoster.jpg" target="_blank [3]: http://s204.photobucket.com/albums/bb274/brettleighdicks/?action=view&current=Talk2.jpg" target="_blank [4]: http://s204.photobucket.com/albums/bb274/brettleighdicks/?action=view&current=Talk1.jpg" target="_blank [6]: http://s204.photobucket.com/albums/bb274/brettleighdicks/?action=view&current=Talk3.jpg" target="_blank
event calendar sponsored by: