News
Wallar Still a Wobbler
Santa Barbara CEO Continues Negotiations with Orange County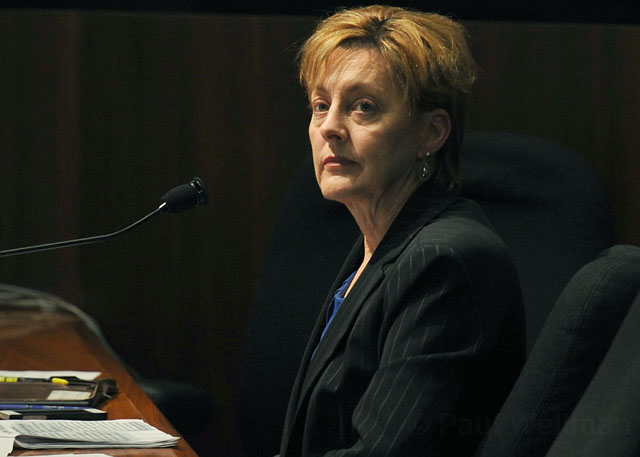 It looks like black smoke came out of the Orange County Board of Supervisors' discussion on whether to hire Santa Barbara CEO Chandra Wallar as their own CEO. The board took a straw vote, with the five members all in agreement that they wanted to hire her. The problem was salary. The board has hesitated giving Wallar more than the previous CEO, Tom Mauk, took in ​— ​$253,000. She was asking for a $290,000 base salary. According to O.C. Supervisor Todd Spitzer, Wallar told him she wouldn't take Mauk's pay and needed more money to make the move.
Things on both ends were left up in the air by the end of the day Tuesday, but the feeling in Orange County ​— ​with the next supervisors meeting not scheduled until April ​— ​was that Tuesday was the do-or-die day. "I can only imagine the candidate is going to take action for us if we don't take action," said Supervisor Shawn Nelson. Orange County has been working with Wallar ​— ​the board's second choice, according to supervisors ​— ​for over a month, Supervisor Janet Nguyen said, and the committee in talks with her "held the line" in the total benefits it's offered. Nguyen said the proposed contract with Wallar would make her pay 100 percent of her employee retirement contribution, and the total package would actually be less than that of the former CEO.
The news that the two sides were in talks was leaked to an Orange County website a month ago, putting Wallar in a sticky situation with her bosses here in Santa Barbara, whom she had not yet informed. Orange County, as a $5.6 billion agency, is the third-largest county in the state and sixth-largest in the country. "Chandra Wallar is an excellent leader, and she's really paid her dues, and she's really worked her way up," Spitzer said. "I feel very good about her opportunity to lead this county." Wallar didn't respond to an email Tuesday, a day that included a long board hearing in Santa Barbara County.