News
Adam Walks the Walk
County Supervisor Makes Bold Budget Proposal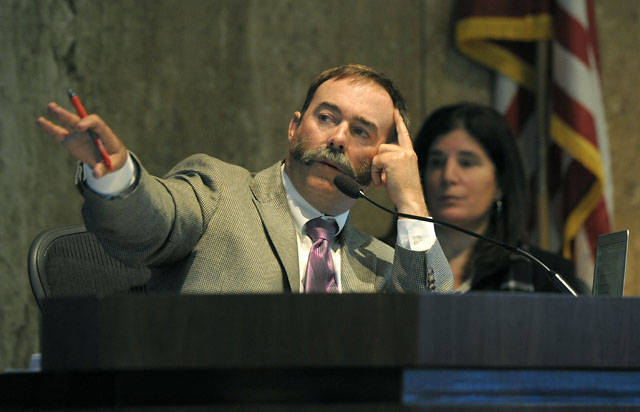 When Peter Adam came on the scene after a surprise election victory in November, he did so with no intention of going along to get along. The new 4th District supervisor had a mission of addressing what he saw as problems with county government and getting county government back to its mission ​— ​providing services the public counted on, like public safety and public works. On Tuesday he gave the first real glimpse of what he was talking about.
After the county's Public Works department outlined for the Board of Supervisors how Santa Barbara's deferred-maintenance backlog ​— ​that is, roads, bridges and other infrastructure that needs fixing ​— ​currently sits at $250 million, Adam said he wanted to come up with a solution to set aside $20 million a year and eliminate that deferred maintenance by 2027-2028. If untouched, the deferred-maintenance number could balloon to more than $700 million by 2025. He wanted CEO Chandra Wallar to come back with proposed cuts to other programs by May.
But figuring out those cuts would be tough. What Adam is asking for, essentially, is 10 percent of the discretionary money the supervisors have to work with each year. Paired with what is looking like at least a $10 million budget deficit next year, it would mean decimating departments. Wallar also said she didn't believe she could return by next month with a "reasoned proposal" to put forward. She was already planning to deny a request for an additional $9 million from Public Works to keep the amount of deferred maintenance where it's at now. "I don't believe she can come up with the $22 million," said 2nd District Supervisor Janet Wolf, asking Adam where he would pull the money. "It's all a matter of priorities," he responded. "If you want to find the money for something, you find the money."
After Adam's proposal was shot down, the five supervisors agreed to at least look at and begin to formulate a plan to deal with the growing amount of aging infrastructure, which extends beyond just the Public Works department and also includes parks and county buildings.