Announcement
Newest Cum Laude Society Members Honored at Laguna Blanca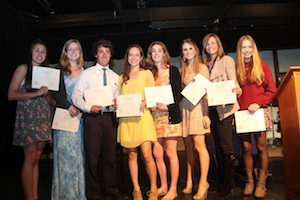 Eight new members were inducted at the Fourth Annual Cum Laude Society Induction Ceremony – Anastasia Antonova '13, Chloë Brown '14, Margaret Lazarovits '14, Lindsay Ligon '14, Clara Madsen '14, Justin Palmer '13, Bryana Schantz '13, and Zoe Serbin '13. Cum Laude Society membership is considered the highest scholastic achievement at independent schools nationwide, and Laguna Blanca is one of only 30 schools in the state of California authorized to admit new members.
College Counselor Dr. Karl Revells outlined the basic criteria of the selection process during the ceremony. In addition to outstanding academic achievement, there is an expectation that inductees also stand as models of good citizenship and character. "But here the similarity ends, for each inductee is also a true individual," Revells shared. "Some of them are highly athletic, some are talented artists, some are musicians and yet others are engineers-to-be. Some are keen organizers; others prefer to be members of a team, while some of them are quiet, reflective souls and others were born social." Chapters are permitted to admit no more than 20% of a graduating class, 10% of whom may be admitted at the conclusion of his or her junior year. Last year, Daria Etezadi, Alex Hawker, and Brendon Nylen were inducted into the Cum Laude Society as juniors.
###
Laguna Blanca NOW—for today's modern student. Laguna Blanca School is a K-12 co-educational, college preparatory day school. Laguna Blanca School guides students to greater heights by building upon the 80-year tradition of academic excellence with new and innovative teaching methods and programs. With the introduction of the iPad initiative, the global studies program, the new outdoor adventure education program, and the renovation of the library into a state-of-the-art academic research center, the School continues to broaden and enrich our students' educational experience. For more information, please visit lagunablanca.org.