Living
Joshua Camberlan Finds Life in Opera
Despite Challenges, 29-Year-Old Thrives in Downtown Santa Barbara
My son, Joshua Camberlan, is 29 years old and, as the experts say, "developmentally delayed." But I have always tried to treat Joshua like a so-called "normal" person, presenting him with challenges, imposing demands, and expecting him to accept responsibility to the best of his ability.
Because of that, Joshua can live very much on his own, in his own apartment (with some supported services provided by Devereux California), enjoying his own routine each day. During the work-week, he participates in the UCP/Work Inc. Applied Abilities program, goes to the YMCA several times to exercise, shops for foods and does his laundry on Tuesdays, and has a dance class on Thursdays. On weekends, he participates in Special Olympics, attends the First Presbyterian Church, and goes on hiking trips with his godfather and me. If he scores enough points for responsible and good behavior, Joshua also gets to attend the opera when it hits nearby stages.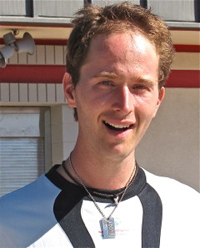 Joshua loves the opera, and he'll get dressed up in his black suit to enjoy every minute of what he is seeing and hearing. For opening night, he wears his tuxedo and shiny dress shoes and always asks me, "How do I look?" After the operas, Joshua loves going backstage to meet the principals, especially Placido Domingo, who always welcomes him with open arms while giving him an autograph.
Joshua's love for classical music and opera goes back to his beginning; he even listened to classical music in utero! When he was three years old and living with me in Los Angeles, I took him to his first classical concerts, Symphonies for Youth, at the Los Angeles Music Center on Saturday mornings. When he was six, we went again to the music center to hear his first opera, Mozart's The Magic Flute, which he will be seeing again at the Los Angeles opera this fall. For the past 15 years, he has looked forward to the new season each year by requesting a brochure. This year, he has again chosen The Magic Flute.
This past April 28, Joshua once again did some work for Opera Santa Barbara during the matinee performance of Donizetti's Don Pasquale. Steven Sharpe, the opera's general director, has employed him for the past five years as a greeter, so last month, like so many times in the past, Joshua passed out brochures in exchange for two free tickets.
Once, when discussing operas, Joshua stated that the L.A. opera had once put on Verdi's Macbeth, but I didn't think so. Sure enough, after heading home and checking online, I realized that Joshua was right, which was even more amazing since he never saw the production.
Thankfully, Santa Barbara is a wonderful community that generally accepts people like Joshua. Over the last seven years that he's had the help of supported living services, I have been able to create a beautiful life for him with the people in the community being very receptive, tolerant, and appreciative. My son is a very special person; he is extremely social, loves everyone, and reaches out to others with gusto and enthusiasm.
I am very grateful, especially to Steven Sharpe for his compassionate and receptive heart. We can never give up on our special needs children because they all can shine. Just look at Joshua! I am so blessed.