Film & TV
Before Midnight
Ethan Hawke and Julie Delpy star in a film written by Ethan Hawke, Julie Delpy, and Richard Linklater, and directed by Linklater.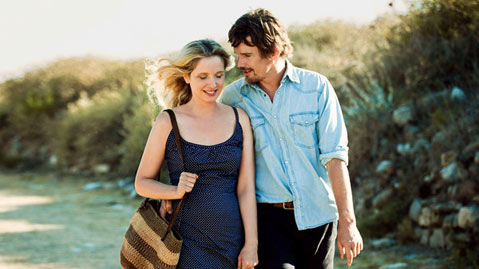 And now there are three. This endearing art-house–lite "franchise" — a collaborative pact between director/writer Richard Linklater and actors Julie Delpy and Ethan Hawke — began innocently enough with 1995's Before Sunrise, a charming American-slacker-in-Vienna romantic yarn, a talky-talky two-shot between Ethan Hawke and Julie Delpy during one fateful but fleeting night. It progressed, sequel-style, to 2004's Before Sunset, which caught us up via a day in Paris with the reunited pair.
Fast forward to Before Midnight, and the realities of family life and the encroachment of years finds our forty-something married couple now with a pair of twin girls. Over the course of a summer's day in Greece, they philosophize, fight over practicalities, flirt (in married-couple fashion, with its own secret language of barbs and threats and rapprochements). They do all of this strolling on the ancient streets of Greece or socializing over a languid conversational lunch, quarreling and making war and love. It's a day in the life, in other words, of a life-locked couple caught midstream.
Linklater, who began his career with his indie classic Slacker, a free-association, character-leaping day-in-the-life, again magically blends a feeling of improvisation and structural parameters. Yes, he uses epically long takes of our happy and not-so-happy couple as the dialogue seems to flow freely, but beneath the naturalism is a sense of dramatic pacing and form to the whole, not to mention the recurring self-imposed temporal limitation of a day's journey into night, or vice versa.
Before Midnight, itself concerned with values of theater and literature and the world of ideas and structures, could reasonably be the tidy capper of a trilogy-scaled project. On the other hand, its creators and fans may, in another couple handful of years, be curious about where these characters we've come to love are up to in life. Michael Apted has real-life figures to consult in his ongoing Up series — in which he's checked in on 14 people every seven years, unrestrained by the fancies of a script or thespian wiles. But Linklater's characters have similarly grown on us, to the point where we want to see how it all plays out in the "passing through" domain.