Announcement
Students of the Santa Barbara School of Squash were victorious and became National Urban Champions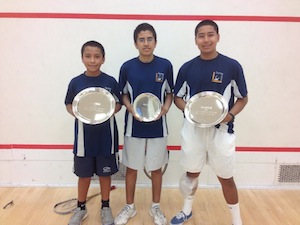 The Santa Barbara School of Squash, a member of NUSEA, sent three of their top ranked students to participate in the 2013 National Urban Junior Squash Championships, June 13 to 16. Miguel Nava competed in the Boy's Under 17 division, David Quintero competed in the Boy's Under 15 division, and Sebastian Paredes competed in the Boy's Under 13 division. The boys and SBSOS Squash Director, Orla O'Doherty, jumped on a plane from LAX to Boston last Thursday morning, June 13th, as they headed off to Williams College in Massachusetts for this prestigious event. Nava was the number one seed going into the tournament, while Quintero and Paredes were both seeded number three in their age groups.
With over 300 participants, the atmosphere was electric. All 13 NUSEA programs were represented at the tournament and was a testament to all the hard work these urban programs put into getting their students prepared.
After five grueling matches each at the tournament, both Nava and Paredes were victorious in their divisions and became National Urban Champions. Quintero finished in 3rd place in his age group. That's two national championships for Santa Barbara!
The Santa Barbara School of Squash is a 501 (c)(3) nonprofit afterschool program for low-income families in Santa Barbara. The sport of squash is used as a catalyst to get students engaged in academics, and participate in community service activities in the community that supports them. The program has been operating for seven years and is based out of the Santa Barbara Athletic Club and the Westside Neighborhood Center. Participants in the program attend as many as 5 days a week learning to play squash, getting academic support from our volunteers, as well as engaging in community service and enrichment activities throughout the year. This year, we graduated our first senior who is attending the University of Oregon in the fall.
We are so proud of Miguel, David, and Sebastian and their performances over the weekend. The boy's worked very hard leading up to this event and it paid off as they brought home two national championships.
In May of 2013 the International Olympic Committee decided in favor of squash, wrestling and baseball/softball to be listed among the top three finalists of "new sports" that are being considered for the 2020 Olympic games. As a finalist, Squash was selected from eight sports, and the final decision will be announced on September 8th.
To learn more about the Santa Barbara School of Squash, or to volunteer, please go to www.sbsos or contact Debbie Brown, Executive Director, at (805) 570-9970 or Debbie@SBSOS.org.