Briefs
UCSB Graffiti Targets Undocumented Students
El Centro Building Vandalized with Hate Speech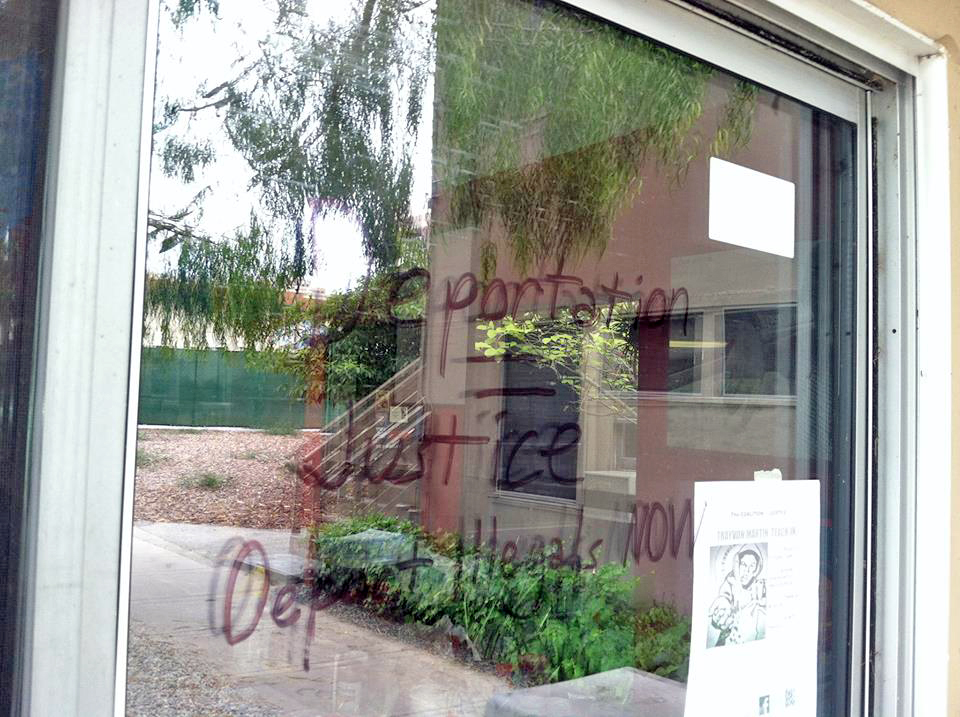 A UCSB building was vandalized earlier this week with offensive graffiti attacking undocumented immigrants, leaving the university's chancellor and other administrators calling for a campus that "values diversity and remains free of prejudice and intolerance," according to a statement released by university officials.
On Sunday morning, a sliding glass door on the campus building El Centro de Arnulfo Casillas, or El Centro, was etched with the message: "Deportation = Justice; Deport Illegals NOW." The location is the primary meeting place for campus organization IDEAS, or Improving Dreams, Equality, Access, and Success, which is the first and only UCSB group serving undocumented immigrant students.
IDEAS released a statement following the incident, expressing the group's outrage and stating that the incident "is not an isolated event" as the campus group has allegedly faced similar hateful sentiments in the past. When IDEAS requested funds from the Associated Students campus government earlier in the year, a student official called undocumented students "illegals who should not be attending this university in the first place," according to the statement.
The vandalism is one of many instances of "hatred and dehumanization" that face undocumented students and "reflects the failure of this institution to rectify an education system that is historically oppressive," according to the IDEAS statement.
In a joint statement, UCSB Chancellor Henry Yang and Vice Chancellor Michael Young said they were "deeply disturbed" by the incident, which the university is currently investigating. They also said the campus has and will continue to promote campus diversity and safety. "We pledge our university's continuing commitment to raise awareness about intolerance in all its forms; to honor the diversity that enriches our living, learning, and working environment; and to promote our campus tradition of dialogue and mutual respect," the statement reads.
However, the IDEAS statement also suggests that some university officials have failed to adequately advocate for the rights of undocumented students. "Much like the programs implemented by our recently inaugurated UC President Janet Napolitano during her time with the Department of Homeland Security, these incidents are a form of violence directed toward a specific student community," the statement says.
Undocumented UCSB students experience instances of "microaggression" on a daily basis, according to IDEAS member Linda Gonzales. She said the offensive graffiti is especially threatening because of El Centro's role as a safe haven for these students.
"It has cornered the undocumented community," Gonzales said. "El Centro is really symbolic … it's the only place where we feel safe to talk about these issues. There's nowhere else on campus that we feel safe."