Announcement
Benchmark American Vineyard-Designates, Bien Nacido Vineyards and French Camp Vineyards Celebrate 40th Anniversaries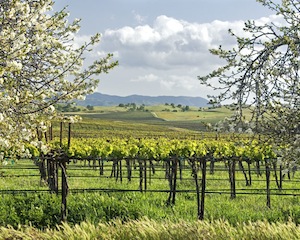 Two of America's most well-known vineyard designates, both located along California's Central Coast, will be celebrating their 40th anniversaries in the calendar year of 2013.
In 1973, brothers and fifth generation California brothers, Bob and Steve Miller, established two vineyards: Bien Nacido Vineyards in the Santa Maria Valley appellation of Santa Barbara County, and French Camp Vineyards, in the Paso Robles County appellation.
Bien Nacido Vineyards
In 1969, the Miller Family of California's Central Coast, purchased the property where the now iconic vineyard exists. In 1973, the Miller brothers planted what is now known as Bien Nacido Vineyards, to mostly chardonnay and pinot noir. With great foresight, they planted premium grapes in the nascent Region One valley within Santa Maria. Over the years, they successfully added other varieties to the growing vineyard site.
Forty years later, the now iconic American vineyard is known throughout the world as one of the most esteemed vineyards for pinot noir, chardonnay and cool-climate syrah.
During the last four decades, some of America's most respected wine brands, including Sine Qua Non, Au Bon Climat, Ojai Vineyard, Paul Lato, Twomey, among many others, have sourced fruit from Bien Nacido Vineyards. Family spokesperson Nicholas Miller explains, "Though this special site is a contiguous piece of property, we call it Bien Nacido Vineyards…in the plural…for a reason. We farm each one of our vineyard blocks differently and methodically, according to the needs of our individual winery customers. Our vineyard manager, Chris Hammell, and his crew, custom farm each block, and in some instances, specific vineyard rows, to meet the very specific needs of the winemakers we work with."
He continues, "We're honored to have been a part of the Santa Maria Valley appellation for the past 40 years. There is still great, untapped potential in this special region, and we look forward to many more years of discovery and, hopefully, excellence in farming, from Bien Nacido Vineyards."
Respected Santa Maria Valley Winemaker, Jim Clendenen, of Au Bon Climat, who is recognized the world over for his tireless efforts in promoting the wines of Santa Maria Valley, adds, "It is difficult to imagine anything more complex than pioneering a new viticultural area and then making it known as a great grape growing area for 40 years. The Miller Family has done just that with Bien Nacido Vineyards. As a customer for over 24 vintages, I have firsthand knowledge of their dedication to quality, forward thinking, and meticulous execution. Congratulations to Steve Miller and his whole family. "
Rick Longoria, long admired for his site-driven pinot noirs and chardonnays from vineyard-designates throughout Santa Barbara County, adds, "Over the last 20 years of purchasing fruit from Bien Nacido vineyard, I´ve seen the Miller family implement innovative and progressive ideas in the growing of their grapes. What also has made their vineyard operation so successful is their early realization that allowing their winemaker clients to become partners in the decision making about what varietals to plant, and where and how to farm them, would result in producing the very best quality grapes possible. My congratulations to the Miller family and everyone else involved with this esteemed vineyard."
Manfred Krankl of Sine Qua Non, launched his first wine, the highly sought after "Queen of Spades" from Bien Nacido Vineyards. "Bien Nacido is the vineyard that grew the beautiful Syrah for our first wine, the Queen of Spades. Without a doubt it is first rate site, but what's particularly extraordinary is that exquisite quality is achieved with countless different grape varieties and across a broad spectrum of wine styles. No small feat. Thank you Bien Nacido for helping us launch our adventure and congratulations on 40 years of excellence," Krankl said.
French Camp Vineyards
Originally part of the San Juan Ranch, the current site of French Camp Vineyards became the Camatta Ranch when the San Juan Ranch was divided into smaller parcels. In 1968, the Miller Family purchased the Camatta Ranch, envisioning a place where they would be able to cultivate various crops, including wine grapes.
In 1973, they planted 200 acres to wine grapes. Today, that number has grown to include 1,300 acres planted to a broad array of wine grapes well-suited to this remote, yet picturesque vineyard site.
An industry leader in vineyard mechanization, French Camp Vineyards fruit has found its way into stellar wine portfolios, including Fetzer, Peachy Canyon, Edna Valley, Fess Parker, Kunin, Hitching Post, and Tobin James among many others.
Lance Silver, owner and winemaker for Tobin James Cellars, says of French Camp Vineyards, "For almost 20 years, Tobin James Cellars has been fortunate enough to source our Zinfandel from the famed French Camp Vineyards. We bring in over 40 Zinfandel vineyards each harvest, but year after year the French Camp Zins are always amongst the best. We only bottle two vineyards as "vineyard designate" and the French Camp is one of the two. If everyone farmed their Zins as meticulously as the pros at French Camp, the world would be a better place! Tobin James Cellars congratulates the Miller family for 40 outstanding years and here's to many more amazing harvests to come."
Nicholas Miller adds, "This vineyard has always been a great source of pride for our family. At the same time, we are humbled by the many great team members who have cared for French Camp over the years. We often hear from clients that our team members are dedicated to meticulous and mindful farming, and that knowledge is something my family really cherishes.
The Miller Family will be celebrating these 40th anniversaries in tandem throughout the summer and fall of 2013, with a series of private events at the French Camp Vineyards as well as the the historic Ontiveros Adobe, one of the very few privately maintained adobes in California, which is located at Bien Nacido Vineyards.
To learn more about Bien Nacido Vineyards, please visit www.biennacidovineyards.com and to learn more about French Camp Vineyards, please visit www.frenchcampvineyards.com.