Opinion
Ty Warner: Billionaire Tax Cheat
He Saved $885K, but It Cost Him $53M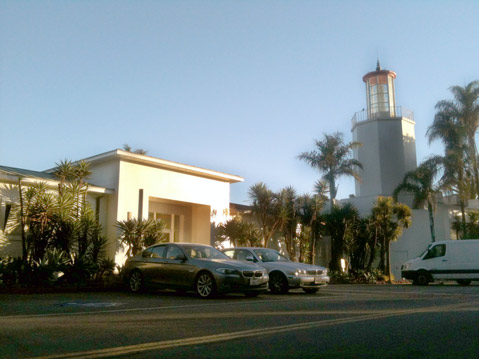 SECRET ACCOUNT: The man is worth at least $2.6 billion, so why would he besmirch his otherwise shining Santa Barbara reputation by hiding income in a secret Switzerland bank account?
The Beanie Babies creator has agreed to a $53 million fine for tax evasion and will find out next Wednesday, October 2, whether he'll also spend time behind bars.
Ty, what were you thinking? According to the feds, you only saved $885,300 in taxes for the year in question, 2002. That year you made 49 million bucks. Wasn't that enough?
The owner of the New York and Santa Barbara Four Seasons Hotels and high-end San Ysidro Ranch resort a tax chiseler?
Ty, a resident of Chicago, had a sweet nest here. Poured money into his acquisitions in the town, donated $1.5 million to create the $6.5 million Ty Warner Sea Center on Stearns Wharf, gave $300 million worth of Beanie Babies for a Red Cross drive, donated a million of his toys to children in Iraq, and donated to Andre Agassi's foundation for poor kids in Nevada.
Reclusive Ty has always kept a low profile around town, and you're liable to see even less of him now. It's not clear how the feds got wind of his secret accounts in Switzerland, but it likely came in 2009 when the U.S., after years of ignoring overseas tax cheats, threatened the Swiss bank UBS with prosecution for helping Americans hide taxable income. UBS paid a $780 million fine and turned over the names of 4,450 American clients with secret accounts. Then the feds went after them.
Reportedly, Ty had a Swiss bank account of about $93 million in 2007. Up to then, everyone and your uncle was doing it, outsmarting the slumbering IRS by shipping dough to Switzerland, Panama, the Cayman Islands, and other places to park their money.
Ty also owns the Montecito Country Club, Sandpiper golf course, and Rancho San Marcos Golf Club. Add to that the ultra-lux Las Ventanas al Paraíso resort in Cabo, and at last report he retains a financial interest in the thatch-roof Kona Village Resort and neighboring Four Seasons Hualalai resort on the Kohala Coast of the Big Island.
He created a huge seaside compound on Santa Barbara's Channel Drive, planting a forest of palm trees, built an Italianate mansion, and bought homes to get them out of the way.
Still, Ty's known as "a man of mystery." He rarely gives an interview. He's poured millions into the Biltmore, its adjoining Coral Casino, and the San Ysidro Ranch, leading fellow hotel owners to wonder how he could possibly make them show a profit.
Yet he was exacting in renovating them, with expense no concern, and an attitude of tear-it-out if he wasn't satisfied with what had been done. After buying the Montecito Country Club, he hired Jack Nicklaus to expand and improve it, work that hasn't been finished yet.
He rescued the Rancho San Marcos golf course on San Marcos Pass after it fell into hard times. Ty obviously takes pleasure in acquiring and improving trophy properties. He bought the wrecked Miramar hotel, had plans to rebuild the place, then sold it when Montecito critics got too loud.
Profitable or not, the Biltmore is bustling, and the Ranch is a mecca for celebrities who relish it as a high-end hideaway away from nosey paparazzi.
Not bad for a Chicago kid, college dropout, ex-gas-station attendant, but someone with a flair for selling. As a young guy working for a toymaker, he called on clients driving a white Rolls and wearing a fur coat and top hat and swinging a cane. Clever, and it got him in the door.
Now, Ty (named for baseball legend Ty Cobb) looks like a man too clever by half, as the saying goes.
HAWKEYE'S COMING: Alan Alda beat polio as a kid and the name Alphonso Joseph D'Abruzzo to star in a long-running TV series about a war hardly anyone remembers. The actor who played Hawkeye Pierce of M*A*S*H will take the Granada stage on Tuesday, October 1, at 7 p.m. to lend his charm to such multiple-choice questions as "What's the meaning of life?" Sponsored by UCSB's Arts & Lectures.
LUNACY ONSTAGE: Maniacs have taken over the asylum at Circle Bar B Guest Ranch Dinner Theatre. Silliness always reigns up there, but now it's sheer craziness with the farce Noises Off. Lots of door slamming, a girl in her underwear, and Marx Brothers from start to finish. The usual gang having fun. (Through October 27.)