Drink
Sips of S.L.O.
Eye-Opening Wine-and-Dine Trip to Southern San Luis Obispo County
There couldn't have been a more symbolic start to my recent expedition into the occasionally overlooked wine country of southern San Luis Obispo County: perched above the vines of Bassi Ranch alongside Highway 101, staring straight into the seas off Pismo Beach just a mile away, and sipping remarkably distinct wines from stemware balancing on the hood of a beat-up Land Cruiser owned by S.L.O. veteran Mike Sinor, who's been working in the region since he was a Cal Poly student in the early 1990s.
As a boot-strapping, head-down, hard-working kind of guy, Sinor epitomizes the wine scene that's rooted in the cities of S.L.O. and Pismo and the Edna Valley and Arroyo Grande Valley wine-growing appellations that surround them. He's overseen projects both massive and tiny, specifically the 600-case Sinor-La Vallee (sinorlavallee.com) label he founded with his wife in 1997; he's got one foot in the vineyard and the other in the winery, which he commutes to on bicycle; he's exceedingly modest despite having, among other accolades, helped start the World of Pinot Noir event; and his wines are some of the best I've tasted — ever and anywhere. And yet, despite living only an hour down the coast, most Santa Barbarans have never heard of him, as the producers of southern S.L.O. County tend to get drowned out by the better-funded volume of what's happening up the road in Paso Robles.
The folks at SLO Wine Country (slowine.com) want to change that and, as Sinor and I sip vibrantly fresh, raspberry-inflected pinot noir and cool-climate syrah that tastes of olive tapenade, it's easy to see what many are missing when they drive by. Aside from the wines and scenery and, as I'll find, great eats, passersby are missing the chance to engage with real, down-to-earth vintners like Sinor, who wears frugality and resourcefulness on his sleeve. "I love swap meets," he tells me with his wide smile as the sun sets on us. "That's just my style." n
Inside City Limits
My home base was the SeaCrest Hotel (seacrestpismo.com), which overlooks the Pismo Pier with oceanfront balconies that are equipped with hot tubs, perfect for a late-night soak with wine or an early-morning dip with coffee.
But before I could do either, I drove into downtown San Luis Obispo, where I dined at the recently remodeled Granada Hotel & Bistro (granadahotelandbistro.com). First built in 1922 next door to the town's vaudeville theater, it masqueraded as a spot for traveling actors and artists but, as the story goes, was truly a room-by-the-hour brothel. Today, the rooms are small yet still stylishly sexy, and the bistro is the hottest reservation in town. I jumped from bacon-lardon-laced brussels sprouts to red kuri squash soup with smoked paprika oil to Mary's brick chicken, a perfect piece of poultry.
The next morning, after my coffee soak at the SeaCrest, I headed back to S.L.O. to meet with Steve Dooley, whose Stephen Ross Wine Cellars (stephenrosswine.com) is one of only three wineries inside city limits. As a high schooler in Minnesota, Dooley recalls asking, "Gee, mom, how's wine made?" and was soon turning rhubarb and apple juice into hooch. "It was terrible," critiqued Dooley.
He graduated from UC Davis in 1977, then worked for Louis Martini in Napa until 1987. Before moving to the Central Coast, Dooley thought, as many did back then, "They couldn't possibly be making good wine down there!" He learned otherwise as winemaker at Edna Valley Winery, where he worked for seven years, helping to grow them from a 35,000- to a 65,000-case operation. In 1994, he started Stephen Ross (that's his middle name) but kept working the corporate gigs, too, including winemaking for the 200,000-case behemoth Chalone and consulting on the creation of Tolosa Winery.
Today, he's all focused on Stephen Ross, making about 5,000 cases a year of mostly pinot and chardonnay, both of which are considered to be among the top annual bottlings in the entire state, especially those from the Stone Corral Vineyard he planted in conjunction with Talley Vineyards. And what first drew him to the business keeps Dooley going today, as he explained, "I like the process, I like the chemistry, and I like the fact that it's agriculture."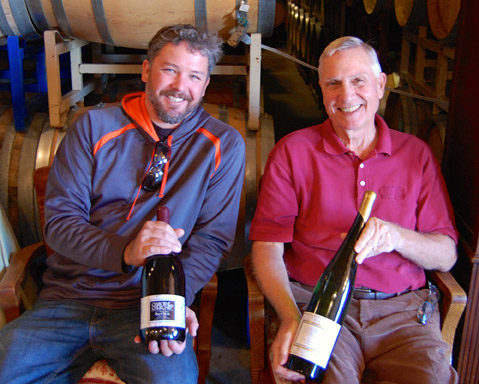 Into Edna Valley
Before heading into the Edna Valley, I stopped for lunch at the Meze Wine Bar & Bistro (mezemarket.com), housed inside the refurbished and red-bricked-out Railroad Square development. Owners Lisa and John Schiltz, who is a certified sommelier, purchased the property nearly a year ago and serve a variety of smaller plates for lunch, from housemade ricotta to seasonal salads to the tartine du jour. It's a popular place to pick up picnics for the wine country, and by night it transforms into a tasting hub. "This is starting to become an area of town that people are really coming to," said Lisa.
My next stop was Chamisal Vineyards (chamisalvineyards.com), where New Zealand–born winemaker Fintan du Fresne tank-tasted me on their popular stainless-steel chardonnay (35,000 of the winery's roughly 70,000 annual cases) and toured me through the historic vineyards, first planted in 1973. He's worked there since 2006, bridging the previous ownership (which called the place Domaine Alfred) and the current owners, Crimson Wine Group, which took over in 2008, boosting both quantity (from 8,000 cases to 70,000) and quality (especially in their upper-end "Califa" series). Chardonnay and pinot noir are again king here, but Chamisal also makes some very intriguing syrah and grenache.
"This is one of the only truly coastal wine-growing regions in the country," said du Fresne. "All of Edna Valley is within five miles of the ocean and all at sea level." The auxiliary benefit of that? "I work at one of the only wineries in California where I can go for a surf on my lunch break," admitted the Kiwi.
On the way out of town, I drove through the rolling hills toward Edna, where Clay and Fredericka Thompson's Claiborne & Churchill Vintners (claibornechurchill.com) have been perfecting Alsatian varietals since 1983. A former professor of Old Norse languages in Ann Arbor, Michigan, Clay quit academia in 1981 and moved to the Edna Valley to become a winemaker. "It was a bit of a shock to the system," he recalled. "It's hard work, but I've loved it ever since. Here, you're rewarded for good work, unlike academia."
The Thompsons make about 20 wines a year, including some great pinot and hardy red blends, but riesling and gewürztraminer remain the focus of their winery, which has been run by Colby Parker-Garcia since 2004. "I know you're not supposed to make wine that you like; you're supposed to make wine that the market likes," explained Clay, known in some circles as the Godfather of Gewürztraminer. "We disobeyed that rule."
As such, they offer an excellent counterpoint to the steady stream of pinot and chardonnay flowing from Edna Valley. Their charming tasting room in the middle of their production facility is modeled after one of the valley's old Portuguese dairy barns and happens to be California's first straw-bale construction for a commercial facility. But the dirt and climate and people are what powers Claiborne & Churchill, just like every other spot in southern S.L.O. County. "It's a magical place," said Clay. "It really is."