Drink
Wine Community Honors Jim Clendenen
Very Special Evening of Friends, Family and Fans Raises over 100 Grand for Santa Barbara-Based Direct Relief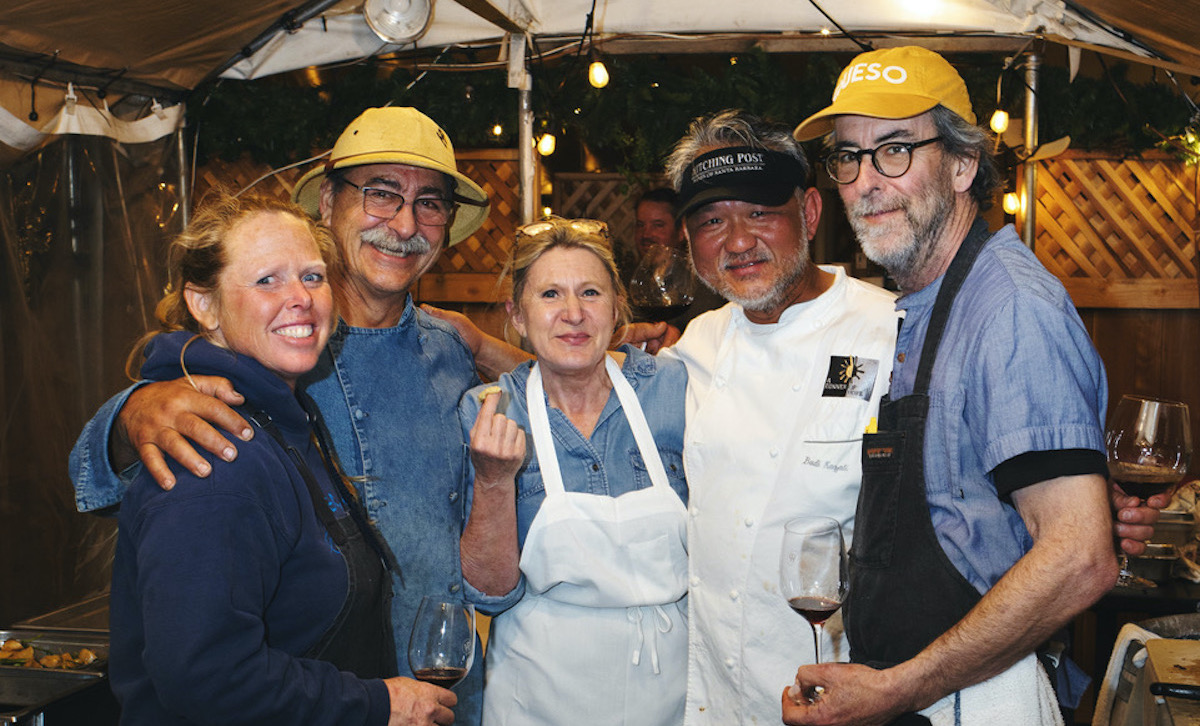 Frank Ostini knew he wanted to offer a special lot at last November's Santa Barbara Wine Auction in tribute to his great friend, wine legend Jim Clendenen, but he wasn't sure what shape it might take. He knew he would host the event at his Hitching Post II restaurant — a beloved spot for his friend who had recently passed away — but beyond that, the shape was unclear.
"Then Roy Yamaguchi bought eight tickets and volunteered to cook," Ostini told the crowd at the Clendenen tribute event held Saturday, February 4, "and I knew what I was doing." Yamaguchi came from Hawaii to honor Clendenen, and many others came from all over the country, and of course the local wine community came out — with 100 people attending the exclusive evening. At a $1,000 a plate, that meant Ostini raised a fine sum for Direct Relief and Community Health Centers, which is only fitting as Clendenen helped forge the connection between Direct Relief and the wine community decades ago.
The large crowd also meant Ostini had to shut the restaurant down for regular Saturday service, but near the evening's end he gushed, "I would have given up a week's worth of income to be with everyone tonight." The "everyone" featured numerous Santa Barbara wine luminaries — Bryan Babcock, Katie Grassini, and Justin Willett — those who had worked with Clendenen over the years — Jim Adelman, Gary Burk — and notable wine industry sommeliers for every table, including Bob Lindquist, Doug Margerum, and Paul Lato. It was a who's who of the wine world, there to attest to the wonder of one of the best there ever was.
The evening, of course, was awash with Clendenen-made wines, the majority poured from 5 liter bottles. James Sanders, the controller of Au Bon Climat and Clendenen Lindquist Verdad, who also served as a somm, insisted, "Jim had a threshold for age-worthy wines that was beyond most," and the evening proved him prescient. An ABC 2001 "Isabelle" pinot was vividly alive and singing; Margerum called a 1997 ABC chardonnay from Talley Vineyard one of the best wines he had ever had; and Babcock summed up all ten pours with the apt term "mind-boggling."
Since one of the many ways Clendenen is fondly remembered is for the often hours-long lunches he and his team served to fortunate guests at his winery, it was only fitting that the food was extravagant and delicious. Clark Staub from Full of Life Flatbreads kicked things off with a bracing salad of winter bitter leaves — chicory and radicchio — with fennel and citrus and a piquant preserved lemon vinaigrette. As further testament to Clendenen's wines, both vintages of Hildegard (a blend of pinot gris, pinot blanc, and aligote) served took the lemon zip and salinity and just kept running.
Yamaguchi's seafood course, grilled sea bass over a splash of jook, topped with vibrant pea shoots and accompanied by a tongue of uni (provided by Stephanie Mutz) testified to the depths a sea-based dish can deliver. When one of the chards poured alongside was a 2015 Sanford & Benedict hailed as the 30th vintage celebration from vines Clendenen had singled out all those years ago and the other was the 1997 that Margerum praised, you can imagine the wonders of this course and pairings.
Next up was a smoked duck breast alongside Japanese turnips and tempura chanterelles — the mushrooms themselves would have been a stunner of a dish. This course came courtesy of Budi Kazali, who Ostini hailed as "the best chef in the Santa Ynez Valley." The "Isabelle" pinots poured alongside were barrel select blends from 2001 and 2015, and given Jim named this line of wines after his daughter, you know they are special.
The Hitching Post itself served up a New York loin from their red oak grill, with Brad Lettau back at the fire, even after his retirement from working for Ostini for 40 years. The succulent steak came alongside mashed potatoes with truffles shaved atop, a gilding of the lily, if gold were umami. This course also attested to Clendenen's explorations outside the Burgundian grapes that made him famous, (or perhaps he made famous in Santa Barbara, as the case may be). The Clendenen Family 2000 nebbiolo was the first vintage made from those Bien Nacio vines; and then a Vita Nova 1986 Reservatum (65% merlot, 35% cab sauvignon), from a project Jim worked on with Lindquist and Margerum, still had heft and fruit and spice and tar, as if it knew it had waited since the year that the Oprah Winfrey Show debuted on television for a such a memorable event to be poured for.
Somehow there were still cheeses and always welcome Jessica Foster truffles and Tracie's shortbread cookies. There was one last Hildegard to sip — a 1998. That, a quarter of a century in, it still delighted simply nodded to Clendenen's genius one more time. There wasn't enough time, even at a five-hour long event, for everyone to tell their stories of Jim, from his love of basketball to his hatred of Duke, from his love of golf to his ability to profanely narrate all his shots on the greens if you played with him.
Jessica Gasca, Santa Barbara Vintners Foundation President, told a story of fan-girling after meeting Jim the first time, but always trying to get him to recognize she made Story of Soil wines, and not just say to her, "Oh, you're Gary's [Burke] niece." Then one time at an event her wine was on the table and Clendenen said to her, "You made this? Keep doing this." The memory clearly meant everything to her.
But then again, Clendenen meant everything to the region, too. "Ten of us add up to about a quarter of Jim, "Ostini claimed. "Without Jim, we'd be 50% less successful than we are now as a region." And on the ceiling of the big tent HP raised in its parking lot for COVID-safe outdoor dining, a slideshow projected over 300 images of Clendenen throughout his life. Above us he gazed down, alternately charming, crazed, Bacchanalian, benevolent, blessing us all with the privilege of deliciousness.
An intimate party under the tent at The Jim Clendenen Tribute Dinner | Credit: Jeremy Ball

Library wines from the late Jim Clendenden's Au Bon Climat label were savored all night long | Credit: Jeremy Ball

Roy's Grilled Sea Bass, Jook with Uni | Credit: Jeremy Ball

Chefs creating the Hitching Post Grilled New York Steak with Truffled Mashed Potatoes | Credit: Jeremy Ball

S.B. Independent Writer George Yatchinsin and Chryss Yost | Credit: Jeremy Ball

Winemakers, from left, Bob Lindquist, Doug Margerum and Louisa Sawyer Lindquist | Credit: Jeremy Ball
---
Support the Santa Barbara Independent through a long-term or a single contribution.
---