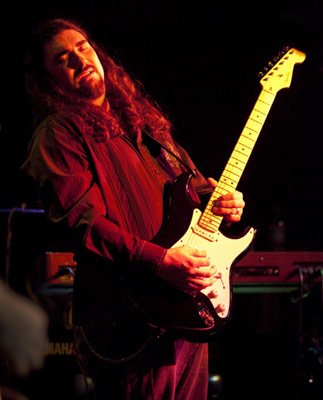 Alastair Greene Band

"Get My Wings"
"Walking in Circles"

Musicians
Genres: Blues, Blues/Rock, Jam
RIYL: Gov't Mule, Stevie Ray Vaughan, Allman Brothers, '60s and '70s Blues Rock
Web site: http://www.agsongs.com/
Email: agbluesband@yahoo.com
History
Guitarist, Singer, and Songwriter Alastair Greene has been a mainstay of the Southern California music scene for over 2 decades. Best known for his blues-based, soulful, and melodic guitar playing (as well as one of a rare-breed to play slide guitar), Alastair can be heard on CDs by Alan Parsons (2006 Grammy Nominated 'A Valid Path'); Aynsley Dunbar (2008 SPV Records release 'Mutiny'); Blues singer, harmonica legend, and member of WAR, Mitch Kashmar (2005 'Wake Up and Worry' on Delta Groove Records), as well as French Blues Guitarist Frank Golwasser's 2007 release 'Bluju.' Alastair has put out 5 of his own CDs and has also appeared on countless independent CD releases ranging from Blues to Southern Rock. Alastair's song 'The Long Way Home' appeared in a 2007 episode of the TNT hit TV series 'Saving Grace'.
Whether with his own band or as part of others, Alastair has opened shows for The Fabulous Thunderbirds, Robin Trower, John Mayall & The Bluesbreakers, Tommy Castro, Janiva Magness, Lonnie Brooks, Chris Thomas King, Lucky Petersen, Jonny Lang, Billy Boy Arnold, Joe Bonamassa, and many more. Alastair continues to perform an average of 100 live dates a year with his own band as well as with The Alan Parsons Live Project, Mitch Kashmar, Frank Goldwasser, Shari Puorto and a host of other Southern California Bands.
Alastair released his latest Blues based CD 'Walking In Circles' in June 2009 and accepted an offer to be the full time guitarist in the Alan Parsons Live Project in January 2010.
Upcoming shows
None scheduled
Formed
2007, Santa Barbara, CA
Influences
Chicago Blues, Texas Blues, '60s and '70s Classic Rock
Current status
Gigging and recording.