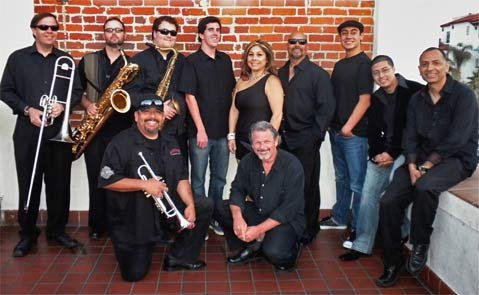 The Anthony Prieto Band
Musicians
Genres: Latin, Soul / R&B
Sound description: Original Latin soul; a blend of Latin rhythms with infectious soul melodies.
RIYL: Santana, Tower of Power, Chicago, Earth, Wind & Fire
Web site: http://www.myspace.com/theanthonyprietoband
Email: apr1eto@hotmail.com
History
The Anthony Prieto Band was formed in 2000. The band's musical influences, eclectic personalities, and incredible passion for the songs they write and play define their soul. They truly have an "all or nothing" approach to music. In 2000, Anthony Prieto released his self-titled debut album, Anthony Prieto, on La Cima Music Records. Written and produced by Carlos Guillen and Javier Gutierrez, this smooth R&B record mixed with some infectious grooves has a distinctly unique style. Smooth vocals and an eclectic sound are what characterized Prieto's debut release. Like many R&B vocalists, Anthony came about his musical foundation while growing up in the diverse ethnic neighborhoods of Southern California, as well as in the church, where he honed his skills early on. His debut release is certain to attract a wide audience. Whether you're cruising down the boulevard, snuggling up to your loved one, or shaking your thing on the dance floor, you are guaranteed to find a favorite groove among the album.
In 2004, Anthony, along with writer, producer Carlos Guillen, begun to work on the second release for La Cima Music Records titled, Life, Love & Desire. The album features a mainstream Latin flavor, a new, yet familiar sound that is well accepted by multicultural audiences. The result is something simultaneously fresh and familiar, aided by Anthony's tough-yet-tender vocals this album is destined to become your favorite. Life, Love & Desire has two special song collaborators. Track #5 is "Pura Vida" co-written by Grammy and Oscar winner Norman Gimbel, and track #12, the number one smash-hit for The Motels, titled "Only The Lonely," only this time it has a Latin soul flavor. In his 20 years of performance experience, Anthony Prieto and his band have performed in places such as the world famous Hollywood Palladium, The Conga Room, The Rumba Room-Universal Citywalk, B.B. Kings, House of Blues, and worked with such acts as Rose Royce, Club Nouevou, Evelyn "Champagne" King, Breton Wood, Tierra, The Original Lowriders (WAR), El Chicano, MALO, Rocky Padilla, Eric Burden, Martha Davis from (The Motels), Big Mountain, Jefferson Starship, Dave Mason, Surface and Steve Salas (the voice of Tierra), just to name a few.

Upcoming shows
None scheduled
Formed
2000, Santa Barbara, CA
Influences
Santana, Earth Wind & Fire, WAR, Malo, Stevie Wonder
Current status
The Anthony Prieto Band's "all or nothing" approach to creating music and gaining fans is present in every aspect of their work. With a unique Latin R&B style a new sound has emerged and is here to stay in Santa Barbara. Currently, they are rehearsing and playing a few Santa Barbara engagements. The band's next performances are: Saturday, July, 5 and Sunday, August 3rd at Borders Books & Music in downtown Santa Barbara (900 State Street). Cost: Free Saturday, July 19 at 6pm at the Citrus Festival in Santa Paula Saturday, August 2 for Fiesta