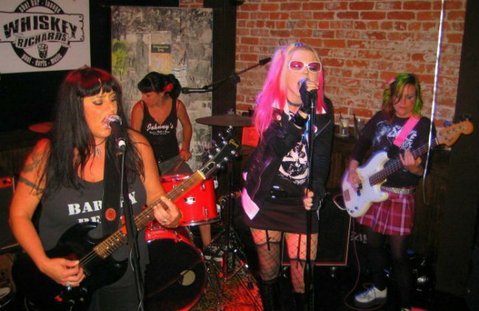 A+ In Evil
Musicians
Genres: Garage rock, Punk Rock, Rock 'n Roll
Sound description: The evil powers of rock n roll that are corrupting your little souls
RIYL: Lunachicks, Nina Hagen, Blondie, Concrete Blonde
Web site: https://www.facebook.com/pages/A-In-Evil/294738670189
Email: tikikatze@aol.com
History
A + IN EVIL is an all female punk band. We are all punk, all evil and drama free. Shows are legendary and the ladies love to have a good time. Make sure to catch them live!
Upcoming shows
None scheduled
Formed
2011, Santa Barbara, CA
Influences
Lunachicks, Nina Hagen, Ramones, Candy Snatchers, Turbonegro, the Makers, Oblvions, Hellacopters, the Cramps
Current status
Still rockin' and rollin' our asses off!