"The Untethered Soul" book discussion group with Rev. Karen S. Wylie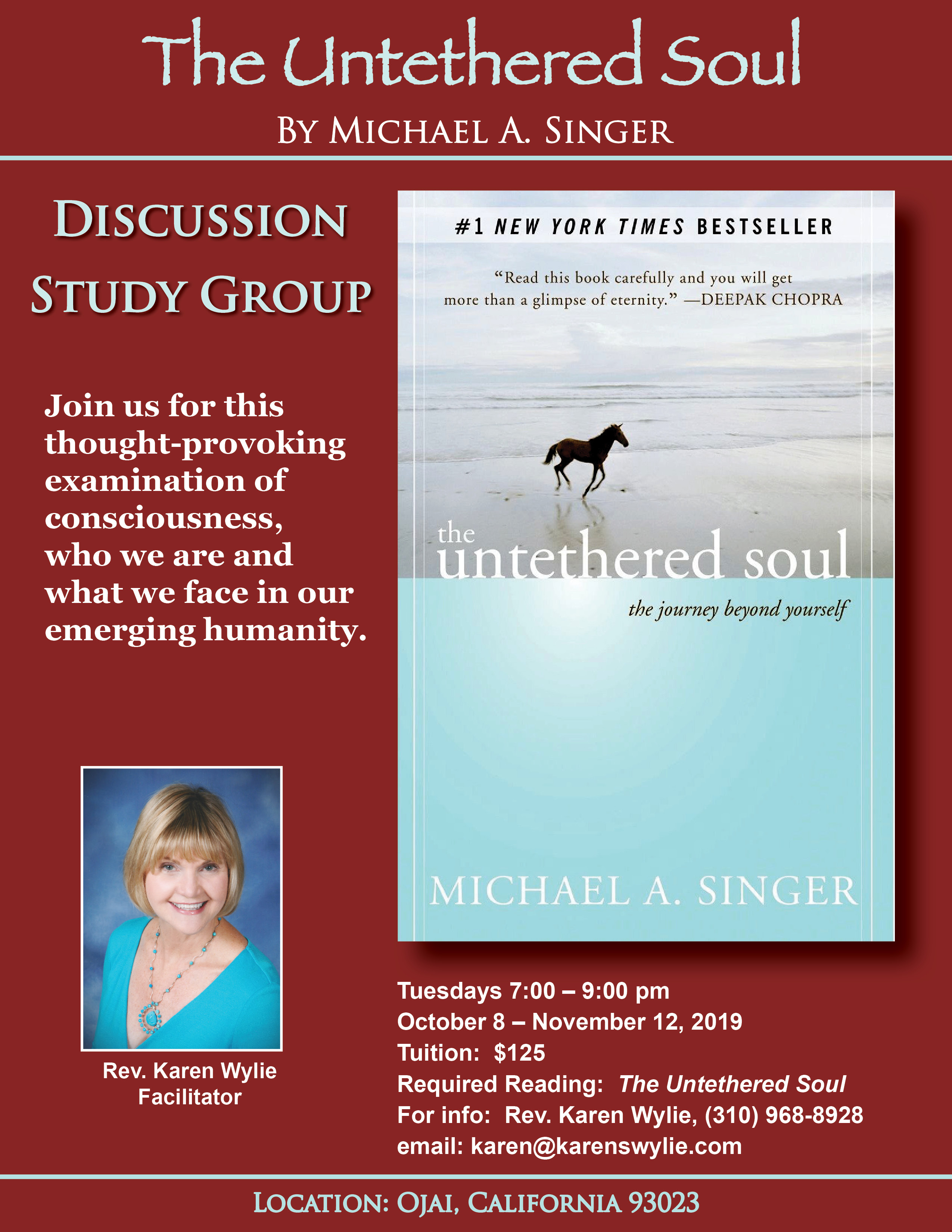 Discussion
**Events may have been canceled or postponed. Please contact the venue to confirm the event.
Date & Time
Tue, Oct 08 7:00 PM - 9:00 PM
Tue, Oct 15 7:00 PM - 9:00 PM
Tue, Oct 22 7:00 PM - 9:00 PM
Tue, Oct 29 7:00 PM - 9:00 PM
Tue, Nov 05 7:00 PM - 9:00 PM
Thu, Jan 01 7:00 PM - 9:00 PM
Rev. Karen S. Wylie will lead a six-week group that will read and discuss Michael A. Singer's bestseller, The Untethered Soul: The Journey Beyond Yourself.  The group will meet at a private location in Ojai "for a thought-provoking examination of consciousness, who we are, and what we face in our emerging humanity, as Singer presents it," Rev. Karen says.
The group will meet on Tuesday evenings from 7:00 – 9:00 p.m. from October 8 through November 12, 2019.
Tuition for the series is $125.
Rev. Karen S. Wylie is an Agape-licensed minister and spiritual counselor who graduated in 2008 from the University of Transformational Studies and Leadership under the direction of Rev. Dr. Michael Bernard Beckwith. She also has a master's degree in spiritual psychology from the University of Santa Monica, and a bachelor's degree in psychology from UCLA. For four years she served as spiritual director of the Symphony of Life Spiritual Center in Ojai, California. She is an agent for transformation, helping others to express their innate spiritual nature in all areas of their lives. She is the author of Into Me See, a collection of essays, affirmations, and spiritual insights collected over her 20-plus-year spiritual journey. To register, or for more information, contact Rev. Karen at 310-968-8928, or register online at www.karenswylie.com.