Most Santa Barbarans knew Rex Marchbanks from his presence at the Santa Barbara Bowl. He was the burly guy with the bushy hair who always stood just behind the wooden crowd barriers in the plaza. He would be there in his Hawaiian shirt, shorts, and flip-flops after a full day of overseeing all of the things that went into putting on a show: getting the buses up the hill and unloaded, hauling the equipment onto the stage, and so on. But after it was all set up, when Rex was done making everyone in the band feel comfortable, and before the show started, he went out and made everyone in Santa Barbara feel welcome with bear hugs and a big smile.
Since he had taken the job of operations manager of the Bowl in 1991-when the facility had been taken back by the public-this was the place Rex held court. But Rex had held court in many places throughout his life in Santa Barbara, mainly deep in all of our hearts.
Rex was born in Cottage Hospital on June 4, 1949 and passed away April 15 after an 18-month battle with cancer. Fittingly, he was at his home on the Bowl property, surrounded by family and the friends who had cared for him during his illness. His bushy hair and most of his weight was now gone, but the illness could not take away Rex's good humor and ability to make those around him feel valued. Right up to the end, Rex's greatest victory was one that somehow eludes almost all of the rest of us: He was happy just being himself.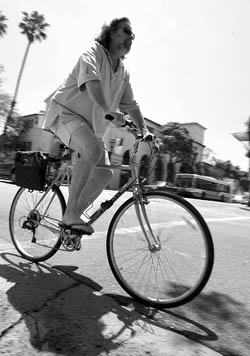 By Paul Wellman