Many people are unaware of the threat to our beaches that looms over Goleta every day. The oil extracted at Venoco's Platform Holly is piped for processing to the Ellwood Onshore Facility, located between the Bacara Resort and the Sandpiper Golf Course. It then goes by pipeline along Goleta city streets to the Ellwood Marine Terminal storage tanks on UCSB's east mesa.
Then, every ten days or so, Venoco's 300-foot, single-hulled barge, Jovalon, arrives offshore near Coal Oil Point and taking on around 55,000 barrels of oil through an offshore pipeline from the Mesa tanks. Finally, the Jovalon is towed on the end of a 1000-foot cable by a tug through the Santa Barbara Channel, south to Los Angeles or north to San Francisco.
By very good luck and perhaps careful management, there have yet been no major offshore accidents. But the threat of a spill is real and could be a disaster for shore birds such as the snowy plovers and for marine mammals and diving birds. In addition local recreational beaches and other beaches along the barge's route would likely be polluted in the event of an accident. While Venoco has done a number of equipment upgrades in recent years, these facilities are between 20 and 30 years old. The threat to our safety, quality of life and environment should not be underestimated.
Venoco is now asking for an extension of its lease until 2013 from the State Lands Commission for the offshore pipeline and moorings for its barging operation. It has been operating on a year-to-year extension of its lease since 1993. The final environmental impact report requires a number of upgrades to the offshore pipeline and the barge, including that it be double-hulled within 18 months. But it also identifies a pipeline to the consolidated facility in Los Flores Canyon as an environmentally superior alternative.
Many local groups, including the Environmental Defense Center, Audubon and the Sierra Club, believe that it is time to cease this inherently hazardous operation, that Venoco should be required to build a pipeline to Los Flores Canyon now, and that barging should be permitted for just another two to three years until a pipeline can be built.
However, this is not the only Venoco project pending before the State Lands Commission, though it is the one closest to a hearing date. Venoco also hopes to begin full field development with extended reach drilling from Platform Holly into oil and gas reservoirs offshore from Isla Vista, UCSB and Goleta Beach. This project would include a pipeline - either from the Ellwood Onshore Facility or by an ocean route - direct to Los Flores Canyon. But there is no guarantee that this project will be approved and consideration of it could be months away. A third project is resumption of pumping at Lease 421, the last tideland pier in California, which can be seen to the east of Haskell's Beach.
Goleta City staff believe that these three projects should be considered together, with the goal of negotiating an end date for decommissioning all this industrial activity in the Santa Barbara Channel. While there is merit for this approach, negotiations take time, with no certainty of an acceptable outcome. In the meantime, if the barging continues we have an accident waiting to happen. This is a risk that should be dealt with now.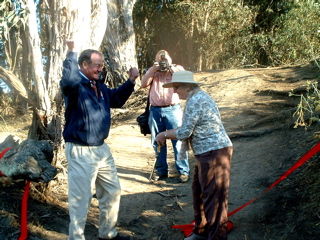 By Margaret Connell