Amassing tall condo developments in downtown Santa Barbara, atop ground-floor offices and shops, will preserve from development the oak-studded hills of the Gaviota Coast north of the urban limit line. So say defenders of the 60-foot buildings that are going up on Chapala Street. Over the past several years, the city's planning department has come to embrace the philosophy of "smart growth" as an alternative to sprawl, placing high-density apartment complexes and mixed-use projects in the commercial corridors, with the blessing not only of developers and housing advocates but also the Sierra Club and the Community Environmental Council. "Most environmental groups support the idea of a vital, lively urban core with people living in it, close to jobs and services, to preserve open space outside the city," said Detlev Peikert, architect of the Bermant Development Company's Paseo Chapala, which reaches heights of 50 feet. Completed in 2007, Paseo Chapala mirrors the Paseo Nuevo mall, which is directly across the street, except that its upper floors house 21 luxury condos and eight affordable condos.
Building skyward to add more housing is better than building outward, Peikert said. "It's a more environmentally sound use of land and energy resources." People living in the city don't have to commute, he explained, which saves gas. "It's sort of a no-brainer on that level," Peikert said. "It's hard to argue for a more suburban model in the urban core," which would necessitate a push into the countryside to find space for new housing, he said.
There is little doubt that Santa Barbara will have to create new housing. The state mandates that each region provide a certain number of new homes each year in order to accommodate its "fair share" of California's population, which grows by about a half-million people each year. For another, the city offered to absorb some of the building that would otherwise occur in Gaviota by making deals to transfer landowners' development rights from countryside to city.
Yet Paseo Chapala initiated the conversion of Chapala Street from an off-State Street haven for mom-and-pop shops-Juan Lara Saddlery, a locally owned boutique and beauty shop, a corner grocery-to a distinctly urban corridor. The project also set off a reaction against what critics have dubbed the "canyonization" of Chapala-a reaction that gained critical mass with the construction three blocks down of the even-bigger Chapala One, which is 60 feet high and almost a block long. Nestled against Mission Creek, it bears 46 homes on its top three stories, 11 of them affordable. In its later phases of construction, Chapala One has sprouted bouquets of exterior detailing, from blue-tiled alcoves to unique terra-cotta moldings, intended by the architectural firm Design Arc to charm pedestrians. If critics had been aware beforehand of the building's beautiful skin, perhaps that would have tempered their criticism-though probably not. In any case, by the time these stylings materialized, the opposition had already sprung into action, led by former city office holders.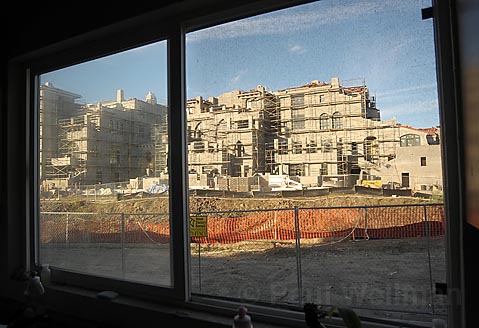 By Paul Wellman