Carpinteria Mayor Gregg Carty occupies the unhappy intersection where the political and the personal collide. And in Carpinteria — a cozy seaside community prized for its small-town charm — that can be an intensely claustrophobic place.
At a Monday night City Council meeting two months ago, Carty surprised many by coming out against Measure J, the ballot initiative sponsored by the Venoco oil company that would permit the company's controversial Paredon proposal to move forward. He called it "a slick document" that would seriously undermine local control. Until that meeting, Carty had been conspicuous by his silence on the issue.
If permitted, Paredon would enable Venoco to drill up to 35 new wells onshore that would tap into rich oil and natural gas reservoirs off the coast. If approved, Measure J would decree that Venoco's proposed Paredon project — includ­ing the much-ballyhooed 175-foot drilling rig (disguised as a lighthouse) — comply with Carpinteria's General Plan, its Local Coastal Plan, and a bushel full of zoning rules. Currently, Venoco's proposed new oil development violates these fundamental planning policies. Traditionally, such major planning decisions are the responsibility of the City Council. Measure J would wrest that authority from the council and vest it with city voters, instead.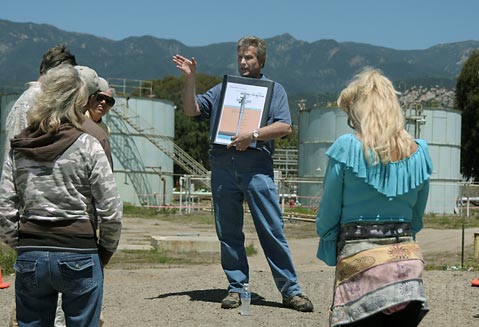 By Paul Wellman