Let the record show: Great things get born in Isla Vista.
It was there, in that surfy, student-stuffed, and party-minded suburb of UC Santa Barbara, that the South Coast's only resident billion-dollar business, Deckers Outdoor Corporation, was conceived nearly four decades ago. Hatched in 1973 as a flip-flop company by two freshly minted Gaucho alums who were seeking "professional" means to more beach time — one being a surfer, the other a beach volleyballer — the company has grown into a certifiable and celebrated footwear behemoth, with offices and employees all over the world, multimillion-dollar profits each and every fiscal quarter for the past four years and counting, an award-decorated reputation as one of the best and most fun places to work in America, and a new sprawling, state-of-the-art corporate headquarters slated to open on 13 acres in the heart of Goleta's Cabrillo Business Park in 2013.
Just last week, on the most recent episode of CNBC's Mad Money, host Jim Cramer — who has long been a fan of Deckers's fiscal prowess during his nationally televised investment-advice rants — declared the company one of five in the country that you can count on during these economically sorry times. Even with today's $106-per-share price tag on the New York Stock Exchange, Cramer exclaimed, "I think they are still a real bargain — with plenty of room to run."
The Deckers Family Tree
Teva: The ultimate in amphibious footwear, Teva became a household name for its fully functional, get wet, get dry, get wet again strap-on sandals and remains at the forefront of adventure-ready, water-loving shoes thanks to an evolution in recent years away from the straps.
Ahnu: Considered one of Deckers "incubator brands," Ahnu, based out of the Bay Area, finds the balance between fashionable form and supreme outdoor function. Throw on a pair of Ahnus and feel free to run up a mountain, hop a subway for a morning commute in the snow, or simply score some compliments while drinking an espresso at your coffee spot.
Tsubo: Fashion-minded styles that hit contemporary-trend high notes without sacrificing comfort and durability, Tsubo, which is the Japanese word for "pressure point," is the Deckers family member most comfortable in the city of your choice.
UGG Australia: Invented as a cozy, post-surf antidote to the brutalities that surf-sliding inflicts on your feet, UGG's trademark sheepskin boots and slippers have grown to become a household name all over the world. There is no doubt that UGG, which is poised to top $1 billion in sales in 2011, is the MVP of the Deckers lineup.
Mozo: Think sleek, sexy athletic shoes for cooks. With lots of leather and slip-fighting outsoles, Mozo aims to be the shoe of choice for people who work in kitchens, at catering companies, behind bars, and on the floors of restaurants.
Sanuk: From the depths of Orange County, Sanuk, the most recent addition to the Deckers stable, loves surfing and surfers love Sanuk. It makes flip-flops and flip-flops that look a lot like shoes, and the designers have heaps of fun doing it.
The Creation Myth
As origin stories go, Deckers's is as classically Santa Barbara-esque as possible. College buddies Doug Otto (the surfer) and Karl Lopker (the volleyballer) started making flip-flops as their UCSB days were coming to a close; the former handled sales and distribution, and the latter was in charge of manufacturing. Back then, flip-flops were an item of easy disposal, typically picked up at the drugstore for less than a dollar and worn until they disintegrated on your feet a short time later. But Otto and Lopker wanted to make a more durable option for the free-toe and -heel enthusiasts of the world, so they stacked different layers of rubber on top of each other and convinced surf shops in California and Hawai'i to carry them.
At first, the easy-breezy and purposely rugged slip-on sandals were known as "Driftwood Dans." But during a business/surf trip to Hawai'i in 1975, Otto heard his shoes called "deckas," a slang phrase referring to the sandals' stacked appearance, which reminded the islanders of the skinny wood planks that made up skateboard decks. So "Driftwood Dans" became "Deckers," and as the surf industry exploded throughout the 1970s and early '90s, a little flip-flop company from I.V. rode the same wave to success.
In 1982, Otto bought out Lopker, who had recently cofounded the software company QAD, and began plotting what came next. But instead of inventing more shoes, Otto decided to do what would become Deckers's calling card in the years to come: license another company's footwear and then manufacture and distribute it through its established network of retailers. So in 1985, Deckers partnered with Teva — the world's first sport sandal, created by a Colorado river guide named Mark Thatcher — and both companies exploded, with Teva enjoying sales levels through the late 1980s and early '90s that essentially doubled every year.
In 1993, Deckers decided to go public on NASDAQ, and because of the way the family-first company was vested, that meant quite a payday for many longtime employees, no matter how high or low they were on the corporate totem pole. That same year, Deckers acquired Simple Shoes (perhaps the first shoe label to make "going green" a priority), and then, in 1995, the company made its most brilliant and lucrative business maneuver to date by acquiring UGG Australia, the sheepskin boot maker that's done nothing but grow in popularity since then.
With a trio of successful lifestyle-oriented footwear companies flying under the Deckers family flag, Otto and the rest of the Deckers crew decided in the mid 1990s to "retire" the Deckers flip-flop brand and focus on growing the new members of the team. Deckers Outdoor Corporation was officially formed, and with their flag still firmly staked in Goleta, a new chapter of sorts began.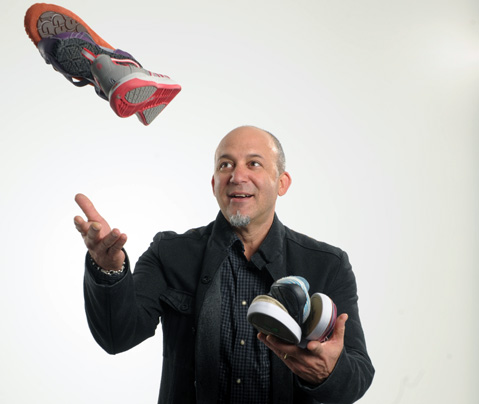 By Paul Wellman