When was the last time you went to the beach here in Santa Barbara? I mean really went to the beach just for the pure and unendingly restorative bliss of it all. No surfboard, no dog, no fishing pole, no kayak, no running shoes, no sunset about to happen. Just you, some sunblock, a towel or blanket, an umbrella, and maybe some friends or a good book. You know, the whole quintessential summer-vacation–day-at-the-beach thing that people with less-perfect year-round weather eagerly froth about and pay top dollar to enjoy each and every summer the world over. My guess ​— ​and this is based only on experiential evidence ​— ​is that you don't do it nearly enough. In fact, you should probably be doing it today.
There are roughly 100 miles of coastline in Santa Barbara County, and, while some stretches are certainly more user-friendly than others, all of them, when the tide is right, offer about as sure a bet for psychological salvation as you are going to find anywhere in the 805. There is something primordial about heading to the meeting place of ocean and land, shedding layers of clothes, feeling the elements of the world on your skin, and, as Thoreau so famously wrote, "putting all of America behind" you. All five senses get an undeniable jump start at the beach: the lullaby of crashing surf, the salt-scented breeze, the touch of sun-drenched sand and rock, the taste of ocean water on your lips, the forever view of a sparkling blue horizon. Time evolves during a properly executed beach day, from something your wristwatch or iPhone keeps track of into something measured best by shadows and warmth of the air and how much food and drink you have left in your cooler. There is a smile-inducing dissonance ever present at the playa when you allow yourself the time and space to actually enjoy it; things are refreshingly simple yet rich with complexity of experience.
The recipe is easy, really ​— ​clear the schedule, pack a lunch, and get an early start. Find a slice of soft sand, feel the heat of the day build, and escape into the chill of the ocean for a head change when the time is right. Let the post-swim goosebumps relax as you lay back down on your towel; the colors of the world around you are always more vibrant and urgent after a dip in the sea. Allow that happy half-nap, half-meditation mindset to wash over you as the afternoon stretches toward evening. Put on a sweatshirt perhaps as the sun gets low and crack a coldie (age permitting) as you drink in the wonderful world around you. As the saying goes, "Eternity begins and ends with the ocean's tides." Simply put, there never has been, nor will there ever be, a better vantage point for bearing witness to this truth than the beach.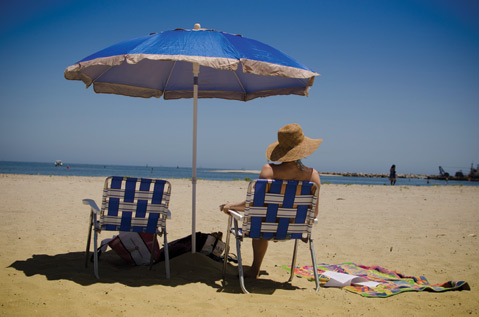 Thalia Kemp