Dr. Reed Kindermann, a Cherry Hill, N.J. ophthalmologist, was honored for his 20 years of service to the underprivileged blind at the American Society of Cataract and Refractive Surgery (ASCRS) Conference, recently held in San Francisco.
---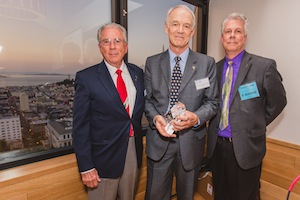 SurfMedia
Dr. Kindermann volunteers his services to perform sight restoration procedures through SEE International; a Santa Barbara based nonprofit, humanitarian organization that provides medical, surgical, and educational services by volunteer ophthalmic surgeons worldwide.
Dr. Kindermann began providing sight restoration procedures through SEE International with a surgical expedition to Laos in 1993. Since then, he has participated in sight restoration expeditions to Guatemala, Mongolia, Cambodia, Georgia, Romania and Namibia. Since 2011, Dr. Kindermann has been a frequent visitor to Namibia where he, along with a large team of ophthalmologists, restored sight to as many as 300 individuals in only one week.
For more information about SEE International, visit www.seeintl.org.